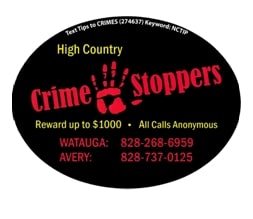 Last Updated on December 13, 2021 6:22 pm
High Country Crime Stoppers and Boone Police seek the public's assistance in solving the following incident:
On December 7, 2021, at approximately 9:30 AM, two residents residing in a unit at High Country Condominiums (1469 W. King Street, Boone, North Carolina), were victims of Damage to Property. The victims reported that the unknown offender threw a rock through their window, while uttering a bigoted statement.
The Boone Police Department is seeking to identify the individual/s who committed this crime and identify and possible witnesses to the incident.
The Boone Police Department is asking that anyone with information regarding this incident or of the identity of those involved, is asked to call Crime Stoppers at 828-268-6959 / 828-737-0125 or the Boone Police Department at 828-268-6900. You may also submit a Crime Stoppers Tip via our website at https://www.tipsubmit.com/webtips.aspx?AgencyID=1251. All information will be kept confidential.
High Country Crime Stoppers pays rewards for information, which leads to arrests; recovery of stolen property; seizure of drugs and the location of wanted persons.