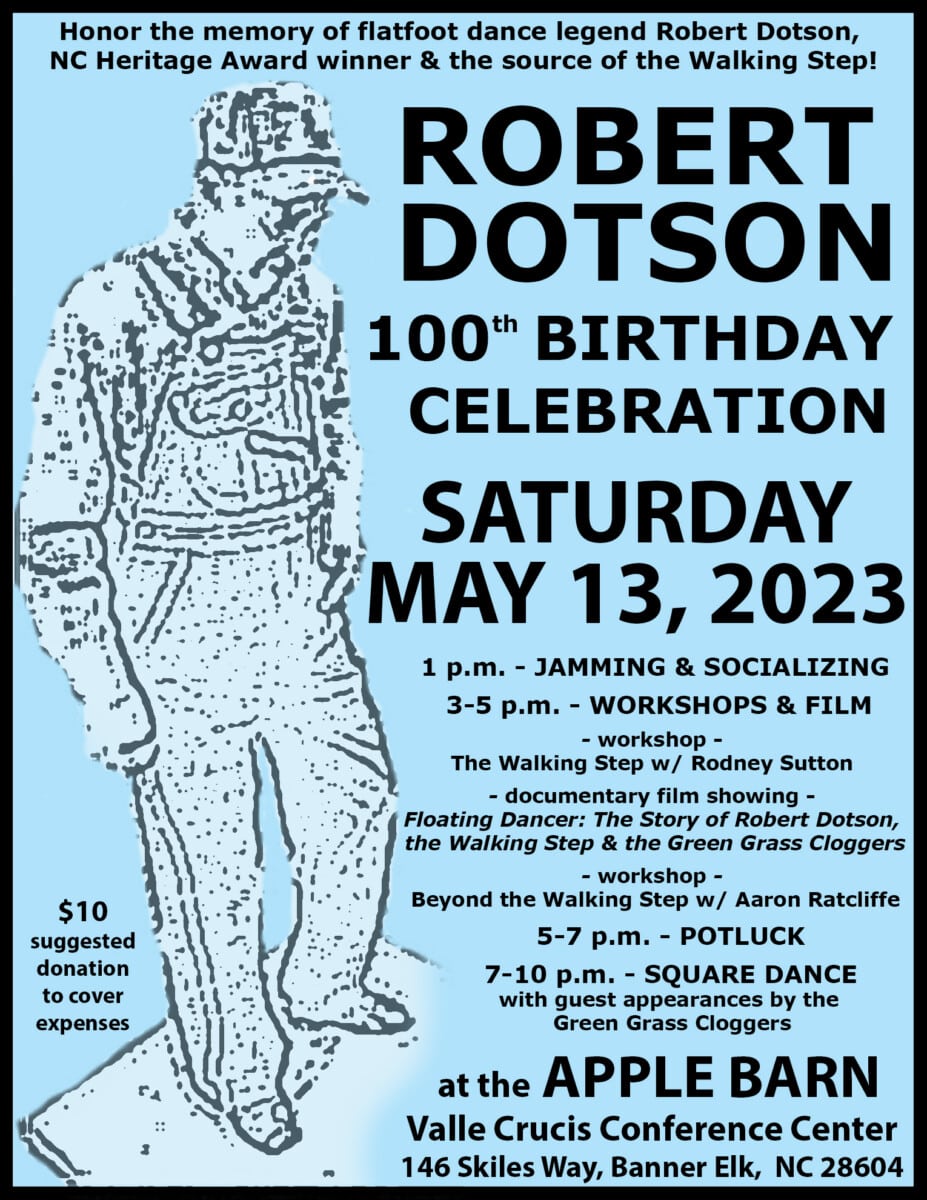 Last Updated on May 4, 2023 8:35 am
On Saturday, May 13, 2023, friends, family, and members of the public will gather to celebrate what would have been flatfoot dance legend Robert Dotson's 100th birthday. The event at the Historic Apple Barn in Valle Crucis, NC, will feature workshops, a documentary film showing, a potluck supper, a square dance, and performances by the Green Grass Cloggers.
Robert Dotson (May 13, 1923 – January 13, 2015) was well known around his home community of Sugar Grove, NC, as a flatfooter who won many dance contests at fiddler's conventions and as a community dance leader. He called square dances at numerous house parties and dance halls in Western North Carolina and East Tennessee, including at the Apple Barn, and notably two decades leading the dances at Slagle's Pasture near Elizabethton, TN. In 1994, he and his wife Myrtle received the North Carolina Heritage Award for their contributions to traditional dance culture.
Robert's enduring for old-time dancing is his Walking Step. Since meeting him in 1978, teaching the Walking Step has proved to be an effective way for the North Carolina-based Green Grass Cloggers, later the Maryland-based Fiddle Puppet Dancers (now Footworks), and eventually numerous GGC-influenced clogging teams to introduce new dancers to flatfooting and clogging at festivals and workshops in several states and countries. The Walking Step is now considered a "must know" to be a good flatfooter—so much so that the Walking Step's influence on contemporary percussive dance parallels the changes Earl Scruggs' three-finger picking brought to banjoists and that Doc Watson's flatpicking brought to guitarists.
At the celebration on what would have been his 100th birthday, informal old-time music jams and socializing will start at 1 p.m. Between 3 and 5 p.m., attendees can participate in workshops and see a documentary film. Rodney Sutton, who is Robert's friend and mentee and the retired director of Joe Shannon's Mountain Home Music in Boone, NC, will teach Robert's Walking Step. Aaron Ratcliffe of Boone, NC, will lead a workshop about building on the Walking Step. There will also be a showing of the short documentary Floating Dancer: The Story of Robert Dotson, the Walking Step, and the Green Grass Cloggers (2016) by Leanne E. Smith and M. Chad Smith. A potluck supper is scheduled for 5-7 p.m., followed by a square dance with performances by the Green Grass Cloggers.
The event is free to attend, but a $10 donation is requested to help cover expenses.  Any additional funds would support the Robert Dotson Scholarship Fund, founded by the GGCs.  The Historic Apple Barn is located at the Valle Crucis Conference Center, 146 Skiles Way, Banner Elk, NC.  For more information, visit www.GreenGrassCloggers.com