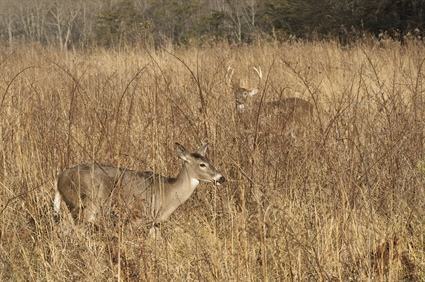 Last Updated on April 13, 2023 8:18 am
RALEIGH, N.C. (April 11, 2023) – Due to new detections of Chronic Wasting Disease (CWD) in Cumberland and Wilkes counties, N.C. Wildlife Resources Commission Executive Director Cameron Ingram invoked emergency powers to delineate Surveillance Areas and specify requirements necessary to reduce movement and infection risk of the disease.   
The emergency actions invoked today will work in concert with the temporary rulemaking actions taken by the Commission on March 30 at its virtual business meeting where they voted to notice five temporary rules related to CWD management. Today's emergency actions are effective immediately and will be replaced by the temporary rules once they become effective.
Agency staff will continue to follow the CWD Response Plan guiding efforts to determine distribution of the disease and implement immediate actions to minimize it's spread. Notably, the proposed temporary rules will delineate several new counties or parts of counties as Primary or Secondary Surveillance Areas, that were not designated as such in 2022. In the northwestern part of North Carolina, new designations will apply to Alleghany, Alexander, Ashe, Guilford, Iredell, Rockingham, Stokes, Surry, Wilkes, and Yadkin counties. In eastern North Carolina, new designations will apply to Bladen, Cumberland, Harnett, Hoke, Robeson, and Sampson counties. Davie and Forsyth counties will continue to be designated as Secondary Surveillance Areas as they were in 2022.
In all of these Surveillance Area counties rules will prohibit fawn rehabilitation, govern the transportation of deer carcasses and carcass parts, prohibit the placement of minerals and salt licks to congregate wildlife at any time, and prohibit the placement of bait, food, or food products to congregate wildlife outside of the hunting season.
A virtual public hearing to receive comments on the proposed temporary rules will be held on April 18, at 2:30 p.m. Pre-registration is required for Zoom. Individuals may also join the meeting toll free at 833-568-8864 using Webinar ID 160 995 2306.
Public comments on the proposed rules will be accepted through April 28 and may be submitted during the public comment portion of the public hearing, via the agency's online Comment Portal, by email to regulations@ncwildlife.org (include name, phone number and mailing address in e-mail), or mailed to: Rulemaking Coordinator, N.C. Wildlife Resources Commission, 1701 Mail Service Center, Raleigh, NC 27699-1700.  
CWD is caused by abnormal prion proteins that slowly spread through a deer's nervous system, eventually causing spongy holes in the brain that lead to death. The disease is spread between deer through direct contact and environmental contamination from infected saliva, urine and feces of live deer, carcasses or carcass parts. For more information, including answers to frequently asked questions about CWD, visit ncwildlife.org/CWD.