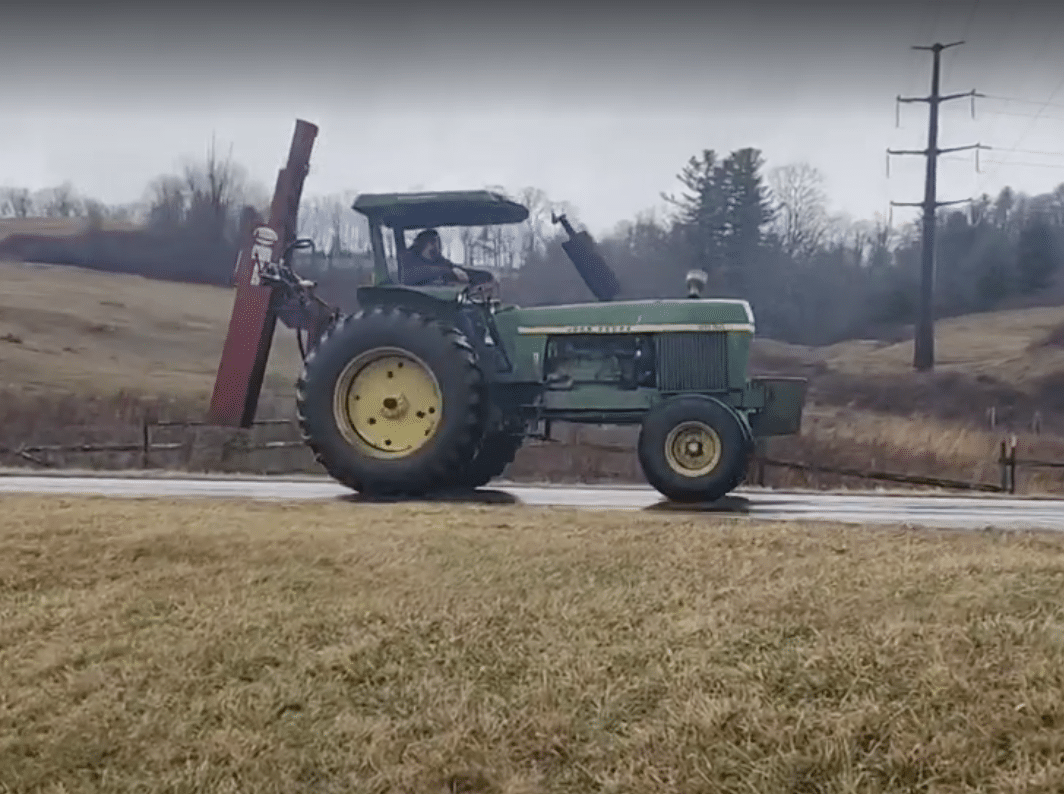 Last Updated on January 18, 2023 1:30 pm
UPDATE Wednesday January 18 from Boone Police:
Boone, NC – On January 17, 2023, at approximately 9:25 AM, the Watauga County 911 center received a call about a male on a John Deere tractor trying to strike pedestrians and vehicles in the vicinity of 1636 US Hwy 421 S in Boone. Several other calls were received in rapid succession reporting vehicles being struck by the tractor. Boone Police officers and Watauga Sheriff's deputies responded to the area. The first arriving Boone unit located the tractor at Three Forks Baptist Church in the parking lot. The tractor was operated by Ronnie K. Hicks, 43 years of age. Mr. Hicks had pushed a dumpster into the building just prior to the arrival of the officers. When the officers tried to stop Mr. Hicks, he refused, and began driving back onto US Hwy 421 S traveling towards Wilkes County which resulted in a low-speed pursuit.
Boone Police officers, Watauga Sheriff's deputies and North Carolina State Highway Patrol troopers, pursued Mr. Hicks on US Hwy 421 S, Old 421, and Elk Creek Road. Officers worked to divert on-coming traffic to protect motorists approaching the area. In the 4700 block of Elk Creek Road, Mr. Hicks turned up a private drive. After traveling a short distance, Mr. Hicks abandoned the tractor, fleeing on foot, while brandishing a knife. Officers issued verbal commands and deployed a Taser to gain compliance from Mr. Hicks.
Speeds during the pursuit were in the 20 MPH range, however, Mr. Hicks drove very erratically intentionally veering towards motorists and pursuing officers. At least three civilian vehicles were damaged due to Mr. Hick's actions. One Boone Police patrol unit was intentionally rammed by Mr. Hicks, resulting in several thousand dollars of damage. Thankfully, the vehicle had a safety bar on the front of the vehicle that likely prevented the officer from being injured.
Stop sticks were successfully deployed to flatten the tires on the tractor. Both front tires began to deflate with one tire completely separating from the rim. The rear tires were not deflated by the stop sticks. Mr. Hicks was able to continue traveling on Old 421 towards Parkway School. Concern for the safety of students and the motoring public resulted in authorization being given to deflate the rear tires of the tractor with rifle fire once in an isolated location. This was effective in further slowing the tractor. The use of force was directed at the tractor, not the suspect. The officer was successful at striking the rear tire.
Mr. Hicks has initially been charged with the following:
Felonious Fleeing to Elude Arrest
Felonious Assault with a Deadly Weapon on a Government Official
Misdemeanor Driving While Impaired
Misdemeanor Resisting a Public Officer
Misdemeanor Reckless Driving
Infraction Driving Left of Center
Mr. Hicks was placed under a $50,000 secured bond pending a March 10, 2023, appearance in Watauga District Court.
The tractor used during this incident was determined to be stolen. Additional charges for the theft, along with any other crimes identified, will be forthcoming. No injuries occurred as a result of this incident.
"We are grateful for the assistance from the Watauga County Sheriff's Office and the North Carolina State Highway Patrol during this incident. We are also thankful that no injuries occurred during this incident. We have already been in contact with the District Attorney to insure that a proper investigation is complete for our internal reviews and for his office to review. I fully believe that our officers' quick actions and professionalism kept anyone from getting injured or killed including and specifically the suspect, who endangered the lives of many in our community" ~ Chief Andy Le Beau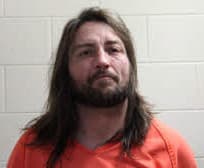 ---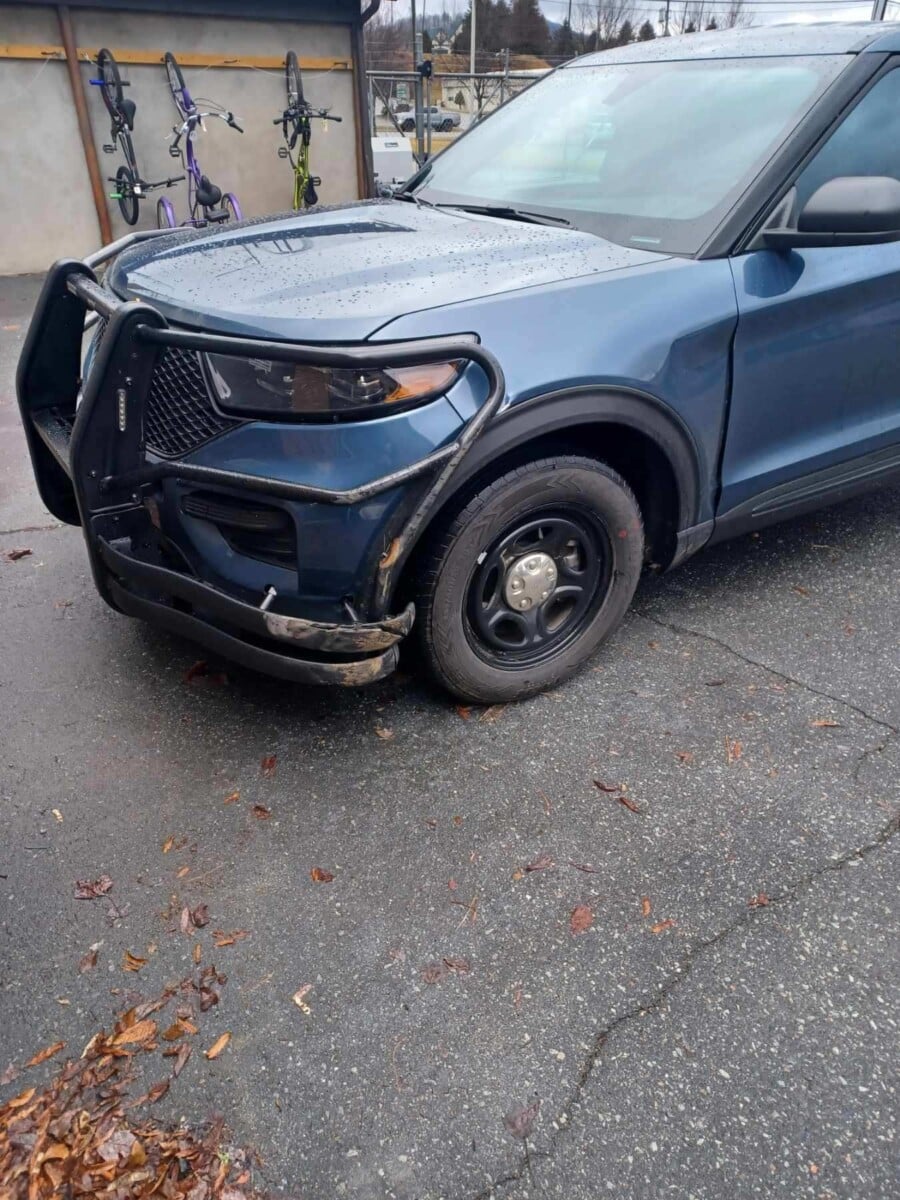 Boone Patrol unit struck by tractor. Photo: Boone PD.
---
Tuesday, January 17, 2023 – Law enforcement units from Boone Police, Watauga Sheriff's Office, and NCSHP were involved in a chase involving a John Deere tractor this morning.
The chase began in Boone during the 9 am hour, in the area of Highway 421 in the city limits. The tractor driver reportedly hit at least two vehicles and pushed a dumpster into a church building, according to scanner dispatches at the time.
The chase continued onto old highway 421, where spike strips were deployed just before Food Lion. After hitting the strips the tractor driver continued across 421 intersection onto old 421 heading toward Parkway School. After law enforcement shot out the back right tire in the area of JW Hampton's shop, the tractor driver then turned onto Corbett McNeil Road.
At that point, the driver then turned around in a yard, rammed an LEO car, and then proceeded back onto old 421, then turned onto Elk Creek Road. Law enforcement noted at the time that sparks from the flat tires were causing damage to the roadway and the tractor was still traveling in the middle of the road.
The chase continued, at speeds around 20mph, down Elk Creek Road until just after 10 am. The tractor driver fled on foot and was caught in the 4600 block of Elk Creek Road, according to scanner dispatches at the time.
Arrested was Ronnie Hicks, according to Boone Police Chief Andy Le Beau. Hicks had jumped off the tractor and was wielding a knife, and a Boone officer utilized a Taser, and Hicks was taken into custody without injury to himself or the officers. Chief Le Beau said more details will be coming in a press release.
WataugaOnline.com will update as more information becomes available from local law enforcement.
Photo: Boone PD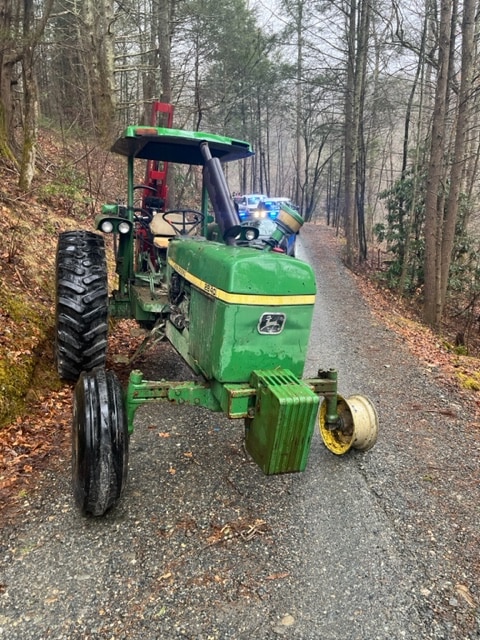 Video courtesy of Mark Denny Jr.
Video courtesy of Ron Wilkerson