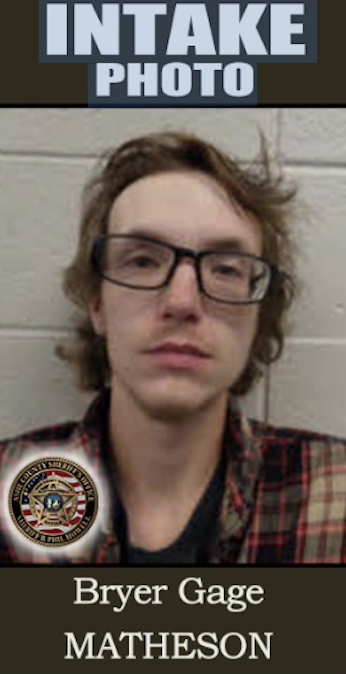 Last Updated on October 17, 2023 11:58 am
Crumpler N.C. – Sheriff B. Phil Howell announces the arrest of 25-year-old Brye Gage Matheson of Crumpler, NC, after fleeing officers before wrecking.
On October 1st, 2023, Sgt. Cox was patrolling the Crumpler area when a vehicle passed him at a high rate of speed. Sgt.
Cox attempted to perform a traffic stop, but the vehicle continued at a high rate of speed. Deputy Cox eventually conducted a traffic stop where Matheson drove off on the Deputy's approach to the vehicle. Deputies found Matheson's vehicle rolled over on its top with smoke coming from the motor a few miles away.
Matheson was able to exit his vehicle and was cleared of injury after Ashe Medics' arrival. North Carolina State Highway Patrol arrived at the accident scene and found the suspect to be driving while impaired. Sheriff's deputies also found Marijuana and paraphernalia inside the vehicle.
Matheson was arrested and transported to the Ashe County Detention Center, where he was booked under a $5,000 secured bond and later released.
Brye Gage Matheson, 25 years old of Crumpler, was charged with the
Felony Flee/Elude Arrest with a Motor Vehicle
Fail to Heed Light or Siren
Simple Possess Sch. VI CS
Possess Marij. Paraphernalia
Open Container (NCSHP)
Driving while License Revoked (NCSHP)