Last Updated on May 7, 2015 2:14 pm
Legislators in Tennessee have passed new changes aimed at uninsured motorist, and the Governor is expected to sign the measure into law. The measure would increase the fine for driving without insurance from $100 to $300. Along with the increased fine, a statewide verification program would be created to document uninsured motorist through vehicle registration. The changes would take effect July 1st, 2015.
The bill, among other items, also includes:
Requirement that for reinstatement or renewal of registration of a motor vehicle after a revocation of the registration, the applicant must pay a registration reinstatement fee of $300.
Authorizes a law enforcement officer to have a motor vehicle towed if the driver fails to provide evidence of financial responsibility, so long as the officer's law enforcement agency has adopted a policy delineating the procedure for taking such action.
In 1977 the state required mandatory liability insurance, with motorist needing a minimum of $25,000.00 for one injury or death, $50,000.00 for all injuries or deaths and $15,000.00 for property damage for one accident.
According to the Insurance Research Council, Tennessee ranks 6th for the nationwide number of uninsured motorist at 20.1%. North Carolina has an estimated uninsured percentage of 9.1%, ranking 35th nationwide.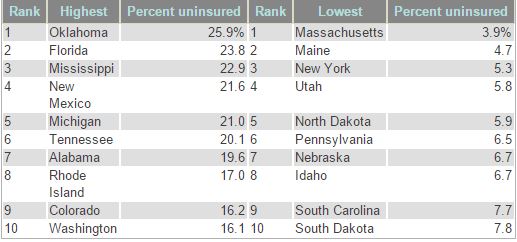 Graphic: Insurance Research Council
For more information on the measure click here