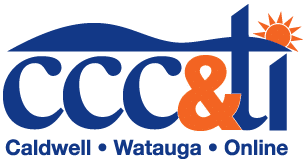 Last Updated on August 31, 2023 1:22 pm
Caldwell Community College and Technical Institute's Associate in Fine Arts – Music Program will host the Performing Artist Concert Series this fall with several featured events that are free and open to all students and the general public.
The series will also help commemorate the 40th anniversary of CCC&TI's Fine Arts, Music Program. The Associate in Fine Arts Music (AFA Music) program at CCC&TI started in 1983 to serve Caldwell County and surrounding areas. The program was established in 1983 by Bill Jones, directed by Kay Crouch from 1985 to 2013, and has been directed by Justin Butler since 2013.
Highlights from the program's history include sponsoring the Unifour Jazz Ensemble (UJE) which was named the 1987 Community College Jazz Ensemble National Champion. In 1990, UJE was named "Community Jazz Ensemble of the 1980s" by the International Association for Jazz Education and in 2013 its director Tom Smith was inducted into the Down Beat Jazz Education Hall of Fame.
In 2016 music program director Justin Butler expanded the AFA Music degree program to the Watauga campus, which also included the installation of a state-of-the-art digital piano lab.

Following is a schedule of upcoming Performing Artist Series events and additional details.
On Thursday, Sept. 19 at 1 p.m. in the CCC&TI Recital Hall (B-100), the Caldwell Campus in Hudson will host Swingbillies of Boonetown as they present "From Turkey to Boone –Connecting Southern Appalachia and the Middle East."
The Swingbillies are a newly founded eclectic acoustic band based out of Boone, NC. They play improvised music through a repertoire of traditional and classical styles from around the world. The group is centered around award-winning, conservatory trained musicians, Meade Richter and Savash Altuntas on fiddle and guitar. The group regularly features guests on bass and percussion.
Guitarist, Savash Altuntas, grew up singing and playing Flamenco style guitar in his homeland of Turkey and moved to the US to study French horn at Oberlin School of Music at the age of 18. Fiddle player, Meade Richter, started playing Old-Time fiddle as a child and quickly made a name for himself in NC as a contest fiddle player. He became one of the first people to earn a 4-year-degree in Bluegrass Music Studies and went on to earn a Master's degree in Jazz Violin at the prestigious Norwegian Academy of Music. The two recently teamed up in an effort to guide listeners and audiences through a musical trip around the world focused on traditional styles and classic composers, with a unique emphasis on improvisation and personal expression.
On Tuesday, Oct. 31 at 1 p.m. in the CCC&TI Recital Hall (B-100), the Caldwell Campus in Hudson will host Kay Crouch, Patrick Crouch, William Ritter and Michael Reno Harrell as they present "Murder and Mayhem: Tales of Destiny and Demise – An Afternoon of Appalachian Ballads."
The month of October is the perfect time for songs about murder and mayhem. These beloved local musicians say that these are some of their favorite songs to sing. "They tell horrible stories with a straight face and sometimes even a happy melody. When we hear these songs, we are reminded that truth is stranger than fiction." The songs come from a variety of sources, some were brought over with the early settlers, some are historical accounts of tragedy in America, while others are original compositions based on local outlaws and legends. "We love performing this concert for a live audience just to see the reactions folks have when they hear bizarre material that is based on a true story. We all have our worst nightmares and these "Tales of Destiny and Demise" remind us that the world is not always as safe as it seems.
On Wednesday, Nov. 29 at 1 p.m. in the CCC&TI Recital Hall (B-100), the Caldwell Campus in Hudson will host Derek Gripper as he presents "African Kora Music Meets Solo Guitar."
Derek Gripper is a classical guitarist who has taken a unique path. As a South African classical musician, he found himself limited by the music of the traditional classical guitar. So, he went on a journey through different musical styles, returning always to the guitar to find ways of bringing what he learned onto the instrument. In 2012 he completed a ten-year project to understand and translate the music of the West African kora (21 string harp) virtuoso Toumani Diabate to solo guitar, resulting in two critically acclaimed albums and an international concert tour.
On Wednesday, Dec. 6 at 1 p.m. in the CCC&TI Recital Hall (B-100), the Caldwell Campus in Hudson will host The CCC&TI Chorus as they present "A Winter Festival of Vocal Music."
The CCC&TI Chorus ensemble features students in the CCC&TI Associate of Fine Arts Music degree program as well as staff, faculty, and community members. The CCC&TI Chorus is directed by Professor Alexandria McNeely. Professor McNeely earned her master's degree in vocal performance from the renowned Eastman School of Music, and she most recently performed for the Hawaii Performing Arts Festival as Diana in Orpheus and in Tosca with Opera Carolina. This performance will feature songs for the winter season.
For more information, visit www.cccti.edu.