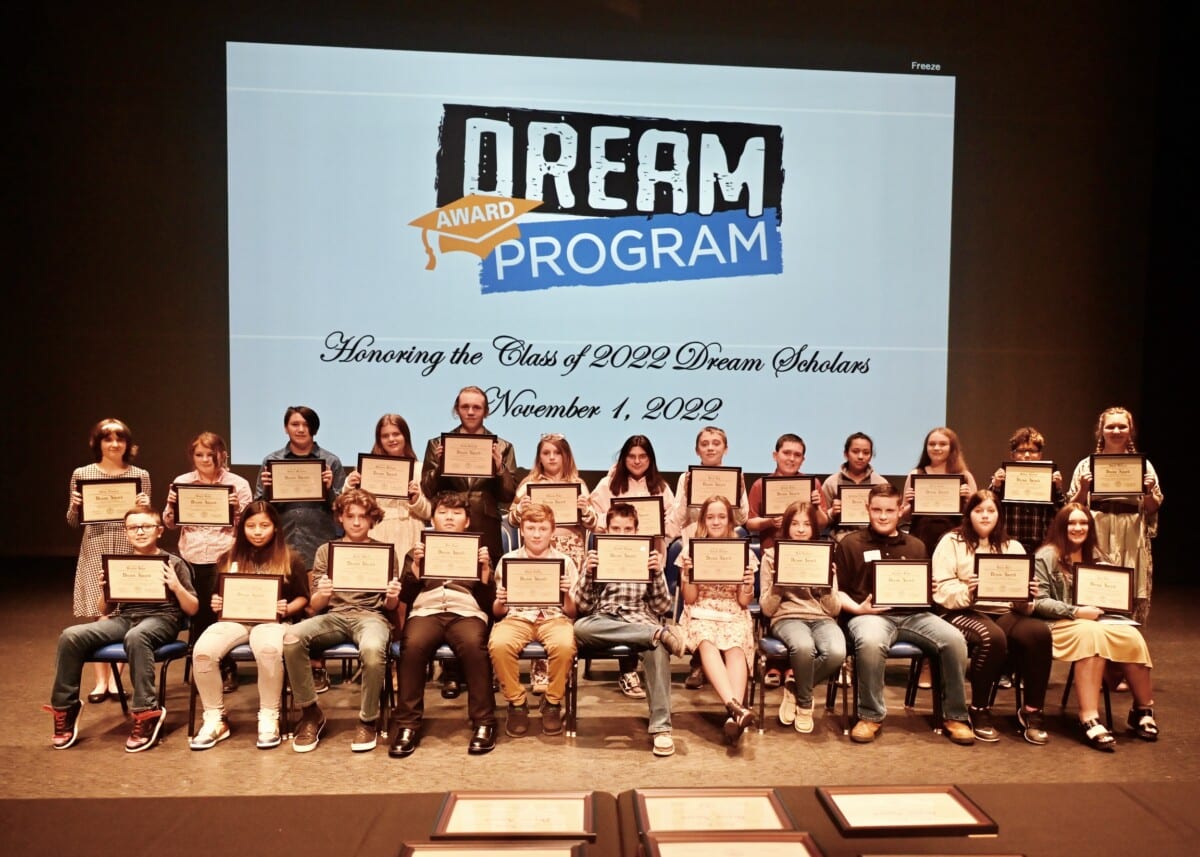 Last Updated on November 4, 2022 10:02 am
With dreams of careers in fields such as engineering, healthcare and education, a group of students began charting their course at the Foundation of Caldwell Community College and Technical Institute's annual Dream Award ceremony at the J.E. Broyhill Civic Center in Lenoir on Tuesday, Nov. 1.
The Dream Award, which ensures free tuition for local students to attend CCC&TI upon graduation from high school, was presented to 41 students from Caldwell and Watauga counties who were nominated and chosen while in sixth grade.
Participants must be future first-generation college students who have demonstrated academic achievement and civic involvement, and who have the potential to succeed. The program, which is funded through private donations to the Foundation, has presented awards to 1,405 students since its inception in 1989.
CCC&TI President Dr. Mark Poarch opened the ceremony by welcoming the students, their families and guests.
"It's a special night when we get to hear about the hopes and dreams of these students," Poarch said. "Thanks to many of you in this room and so many others in our community, college is no longer a question mark for these students. You have paved the way for these young people to have guaranteed access to a college education. Thank you from the bottom of my heart."
Peg Broyhill, Chairwoman of the CCC&TI Foundation, congratulated the group and recognized her fellow Foundation Board members and CCC&TI administrators as well as various county school officials, local organizations, civic groups, churches and clubs whose contributions help make the program possible.
She gave special thanks for endowments and grants made possible by the Broyhill Family Foundation, the Coffey Foundation, the Granite Falls High School Class of 1963, the Hogan Family Foundation and the Rose and Dwight Church Family. She also recognized Dr. Tony Deal, retired Executive Vice President and Vice President of Student Services at CCC&TI, who introduced the idea of the Dream Award more than 30 years ago.
"Each of you has gone above and beyond in demonstrating good character, leadership and achievement," Broyhill said to the students. "We look forward to seeing you shine and hearing about your many successes in the future."
Dena Holman, Vice President of Student Services at CCC&TI, provided a history of the program and encouraged recipients to make the most of the opportunity. "Regardless of your goals, we're here to support you along your journey to a college education," she said.
Holman then introduced guest speakers Tatiana Fernandez, a 2008 Dream Award recipient at Gamewell Middle School and CCC&TI graduate, and Dr. Amanda Stroud, one of the first recipients of the Dream Award in 1989 while she was a student at Happy Valley School.
Fernandez has earned Business Administration and Accounting associate degrees at CCC&TI, as well as a Cosmetology diploma earlier this year. She owns two local businesses and attributes part of her success to receiving the Dream Award years ago. "It's very important that you take advantage of this award and the opportunity to further your education," she said.
Stroud is the Dental Director for AppHealthCare in Boone and serves as President of the NC Dental Society Foundation Board. She urged the group to imagine their journey to college and a career and likened the Dream Award to a boarding pass. "Whatever your trip looks like, whatever your journey looks like, realize that all of us in this room have things in common with you," Stroud said. "All of us in this room are here to support you, encourage you and congratulate you."
To conclude the ceremony, Dream recipients introduced themselves to the audience and shared their career goals, while Holman read comments from their Dream nominations completed by educators at their schools.
2022 Dream Award Recipients
Watauga County Students
Justin Byers, Mabel School
Maddison Canter, Blowing Rock School
Copeland Dunaway, Blowing Rock School
Carson Eggers, Mabel School
Lily Faulkner, Cove Creek School
Natalie Fox, Valle Crucis School
Titus Hamby, Green Valley School
Xitlali Luna, Hardin Park School
Emma McKibbin, Parkway School
Madison Millsaps, Bethel School
Caden Ornduff, Cove Creek School
William Phillips, Bethel School *Optimist Club of Boone Dream Award
Rihanna Pope, Hardin Park School
Amber Ramos, Valle Crucis School
Lucas Ray, Green Valley School
Daphne Strandquist, Valle Crucis School
Clay Trivette, Parkway School
Caldwell County students
Savannah Adkins, Happy Valley School
Peyton Auton, Kings Creek School
Braylon Baker, Gamewell Middle School
Charlene Banegas, William Lenoir Middle School
Yariah Bowen, Collettsville School
Travis Buckner, William Lenoir Middle School
Aden Chue, Hudson Middle School
Declan Coffey, Collettsville School
Austin Cooper, Granite Falls Middle School *Debbie Yount Dream Award Recipient
Elaina Curnutte, Granite Falls Middle School
Trinity Ellison, Collettsville School *Dr. Tony Deal Dream Award Recipient
Chandler Foust, Kings Creek School
Gracie Hall, William Lenoir Middle School
Zoey Hall, Collettsville School
Abigail Keller, Gamewell Middle School
Dalton Martinez, Gamewell Middle School
Braden Resor, Granite Falls Middle School
Alexandra Reyes Montelongo, Hardin Park School
Reagan Rotting, Kings Creek School
Aaliyah Routh, Hudson Middle School
Hailey Sawyer, Happy Valley School *Dwight and Rose Church Dream Award
Makari Stewart, Happy Valley School
Alaina Tavernia, Hudson Middle School
Abigail Williams, Gamewell Middle School