Last Updated on September 25, 2017 2:20 pm
BOONE – Caldwell Community College and Technical Institute broke ground Wednesday evening, September 20th,  on a transformative project on the growing Watauga Campus in Boone. The 15,000-square-foot building will consolidate services currently offered in multiple locations on campus into one area.
The building, slated for completion in 2018, will feature a large student gathering area and will house the following services: Academic Support, Admissions, Advising, Bookstore, Business Office, Counseling, Financial Aid, Library, Testing Center and the Writing Center.
At the groundbreaking ceremony, CCC&TI President Dr. Mark Poarch described the building as monumental and key to improving the lives of students on the Watauga Campus. In addition to consolidating various student services into one location, he said the 3,000-square-foot student center area would give the campus something it never had before.
"It's bigger than the one we have on the Caldwell Campus (in Hudson, N.C.)," he said, adding that it will also provide space for a variety of college meetings and activities. "It will give our students a place to be, a place to belong – and, create an atmosphere that is a collegiate atmosphere. We're really excited."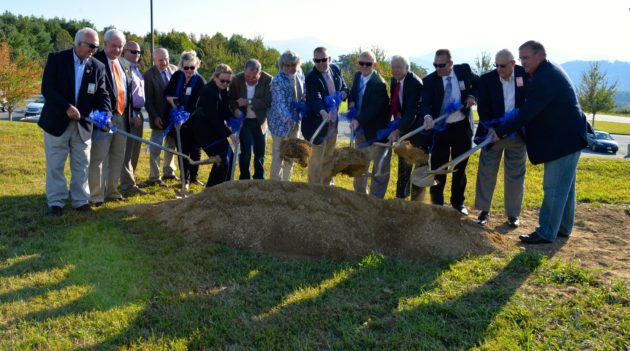 The groundbreaking ceremony took place on the future location of the building at the northwest corner of campus, highlighted by a view of Grandfather Mountain and the surrounding Blue Ridge Mountains. The architectural design includes outdoor areas that will take advantage of the popular scenic view.
"It's going to transform the lives of our students and it will help them to be successful," Poarch said, adding praise for the various government and education leaders who helped make the project possible.
Officials from the college's Board of Trustees, the NC Community Colleges State Board, the Watauga and Caldwell County Commissions, Watauga County Schools, Watauga County Board of Education, Watauga Economic Development Commission and Caldwell Chamber of Commerce attended the event. CCC&TI faculty, staff and students also participated.
Watauga County Commission Chairman John Welch offered praise and support for the project, as well as the growth CCC&TI's Watauga Campus has seen over the years.
"We've come a long way in a few decades," he said. "It's definitely a benefit to our students and our community."
Watauga County Board of Education Chairman Ron Henries echoed his support, and recalled decades earlier when CCC&TI offered classes at multiple locations across the Boone area.
"It's going to be a wonderful facility," he said. "I'm thankful that our children are going to get to use it."
The Student Services Center will be the fourth permanent building on the Watauga Campus, which is located off the NC 105 Bypass west of Downtown Boone. CCC&TI began offering services in Watauga County beginning in 1973 and opened the current Watauga Campus location in 1998. The Watauga Campus serves approximately 1,200 college students, and hundreds more Continuing Education and Adult Education students.
Construction is scheduled to begin later this year.