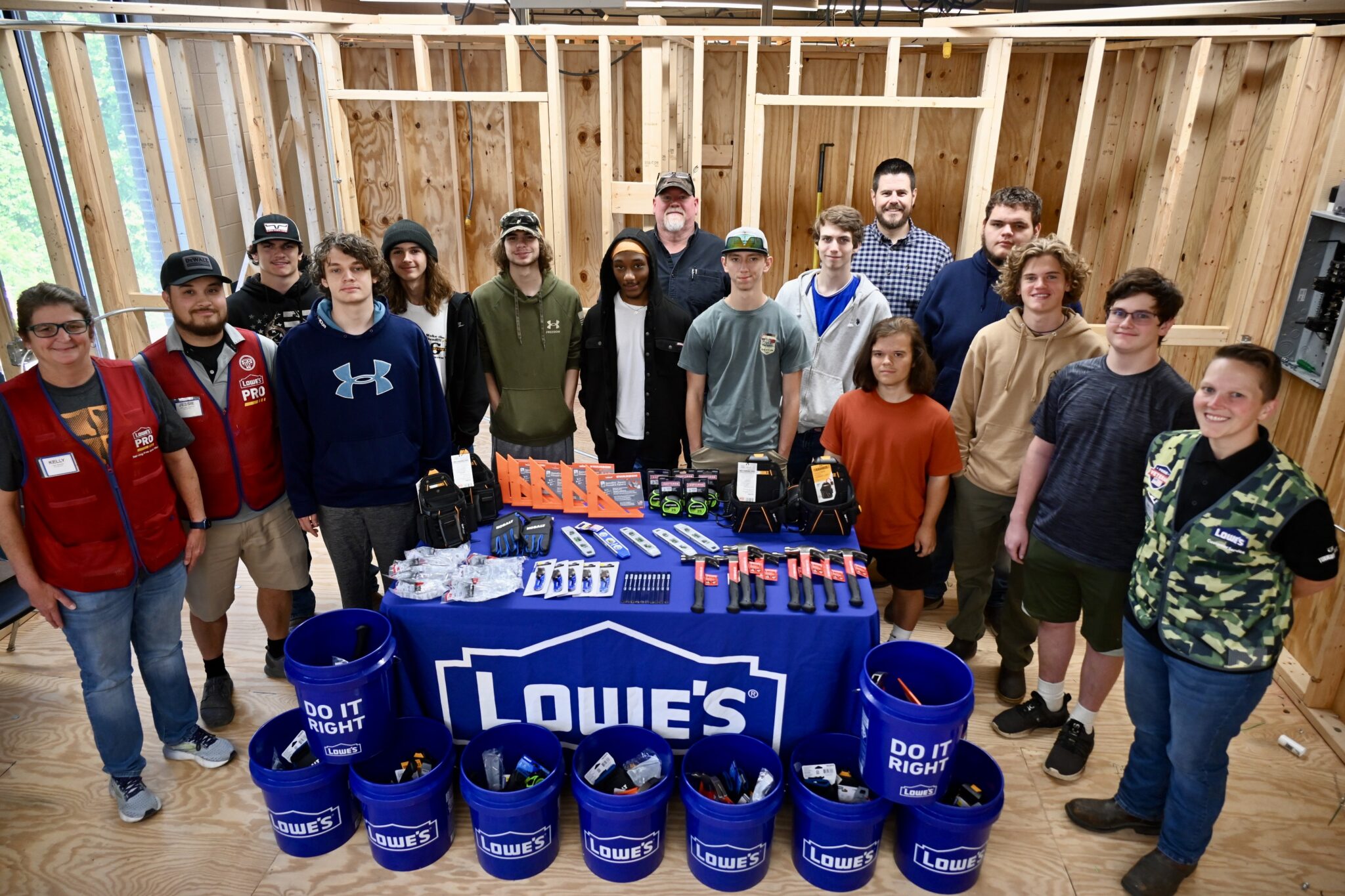 Last Updated on June 14, 2023 8:56 am
Pre-Apprenticeship students recently began their summer of hands-on, construction trades education at Caldwell Community College and Technical Institute. The 8-week Trade-Up program – made possible through support from Blue Ridge Energy, Lowe's, the High Country Home Builders Association, the Caldwell County Home Builders Association, Caldwell County Schools and Watauga County Schools – combines classroom instruction and hands-on experience with local employers to prepare students for careers in the construction trades. The program introduces local high school students and recent high school graduates to career and training opportunities, while also filling a growing industry need for skilled workers. For more info on the Trade-Up Pre-Apprenticeship program, visit www.cccti.edu/tradeup.
Photo by CCC&TI Staff
Photo caption (left to right): Kelly Norman, Pro Specialist at Lowe's; Jessie Keefer, Department Supervisor at Lowe's; Payton Church, South Caldwell High School 12th grader; Ryan Whalen, Class of 2023 South Caldwell High School graduate; Pacey Abel, Caldwell Applied Sciences Academy 11th grader; John Thomas, Hibriten High School 11th grader; Nehemiah Foxx, West Caldwell High School 12th grader; James Reed, Trade-Up instructor; Alex Barlow, West Caldwell High School 12th grader; Brian Rector, South Caldwell High School 12th grader; Justin Harris, CCC&TI Director of Energy and Construction Trades, Brayden Biddix, Class of 2023 Hibriten High School graduate; Jack Kincaid, Hibriten High School 12th grader; Brennan Stroupe, CCC&TI Watauga Campus student; Aaron Triplett, South Caldwell 11th grader and Emily Mabe, Lowe's Assistant Store Manager.