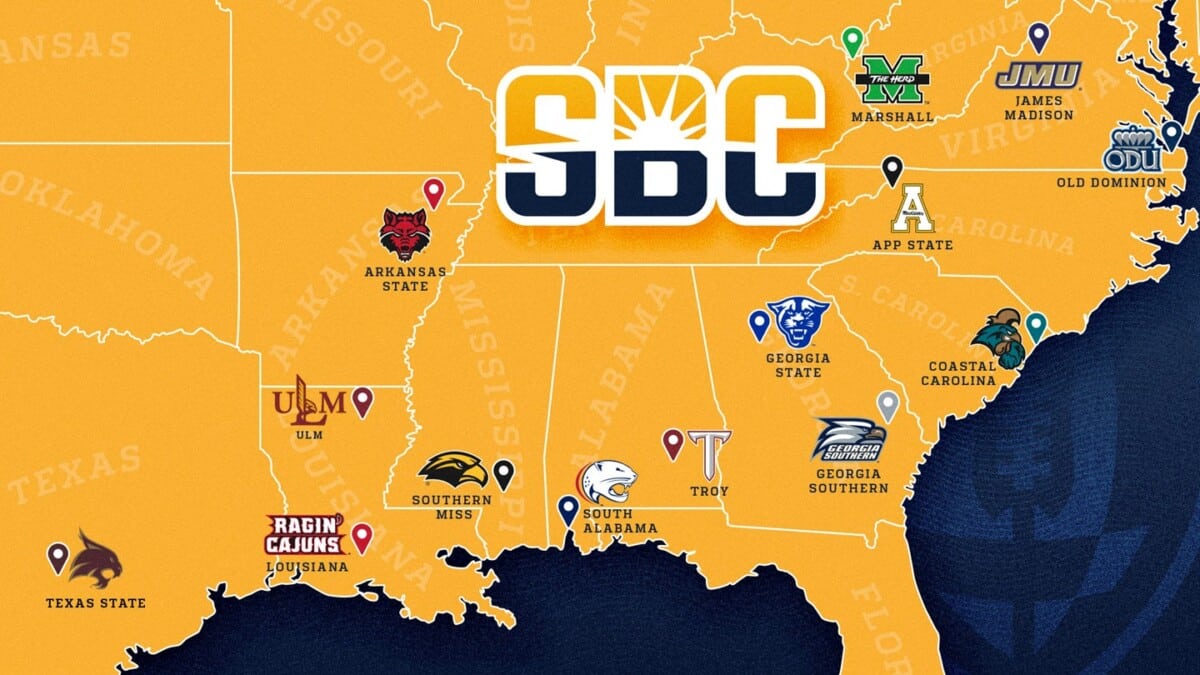 Last Updated on September 14, 2022 10:39 am
NEW ORLEANS — As realignment swept across the college athletics landscape during the fall of 2021, the formula for the future of the Sun Belt Conference was simple. 

Commissioner Keith Gill, in conjunction with the CEOs and Athletics Directors of existing member institutions, wanted to enhance a league with successful broad-based athletics programs, while embracing the tradition and rivalries that make college athletics so unique and compelling. 

"I give all the credit to our CEOs and ADs in terms of their vision for football and the investments that they've made in football," Gill said. "It's the plan that our CEOs have had for a long time in terms of how to grow football programs in this conference. It's a really good approach to how they have built strong football programs. We've got great players here, we've got great programs who are undaunted going into storied places filled with winning tradition. They're really committed to going out and making their own history and their own memories."

What then would the Sun Belt need to do to take that foundation and again put itself in the national spotlight? 

"You'd better go do some things that cause a stir," said Georgia Southern head coach Clay Helton. 

A stir was certainly created this past Saturday on an historic day for the Sun Belt Conference.

App State won at No. 6/6 Texas A&M, Marshall earned a victory at No. 8/9 Notre Dame and Georgia Southern defeated Nebraska on the road. It marked the first time in the College Football Playoff era that two non-autonomy teams had defeated Top 10-ranked opponents on the same day. 

As impressive as the feat was, it only builds on the strength of Sun Belt football. On the first full weekend of the 2020 season, Sun Belt squads defeated three Big 12 Conference teams on the same day. In the past five seasons combined, the league's 11 non-conference road wins over autonomy five teams are the most of any FBS conference. 

In the College Football Playoff era, the Sun Belt paces the FBS with a .649 bowl winning percentage and is home to three of the top-15 teams in FBS in winning percentage since 2020. Last season, three Sun Belt teams accumulated double-digit wins in the regular season for the first time in league history.

"The Sun Belt is one of the best conferences in all of college football," said Arkansas State head coach Butch Jones, the former head coach at Tennessee, Cincinnati and Central Michigan. "It doesn't matter if you call it Group of 5 or Power 5, the results speak for themselves." 

What has been the key to the success of Sun Belt football? Each program has embraced what is unique about its institution and played to its strengths. 

"We do things different," App State head coach Shawn Clark said. "I am very involved in recruiting. I don't want to look at highlight tapes in recruiting. We go back and do a review of two of their games. We want to see—when things aren't going well, how do you react? Are you hustling at all times? Are you being a great teammate?" 

At a time when geography and regional rivalries have been deemphasized in college athletics, the Sun Belt has embraced the fanfare and familiarity. The conference now features 14 FBS football institutions in 10 contiguous states. Many of the teams in the Sun Belt East Division were postseason rivals in their FCS eras. 

Marshall's second-year head coach Charles Huff believes this focus is appealing to not only fans, but a recruiting draw for some of the nation's top prep players. 

"Each school has got its own unique niche in this conference, each school has got its own unique fanbase and history and tradition," Huff said. "When you have those things, you tend to attract good players and good coaches."

There's no question that statement wins like Sun Belt programs have earned this season—add in Old Dominion's week one victory against Virginia Tech and Louisiana extending the nation's longest win streak to 15 games—bring the nation's attention to the conference. 

"Any time you can get an autonomy five win, it sets you on a different stage nationally," Gill said. "That matters and there's a relevance in that to help you from a branding standpoint. That being said, it is really important for us to take care of business against non-autonomy schools. We want to beat everyone in the FBS that is an opponent on our schedule." 

Clark views it the same way. He has a 24-hour rule within his program. Win or lose, his players and coaches can think about the past game for a day and then it's time to move on to the next one. No one game is more important than the next. 

"These kinds of wins are great—it puts your program on a national stage," Clark said. "When we talk in our program, our goal was not to beat Texas A&M, our goal is to win the Sun Belt Championship." 

Huff believes that it's a positive that his program's victory at Notre Dame on Saturday wasn't the only statement win in the Sun Belt. 

"It was probably the best thing that could have happened to our team because it forces our team to understand that every week you have to be ready to play," Huff said. "Sometimes when these things happen where a supposed team doesn't win and the other team wins, you kind of get a little bit of 'We've arrived.' We can't allow that to happen. With those types of victories across the country in this conference, especially with all of those being opponents that we play, it really helps us focus in on doing the same thing every week." 

Still, the visibility that can be gained by wins against autonomy five programs, particularly on linear network television, is undeniable. It provides a national window into what those within the Sun Belt have known for years. 

"It was important for all of us," Helton said. "When you look up and see what App State did and Marshall did and Old Dominion against Virginia Tech, it's important for us as a league to win those types of games as we move forward for the reputation of the league. This is a really, really good league and a competitive league and it needs to be talked about nationally."

The Sun Belt will again be front and center this week as ESPN's College GameDay travels to Boone, N.C., to be on hand for the SBC opener featuring Troy at App State. 

"It really is tremendous for us," Gill said. "GameDay is going to be like a great infomercial to showcase Sun Belt football and two of our great universities in App State and Troy. The whole Sun Belt is going to be exposed for the quality institutions and quality football that we have. I can't be more excited about that opportunity for our league, for our student-athletes and for our coaches."

It is an opportunity that the football programs of the Sun Belt Conference have prepared for and are ready to embrace.  Follow the Sun Belt on social media via Twitter, Facebook and Instagram.