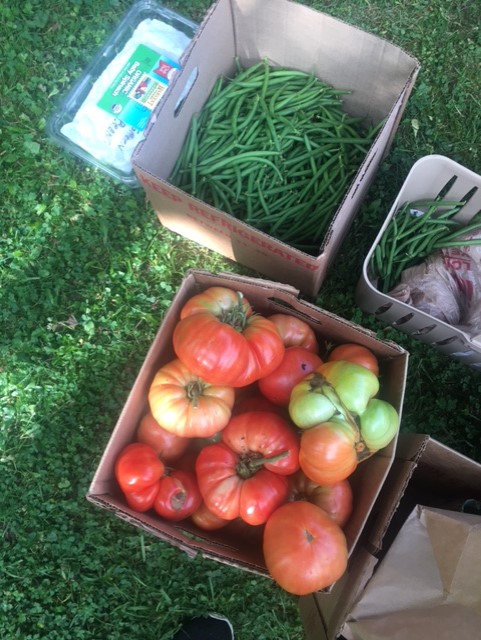 Last Updated on October 16, 2023 2:36 pm
As the first chill of fall is in the air, hands of volunteers are busy harvesting late summer and autumn crops at the WAMY Community Garden in Avery County. Multi-colored cauliflower, butternut squash, collards, eggplants, purple radishes and juicy heirloom tomatoes — picked and ready for distribution to families in need.
WAMY — the nonprofit Community Action organization serving people with lower incomes in Watauga, Avery, Mitchell and Yancey Counties — sponsors the garden as a way to ensure all households have access to nutritious, delicious fresh produce.
Brittany Luxton, executive director of WAMY, said, "Food insecurity isn't just about being hungry. It means not having enough good and healthy food that fits people's needs. The Community Garden fights against this by making sure that people who need it the most have access to fresh and sustainably grown fruits and vegetables on their tables."
Food and Nutrition is one WAMY's key initiatives, in addition to programs providing home repair and weatherization services, childcare and youth camps, and education and employment assistance for individuals and families with lower income.
The community garden took root in 2019, when local residents Arlene and Bob Weiner noticed the empty lot behind the WAMY office on Cranberry Street in Newland.
"Bob and I have always loved to garden, but when we moved to Newland, our house was in the forest, and we had no room to grow anything," shared Arlene. "When I saw the big empty lot, overgrown by weeds, I had the vision of a community garden that could provide food for those in need."
Arlene contacted WAMY with her idea and was invited to take on the project — and join the board of directors. She agreed to both.
The plot of land proved too rocky for traditional gardening, so the Weiners sourced garden boxes from another nonprofit organization, Tiny House Community Development in Greensboro. The raised beds are built as part of a workforce training program for people experiencing homelessness, and sales proceeds fund tiny house communities to reduce homelessness.
"It was a perfect solution," Arlene said. Raised bed gardening is easier on the volunteers, allowing them to work and harvest while sitting on the edge of the boxes.
As the garden expanded, the Weiners recruited other volunteers to help. Bill and Jayne Runyan, who served in the Peace Corps, joined the effort.
"Jayne uses her experience from the Peace Corps to determine what we need to grow and when it needs to be planted," Arlene said. "She loves finding new kinds of seeds and experiments to discover which vegetables grow best here."
For maximum production, crops are rotated and the volunteers replant the boxes several times as the growing season evolves. "We start in February, getting the soil ready for planting. Our final harvest is in October," Jayne said. "We grow almost everything you can find in the produce department at the grocery store."
Approximately 10-12 regular volunteers work at the garden, prepping soil, planting, weeding, mulching and harvesting. Some spend just a couple of hours per week at the garden, while others work 15-20 hours a week during the growing season.
Additional volunteers are welcome on a regular or occasional basis, Arlene said, and are encouraged to call the WAMY office for more information.
This year, the garden produced over 1600 pounds of food, a record harvest for the project.
In past years, the harvest has been distributed to families through WAMY's Mountain Adventure Summer Day Camp, through The Hunger and Health Coalition in Boone, and through Feeding Avery Families (FAF) in Newland.
In April, FAF — a nonprofit Christian organization dedicated to eliminating hunger — moved to a new facility on 189 Old Vale Road in Newland, directly across the street from WAMY's community garden. It proved to be the perfect distribution partner for the food grown in the garden.
Luxton explained, "WAMY avoids duplicating services with other nonprofits, and our partnership with FAF partnership demonstrates how nonprofit organizations can work together to better help the community. We are making a big difference and using our combined resources to help as many people as possible."
WAMY volunteers harvest the produce each Wednesday morning, and drop off at the FAF warehouse. Later that same day, FAF clients choose their own food in the "grocery store setting", allowing families to pick items that best meet their individual needs.
"Some food banks are limited to canned vegetables," said Allison Jennings, director of development at WAMY. "Thanks to our community garden, we can provide these families with a quality of produce they might not otherwise be able to afford."
At the WAMY Community Garden in Newland, two volunteers sit on and beside the raised garden box, harvesting kale to be distributed to families in need. Photo by Jan Todd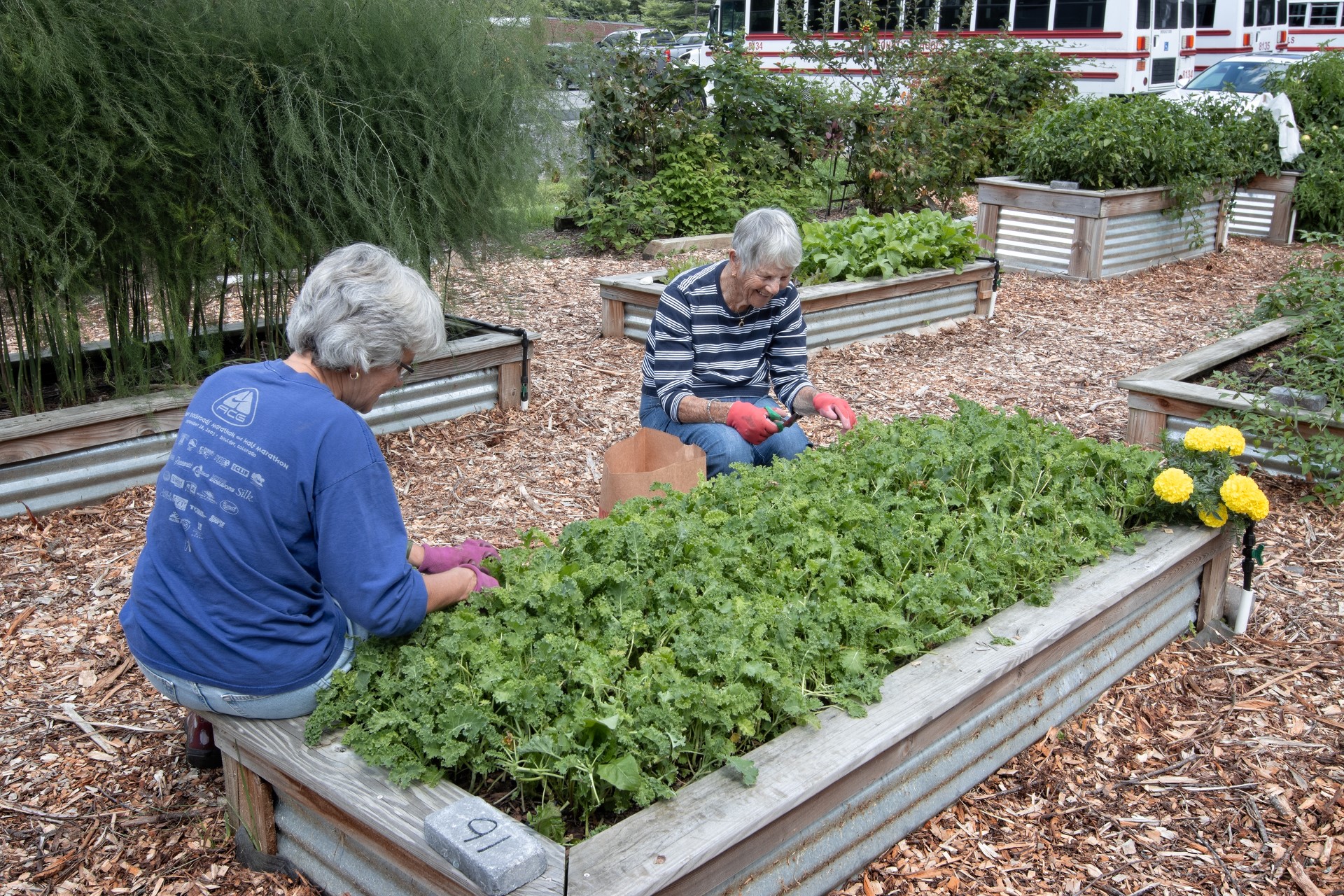 Six volunteers at the WAMY Community Garden take on additional leadership responsibilities, including crop management, volunteer coordination, planning and record keeping. Pictured from left to right are Bill and Jayne Runyan, Arlene and Bob Weiner and MaryLu and Chuck Williams.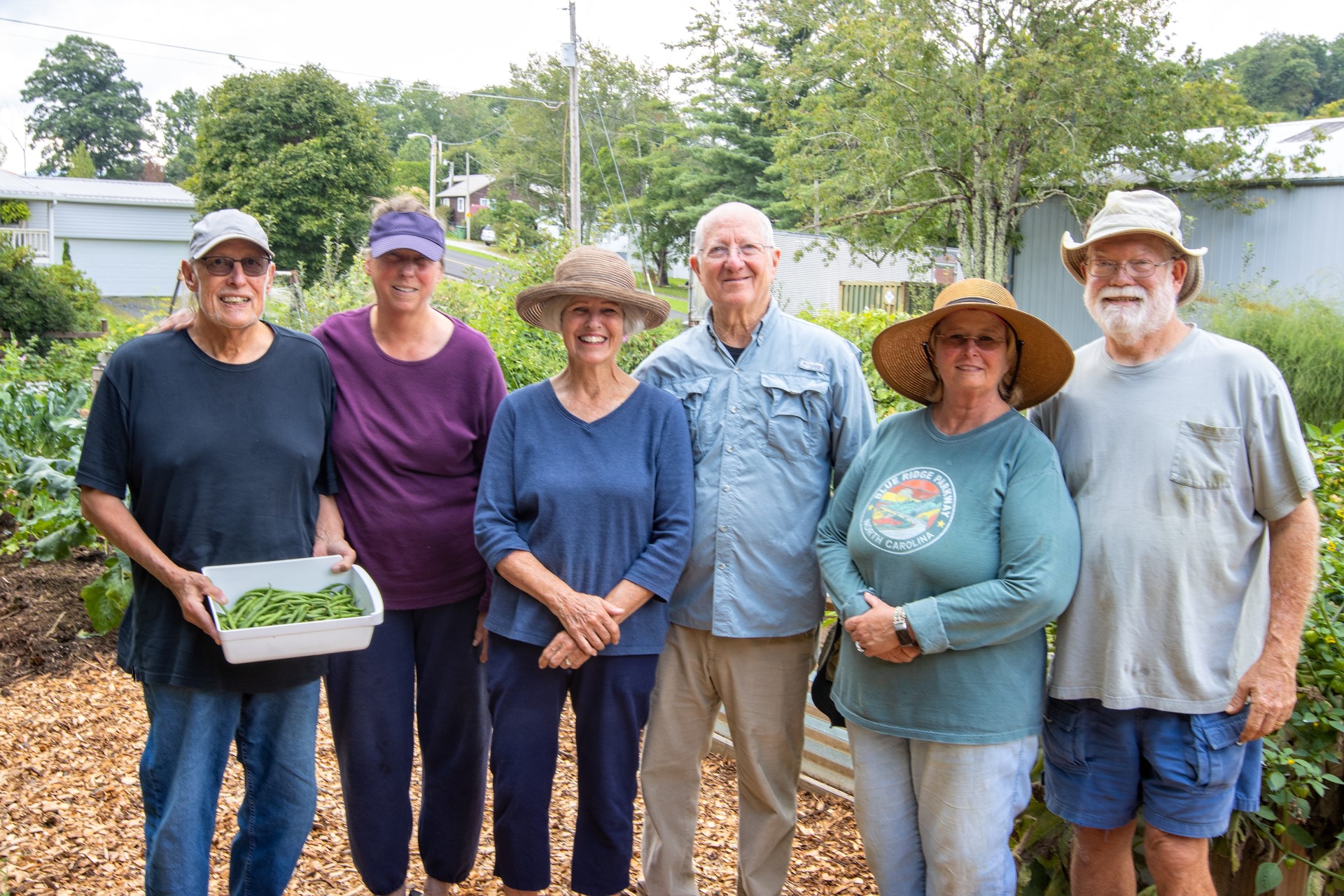 Purple radishes, grown in late summer and early fall, are milder than the red spring radishes. In addition to traditional fruits and vegetables, WAMY Community Garden grows heirloom and more unusual varieties of produce, providing a quality and selection of food rarely available at food banks. Photo by Jan Todd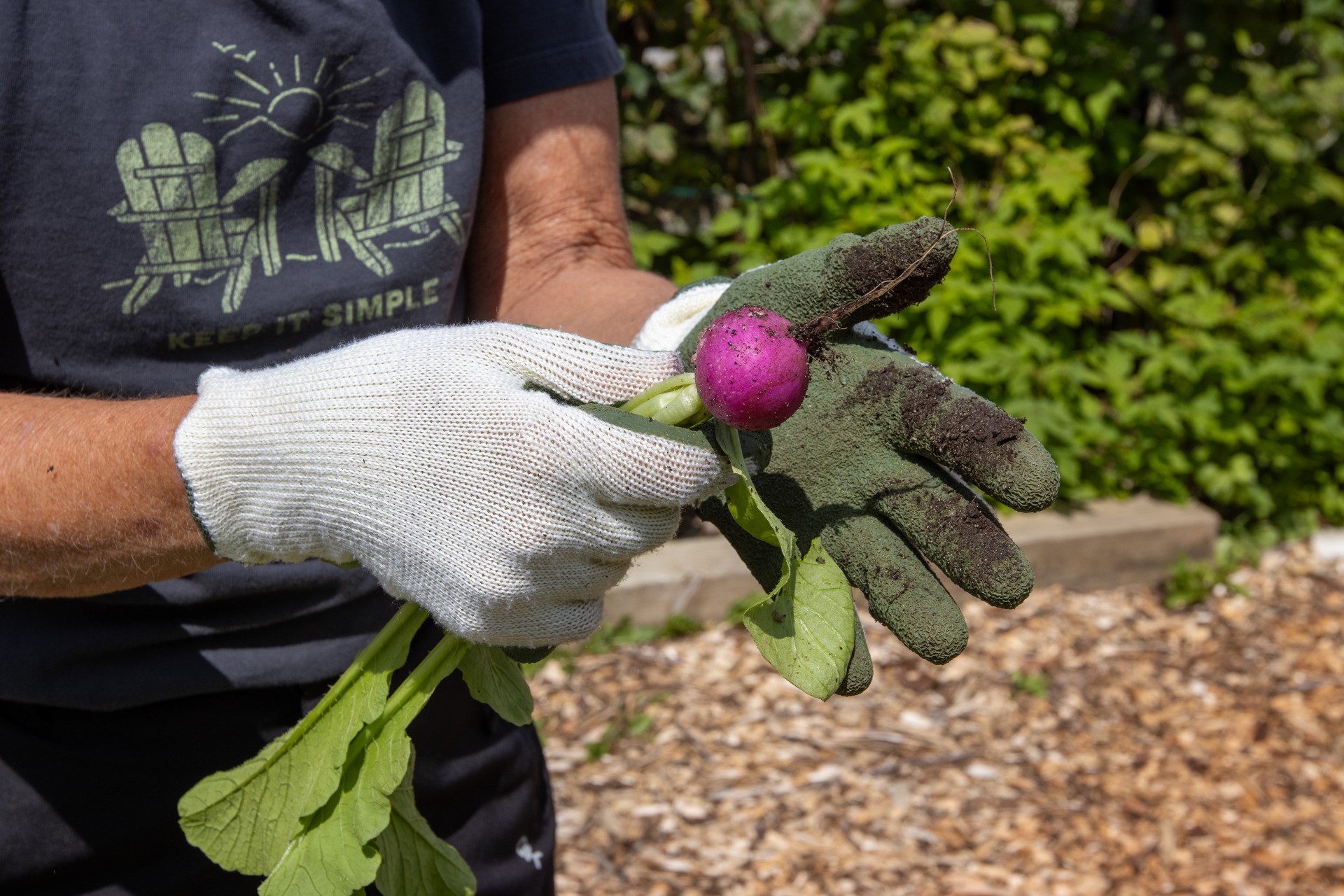 In 2023, WAMY's Community Garden provided over 1,600 pounds of fresh produce to Feeding Avery Families (FAF). Clientele at FAF choose produce and other food and toiletry items in a grocery-store setting at the FAF distribution center in Newland. Photo supplied