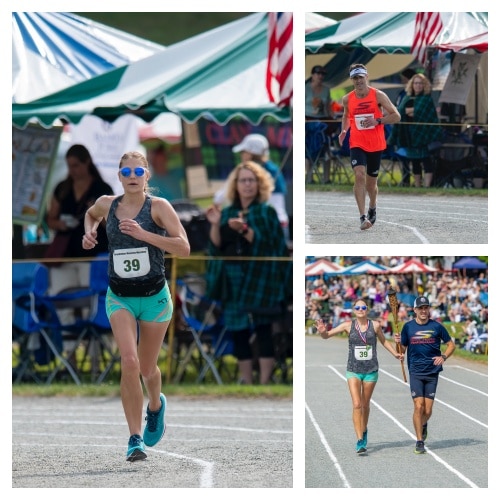 Last Updated on July 11, 2021 5:52 pm
GRANDFATHER MOUNTAIN, NC—Caleb Masland teaches by example.
For the fifth time, the Boone, N.C., running coach finished first in the Grandfather Mountain Marathon, part of the Saturday, July 10, festivities of the 2021 Grandfather Mountain Highland Games.
Masland, 40, finished with a time of 2:48:37.2 on a course that stretches from Kidd Brewer Stadium at Appalachian State University to MacRae Meadows at the base of Grandfather Mountain.
"This course is just about being smart, grinding, and once you get to the last 10K, just surviving it and hoping that you make it," said Masland, who owns and operates TWB Running in Boone.
His fastest time at this particular race was 2:43 in 2018. But after missing a year—the marathon and the Games were cancelled in 2020 due to COVID-19—Masland said he approached this year's contest with some trepidation.
"I felt a lot of anxiety and uncertainty about how I would do," he said. "It was hard to get into 'race brain' like I always used to do. So, I did what I always do—I journaled, practiced some breathing techniques, did some visualization, tried to stay calm and chunk it up into pieces and get through it."
The practice paid off, and Masland couldn't be happier.
"I love this," he said. "I love this event, the Grandfather Mountain Highland Games and everything about it. It's such a treat, such a highlight of the High Country."
While 2021 marked Masland's fifth Grandfather Marathon, it was the first for Maggie Fortney.
Fortney, 33, a veterinarian from College Grove, Tenn., was the first female finisher and ninth overall, completing the marathon with a time of 3:31:18.6.
"The vistas and the views are really unbeatable," she said. "And it's pretty shaded, which was great. I've always had my eye on (the Grandfather Mountain Marathon) … and the fact that it came back from COVID made it seem like a good time to do it."
Fortney didn't encounter any surprises along the course, although she did meet some local fauna and Highland Games enthusiasts.
"We saw one deer, but otherwise, just a lot of men in skirts," she said.
Both can be attributed to the marathon's unique setting, as race director Jim Deni will attest.
"I think this course has to be more scenic than any other course in America," Deni said. "It's ranked as one of the top three or four marathons in the U.S. as far as toughness, but I think it's also special because it's part of the Grandfather Mountain Highland Games."
Deni, who's run the Grandfather Marathon five times himself, noted that 2021 marks the race's 53rd anniversary and the Highland Games' 65th (although they're in their 66th year, due to 2020's hiatus).
"It's a tradition," he said. "It's well known all over."
And he means it. This year's field of runners hailed from 26 different states — essentially one for every mile in the marathon.
"It's such a special race," Deni said. "I've told runners running the first time today that they're never going to see a more scenic marathon. It's a very special marathon."
Top Finishers
Men
1st – Caleb Masland, 40, Boone, N.C. – 2:48:37.2
2nd – Owen Bradley, 41, Birmingham, Ala. – 2:59:09
3rd – Michael Mason, 50, Charlotte, N.C. – 3:09:54
Women
1st (9th overall) – Maggie Fortney, 33, College Grove, Tenn., 3:31:18.6
2nd (20th overall) – Ashley Diette, 37, Chesapeake, Va., 3:47:37.2
3rd (22nd overall) – Elizabeth Hawes, 31, Morganton, NC; 3:48:07