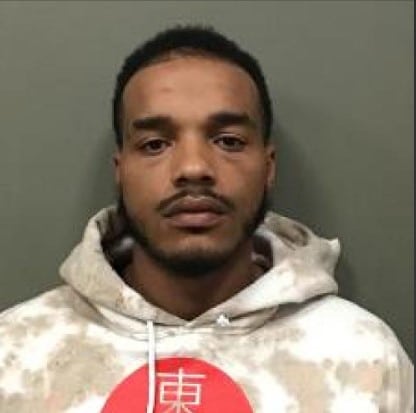 Last Updated on August 25, 2022 5:06 pm
On August 21, 2022, around 1:20 am, a shooting was reported on West King Street in the downtown area. It appears that a quarrel began between occupants of a truck and at least one pedestrian on the sidewalk. As the truck was driving westbound on W. King Street in the 600 block, the suspect fired multiple shots from a handgun striking the occupied truck three time. Two unoccupied businesses were struck as well. Fortunately, none of the three occupants in the truck were injured. The suspect ran on foot and eventually returned to Wilkes County where he lives.

The police department released a Crimestoppers alert in an effort to identify the suspect and several people who were in the immediate area that would have likely witnessed the incident. At this time, all persons in the earlier release have been identified. Only one person in the images released was the suspect. All other persons have been interviewed as witnesses.

Investigators with the Boone Police Department have consulted with the Watauga County District Attorney's Office to present the evidence. Based on this meeting, arrest warrants have been obtained for Malik Keyshawn Gibbs, age 26 of Damascus Church Road, Wilkesboro, NC. The warrants are for the charges of: Assault with a Deadly Weapon with Intent to Kill (3 counts), Discharging a Weapon into a Moving Vehicle, Injury to Real Property (2 counts), and Going Armed to the Terror of the People. Mr. Gibbs is considered armed and dangerous.

In addition to charging the shooting suspect, the three occupants of the vehicle have been charged with Underage Consumption of Alcohol. The names of these individuals are: Jacob Wayne Fox of Watauga County, age 18, Hunter Grayson Harmon of Watauga County, age 19, and Sabastian Ramsey Best of Ashe County, age 19.
"We are very disappointed that we have experienced another shooting in our Town. As this is an active case, we cannot share all the details that led up to this incident. Obviously it should have never happened. We do have video footage showing the moment where the suspect fired at the victims. All of the evidence will be turned over to the District Attorney. We appreciate the cooperation that we received from the witnesses who were identified in the Crimestoppers release earlier in the week. We are reaching out to family members of the shooting suspect to try to negotiate a peaceful surrender as he is currently hiding out. I would like to thank our detectives, Lt. Jon Houck, Sgt. Candace Burlingame, Detective Dennis O'Neal, and Capt. Bobby Creed, who put in long hours to solve the case. We would also like to thank the Watauga County Sheriff's Office and App State Police for their response on the evening of the shooting to help secure the area" Chief Andy Le Beau