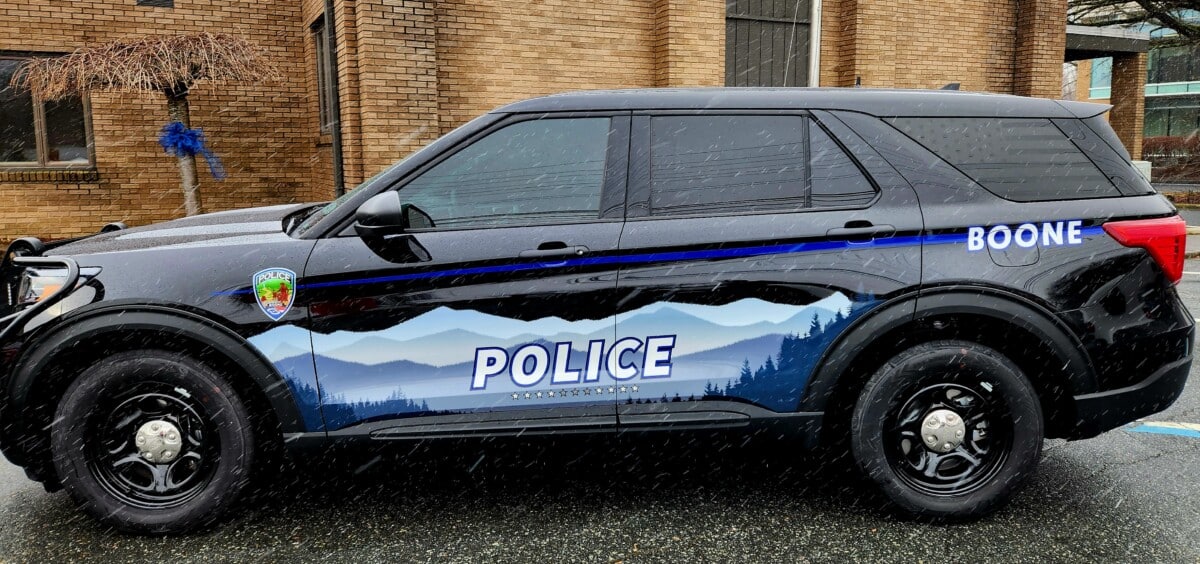 Last Updated on January 27, 2023 10:30 am
In August of 2022, the Boone Police Department held a community wide competition for a new design on our police vehicles. They wanted the design to capture the beautiful Boone area. They also wanted it to have a professional, approachable appearance which is representative to our mission statement on community policing. There were over fifty submissions and five were chosen by the Boone Police Department officers to be considered as the new design. These five designs were then presented to the Town Council for final approval. Much consideration was given to the officer's opinion on the top choice out of the five, which was ultimately the design chosen.
The design was submitted anonymously by Marty Shue, who owns and operates a graphic design company called Carolina Custom Designs, which is based in Ashe County. Mr. Shue did not want to jeopardize the integrity of the competition due to his deep connection to the Boone community, specifically to our police department. You see, Mr. Shue is the father of one of our police officers, Caleb Shue. So, this was something very special for him to be a part of.
The mountains on the design are a perfect depiction of this beautiful area.  Boone rests in a valley surrounded by the Appalachians. When you ask most people why they visit or live in Boone, you're more than like going to hear, "Because I love the mountains!".  The stars below the mountains have a very special meaning.  The ones that are grey represent officers from Watauga County who died while in service (working, but off duty). The stars that are white represent the total Watauga County officers that have been killed in the line of duty.  On either side of the vehicle, on the rear windows, is a subtle United States of America flag.
"There are several we want to acknowledge who assisted in this collaborative initiative. Thank you to the Boone Town Council for their involvement and approval of this process and to the Town of Boone, the Boone Area Chamber of Commerce and the Watauga Arts Council for their contributions to the prize package for Mr. Shue. We also give a special "thank you" to the Fairbanks, Alaska Police Department who held a similar competition and provided ideas on how to make it happen. Most of all, thank you Boone Community for your input, the submissions to the competition and your continuous support!" – Community Resource Officer Kat Eller.