Last Updated on May 28, 2015 3:54 pm
Obrella, an insurance news & outlet website, has named Boone as the top commuter city in North Carolina. Boone top other nearby cities: Lenoir (6th), Hickory (9th), southwest neighbors Waynesville (15th) & Asheville (18th), Morganton (22nd) and Black Mountain (25th).
Here's what the outlet had to say about Boone:
"The best commuter city in North Carolina is also praised for its outstanding schools, quality medical facilities, and unending recreation opportunities. Boone is home to Appalachian State University, so we weren't surprised to learn that many locals are employed in the education field and that nearly 50 percent of adults have attained at least their bachelor's degree. That's nearly twice the national average. In addition to education, tourism related jobs are prevalent in Boone.
Thanks to a strong, diverse economy, residents don't have to travel far to find work. Nearly seven out of 10 get to work in less than 15 minutes and nine in 10 make the trip in 29 minutes or less."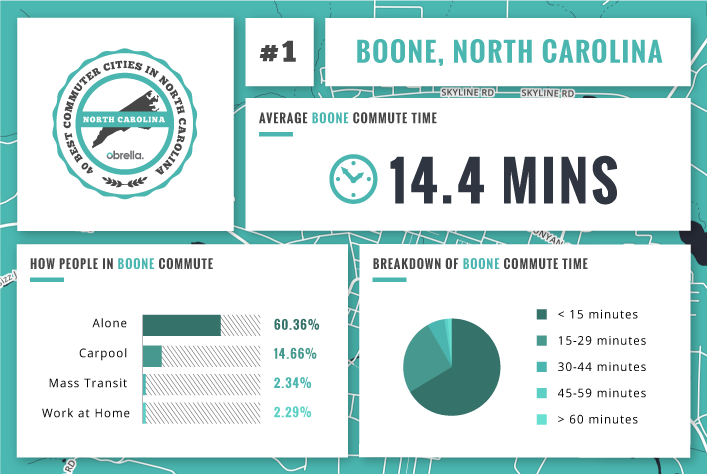 Overall North Carolina ranked as the 25th most commuter friendly state in the U.S.
To determine which cities made the 25 Best Commuter Cities list, Obrella analyzed traffic data from the most recent U.S. Census Bureau survey and then identified cities in North Carolina with a population of 5,000 residents or more at the time of the 2013 Census Survey. Obrella analysts sorted cities by average commute time and used other available data points to help visualize the breakdown of commute types and commute lengths.