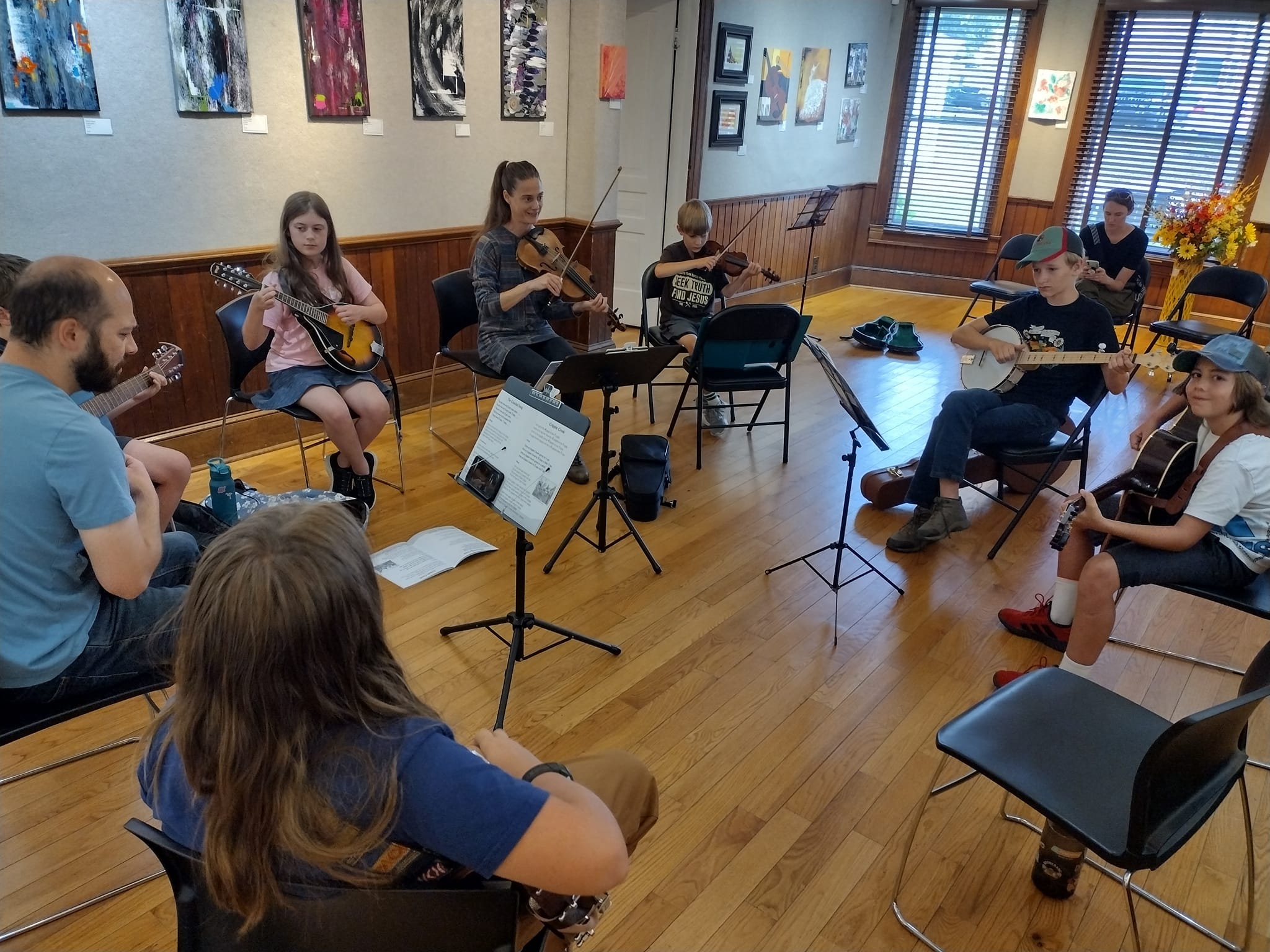 Last Updated on October 9, 2023 6:36 pm
Boone, October 5, 2023 — Boone Junior Appalachian Musicians (Boone JAM) is excited to announce a series of Kids' Old Time and Bluegrass Jam sessions at the historic Jones House. These musical gatherings are set to take place from 4:00 PM to 5:00 PM every Wednesday, starting on October 11th and running through December 13th (except for Wednesday November 22nd).
Led by instructor Liz Lanham, this event is tailored to young musicians between the ages of 8 and 17 who have a passion for traditional Appalachian music. The intention of this event is for kids to play together in a traditional "jam" format instead of their regular instrument-specific classes and to foster a deeper appreciation for the musical heritage of the region.
Whether it's a fiddle, banjo, guitar, mandolin, bass, or ukulele, all acoustic string instruments are welcome. Knowing some chords and the string names on your instrument will be helpful as specific instrument instruction during the jam will be minimal. This event aims to create a welcoming and inclusive environment for kids to explore the joy of making music together. Kids do not have to be currently enrolled in the Boone JAM program to participate.
To enhance the learning experience, we will utilize the songbook available at https://jamkids.org/jamsongbook/. These resources will enable participants to not only play their instruments but also sing along and discover the cherished tunes of Old Time and Bluegrass music.
Best of all, this musical journey comes at no cost to participants. Boone JAM is proud to offer these sessions as a free community service, open to all children with a passion for music and a desire to participate in a traditional jamming experience.
Join Boone Junior Appalachian Musicians at The Jones House on Wednesdays; let's come together, pick, sing, and celebrate the cultural heritage of Old Time and Bluegrass music.
For further information, please contact:
Town of Boone Cultural Resources Coordinator, Brandon Holder, at Brandon.Holder@townofboone.net
About Boone JAM
The Boone JAM (Junior Appalachian Musicians) program offers small group music lessons for kids age 8 and over in traditional styles of the region for fiddle, clawhammer banjo, guitar, mandolin, and ukulele.
The Boone JAM program is an affiliate of the Junior Appalachian Musicians organization (www.jamkids.org). The program also receives support from the Wayne C. Henderson Scholarship and the North Carolina Arts Council.