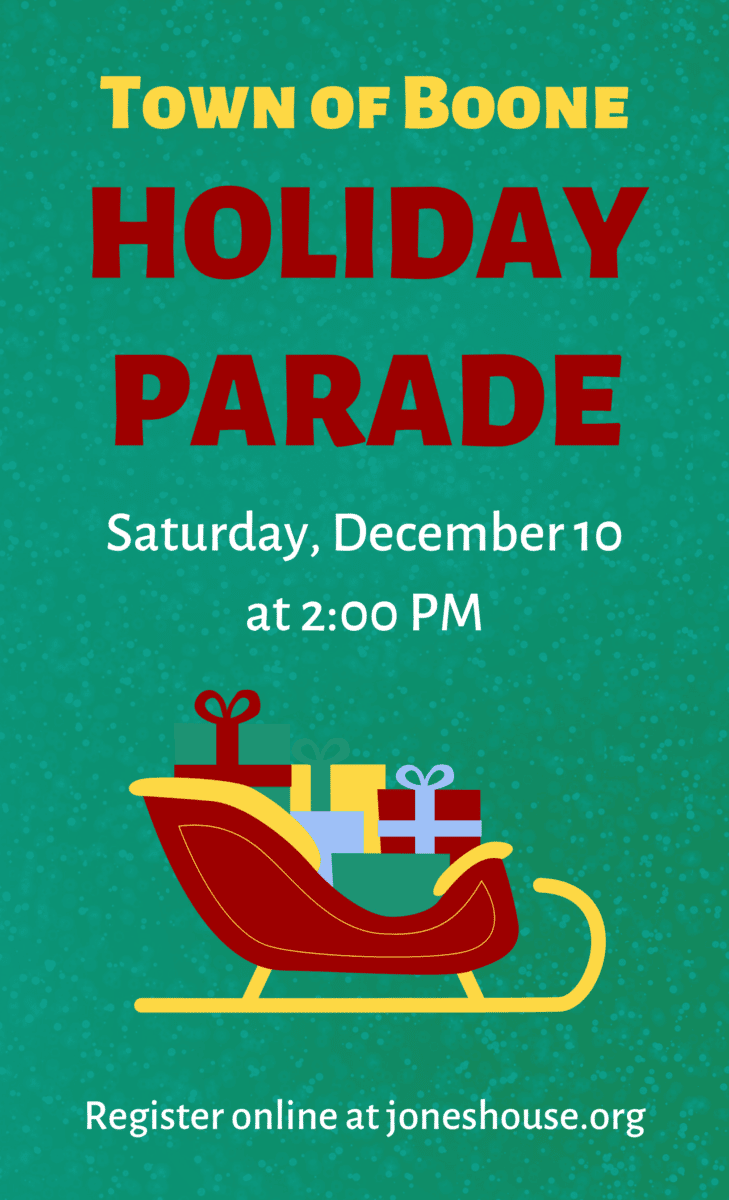 Last Updated on November 14, 2022 2:02 pm
The annual Town of Boone Holiday Parade is slated to take place on Saturday, December 10 at 2 p.m. Local businesses, organizations, nonprofits, and performing groups are invited to participate by filling out an application online at joneshouse.org.

Each year, dozens of community groups show off their cheerful yuletide best for the Boone Holiday Parade. The parade travels east down King Street, starting at Poplar Grove Connector and ending at the intersection of Hardin Street. King Street will be closed to vehicle access while the parade passes through, beginning immediately prior to the parade's start at 2 p.m.

This year's parade includes a spectacular lineup of High Country businesses and organizations. Dancing and clogging groups like Sole Impact and Appalachian Rhythm and traditional Latin dance group Las Rosas y El Clavel are perennial favorites among parade goers. Making its first Boone parade appearance, the High Country Rodeo Association promises to add to the entertainment value, showcasing all aspects of rodeo with a number of athletes mounted horseback.

Parade regulars like the Lamp Post Carolers from the Southern Appalachian Historical Association and the cast of Blue Ridge Community Theatre's The Best Christmas Pageant Ever will also be participating. And the Watauga High School Marching Band is expected to march down King Street, performing a mix of holiday classics and other standards.

Downtown visitors can also anticipate seeing a whole host of other familiar characters including elves, reindeer, and even the Grinch. And no holiday parade would be complete without an appearance from the man from the North Pole, Santa Claus, who will be closing out the parade. With his sleigh in the workshop until Christmas Eve, Jolly Old Saint Nick will be getting a ride down King Street courtesy of Hampton's Body Shop.

Following the parade, guests are invited to stop by the Jones House to warm up with free hot chocolate, nibble on some sweet treats, and enjoy the glow of the solar-powered tree. Downtown businesses will be open for shoppers to get a head start on their Christmas gift lists and restaurants will welcome diners hoping to grab a bite to eat.

The Holiday Parade is presented by the Town of Boone. Parade applications will be accepted through November 28. For more information, please visit www.joneshouse.org or call the Jones House at 828-268-6280.