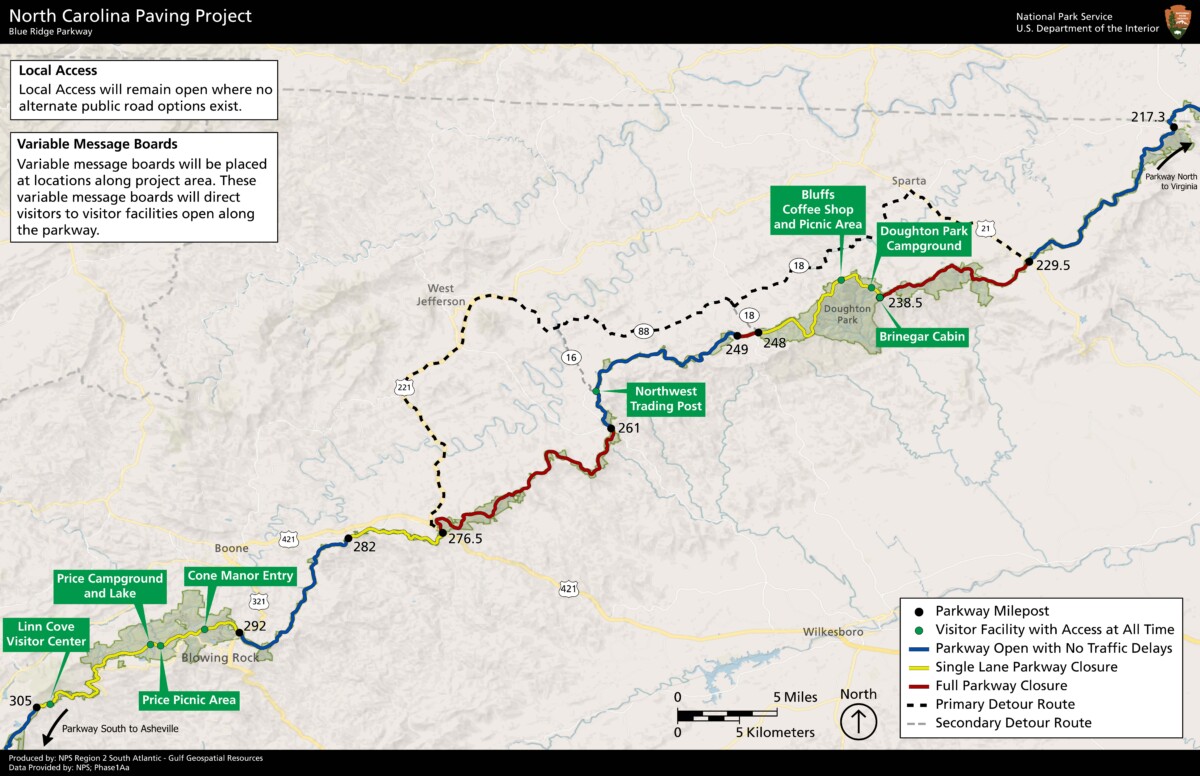 Last Updated on April 27, 2023 3:19 pm
LAUREL SPRINGS, N.C. – Road closures related to a major infrastructure project are set to begin May 1 in a 75-mile section of the Blue Ridge Parkway from milepost 229.6, just north of Doughton Park, to milepost 305.1, near Grandfather Mountain. The $98 million project is a three-year repaving and rehabilitation project along the mainline motor road, that will also address drainage structures, curbs, walks, shoulders, guardrails, overlooks, and signage. The project will be phased with a staggered series of closures, allowing for continuous access to recreation areas and visitor amenities within the project area.

"This Great American Outdoors Act investment in critical park infrastructure allows the Parkway to continue serving the region as a driver of tourism for local economies for years to come," said Blue Ridge Parkway Superintendent Tracy Swartout. "While the project is underway, I encourage park visitors to plan ahead and consult the park's website to understand detour routes and ensure ready access to their favorite sites on and off the Parkway."

Beginning May 1, park visitors should expect short-distance and short-duration single lane closures from mileposts 229.6 to 276.2. No sooner than May 15, the contractor also plans to put full closures with detours in place between both mileposts 229.6 to 238.5, and mileposts 261.2 to 276.4. A signed detour will direct travelers around the full closure from milepost 229.5 to 276.5, via routes NC 21, NC 18, and US 221. Access to Doughton Park attractions, including the Bluffs Restaurant (when open for the season on May 26), will be available via NC 18 and a short, 7-mile drive north on the Parkway. Access to the Northwest Trading Post at milepost 258.7 will be available from NC 16 and Trading Post Road at Glendale Springs, NC.
As construction progresses, closure locations will alternate with announcements preceding each shift. However, at all times, the contractor will maintain uninterrupted access from either the north or the south to visitor facilities and recreation areas within the project area.
Up-to-date closure and detour maps will be available on the park's website and in visitor centers along the route. With multiple road projects underway and planned this season, the Parkway website and road status page are important planning tools that provide daily road status information with links to project information or current detour maps. This paving project is expected to be ongoing through September 2025.
As with any road project, park visitors and neighbors must exercise caution and observe closures. Within the active closure, all activity is prohibited for cars, bicycles and hikers to ensure the safety of Parkway visitors and staff.
Funding for this project comes from the Great American Outdoors Act's (GAOA) Legacy Restoration Fund. GAOA is part of a concerted effort to address the extensive maintenance backlog in national parks. Supported by revenue from energy development, the fund provides up to $1.3 billion per year for five years to make significant enhancements in national parks to ensure their preservation. Maymead, Inc., of Mountain City, Tennessee, is the contractor for this paving project.
The Blue Ridge Parkway is one of the largest designed landscapes in the country, providing visitors with a wide variety of opportunities to experience southern Appalachian nature, history and culture. The park's drive-a-while, stop-a-while design enhances the experience; and whether at milepost 0 or 469, driving the scenic route, hiking a trail or taking in a concert or ranger program, Parkway officials remind visitors to have a plan and recreate responsibly. A complete schedule of facility seasons is also available on the Parkway's website.