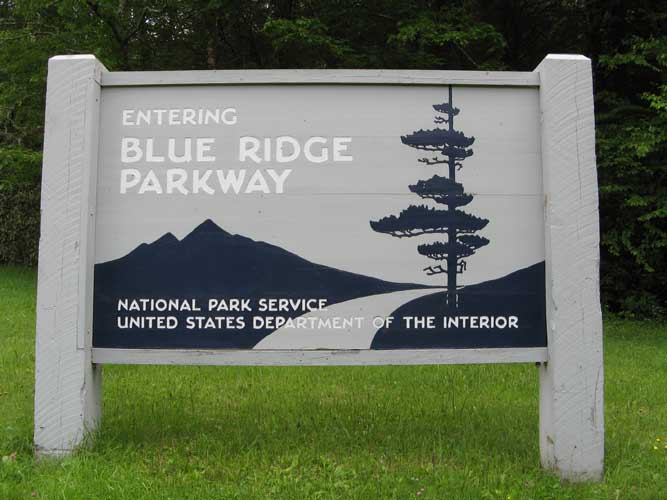 Last Updated on February 12, 2022 6:42 pm
(NC/VA) – National Park Service officials announced today additional modifications to operations on the Blue Ridge Parkway in a continuing effort to support federal, state, and local efforts to slow the spread of the novel coronavirus (COVID-19). Effective immediately, and in addition to all existing restroom, visitor center, campground and picnic area closures, the Blue Ridge Parkway is implementing closures at the following locations until further notice.  
BLUE RIDGE PARKWAY ROAD and AREA CLOSURES effective 4.15.2020
Information is organized from North to South using Parkway Mileposts and nearby locations
Milepost
Nearby Landmarks or Common Placenames
VIRGINIA
MP 0 – 13
Road closed, including Humpback Rocks (previously announced)
MP 85.9
Peaks of Otter Visitor Center and Sharp Top Parking Areas closed
MP 92.5
Sharp Top Parking Widening closed at Appalachian Trail crossing
NORTH CAROLINA
MP 292 – 294.5
Road closed near Blowing Rock, including Moses Cone Parking Area and Hwy 221 Bass Lake Parking Lot.
MP 294.5 – 296.4
Road closed, including Price Park Picnic Area
MP 298.6 – 305
Road closed through Grandfather Mountain area, including Rough Ridge and Linn Cove Viaduct
MP 305 – 308
Road closed
MP 316.4
Linville Falls Spur Road closed, including parking at Linville Falls trailheads
MP 334 – 342
Road closed, including Crabtree Falls Area, near Little Switzerland, NC
MP 355 – 375.6
Road closed from Mt. Mitchell to Ox Creek, including Craggy Gardens
MP 377.4
Parking areas closed at Craven Gap (Town Mountain Rd) for MST Trail access
MP 384.7
Roadside parking closed at MST Trailheads at US 74A Parkway access ramps
MP 393 – 469
Road closed from French Broad River Overlook to Southern Terminus of Parkway
*ALL listed closures are to vehicular traffic only.*
The health and safety of park visitors, employees, volunteers, and partners remains the Parkway's number one priority. Some sections of the Blue Ridge Parkway motor road and outdoor spaces, including trails, remain accessible to the public in accordance with the latest federal, state, and local health guidance. If contemplating a visit to a national park during this pandemic, the NPS asks visitors to adhere to guidance from the Centers for Disease Control and Prevention (CDC) and state and local public health authorities to protect visitors and employees. As services are limited, the NPS urges visitors to continue to practice Leave No Trace principles, including pack-in and pack-out, to keep outdoor spaces safer and healthier.
The NPS encourages people to take advantage of the many digital tools available to explore the National Park Service and learn more about the Blue Ridge Parkway during this time, including:
Learn about the lives of the people who played key roles in the creation of this scenic roadway.
Explore stories of how the Parkway was designed and constructed.
Discover the diversity of plants and animals that make their home along the Parkway.
Ask a park ranger a question about the park by submitting an email to blri_info @nps.gov or on the park's social media platforms under the handle @blueridenps on Facebook, Twitter and Instagram.
Find Your "Virtual" Park information and activities for park sites across the country.
Public notifications will be made when operations resume; updates will also be posted on the Parkway's website, nps.gov/blri, and social media channels.