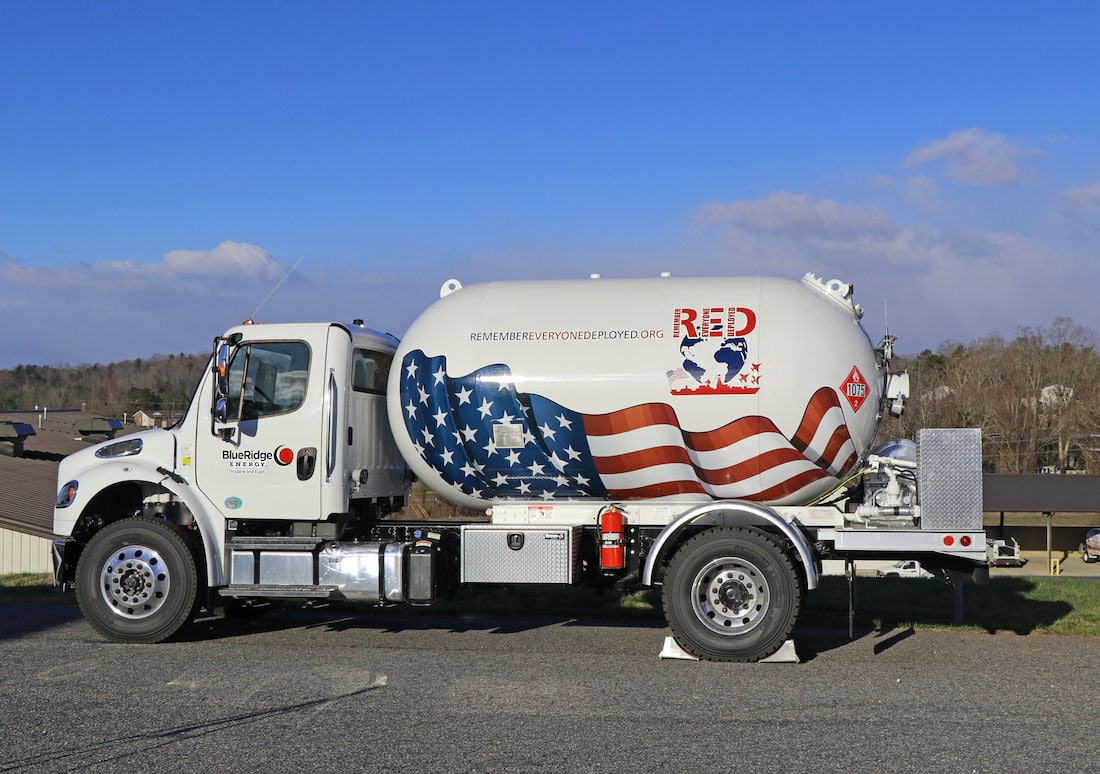 Last Updated on March 11, 2020 8:02 am
Lenoir, North Carolina (March 10, 2020) – Blue Ridge Energy Propane and Fuels is launching a new fleet of propane delivery vehicles, designed to honor active service men and women deployed overseas.
The trucks are inspired by the company's expanding relationship with the "RED – Remember Everyone Deployed.org" organization. RED – Remember Everyone Deployed.org is an organization based out of eastern North Carolina that works to support deployed military members and their families.
Employees at Blue Ridge Energy are donating time to pack and send care packages to troops stationed overseas. Blue Ridge Energy will also place significant emphasis on providing care packages to local service men and women who have family living in our service area, or are fromour service area originally.
Employees will show ongoing support through awareness efforts, such as wearing RED shirts on Fridays, and working with the local NC National Guard Family Programs Center that provides services and resources to all military branches.
For more information on Blue Ridge Energy's RED program, visit https://www.blueridgeenergy.com/community/Remember-Everyone-Deployed. For more information on RED, visit www.RememberEveryoneDeployed.org.
Blue Ridge Energy, LLC Propane and Fuels serves Caldwell, Watauga, Ashe, Alleghany, Catawba, and Burke counties as well as Grayson County, Va. It is a subsidiary of Blue Ridge Energy, an electric cooperative serving some 77,000 members in northwest North Carolina.  Learn more at www.BlueRidgeEnergy.com.