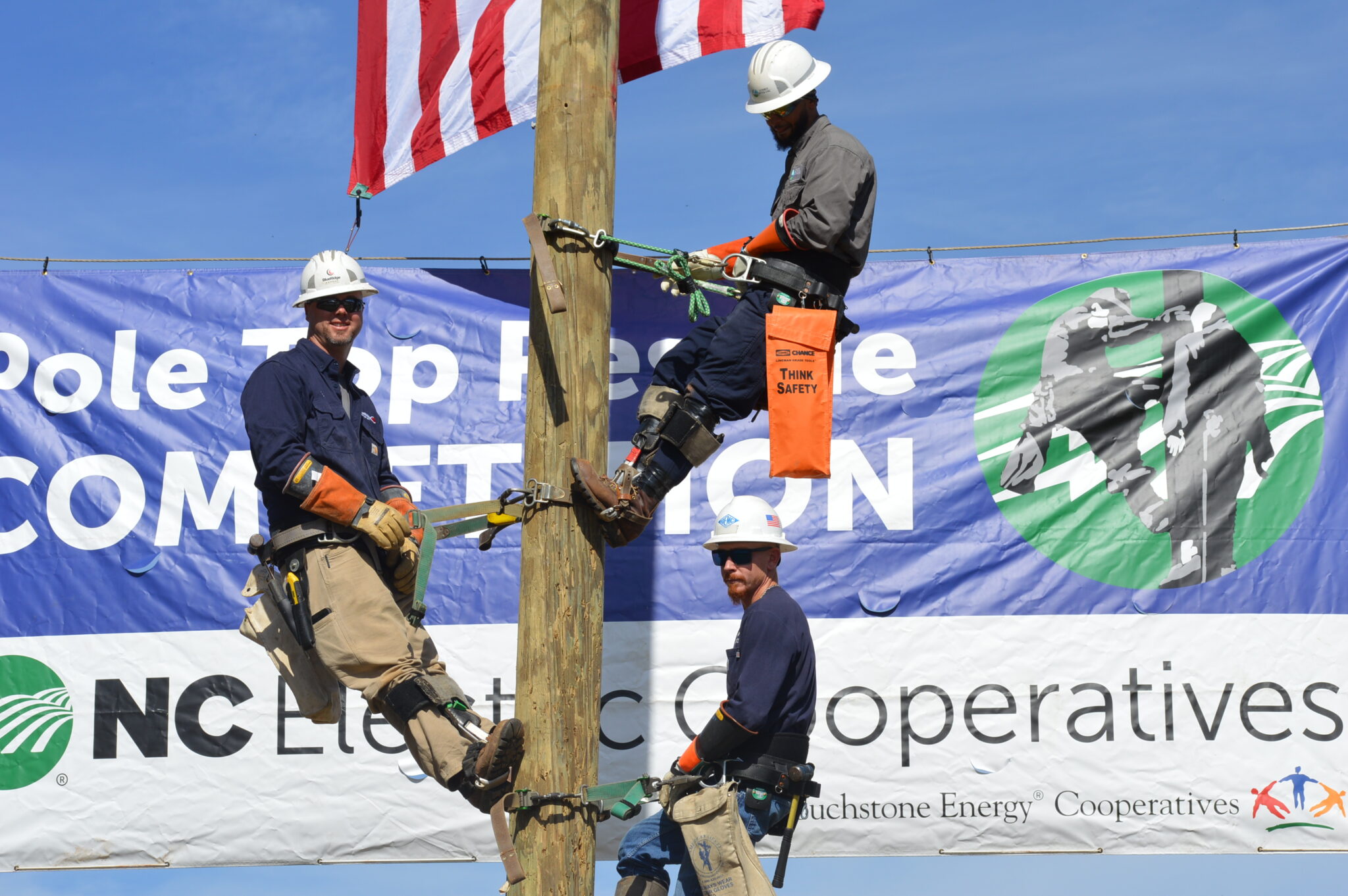 Last Updated on November 7, 2023 11:20 am
Lenoir, North Carolina (November 7, 2023) – In a state competition showcasing lifesaving skills, Blue Ridge Energy line technician Austin Story recently brought home top honors from the Pole Top Rescue Competition held by North Carolina's Electric Cooperatives.
The job of a line technician is one of the most dangerous occupations in the country, meaning that each person must train regularly for worst case scenarios. The competition challenges the electric cooperative line technicians from across the state to complete a simulated rescue of a fellow line technician who's been injured while on the pole.
The competition takes place on de-energized equipment in a simulated rescue environment where they are to retrieve a mannequin representing an unconscious coworker from atop a utility pole. The competitor, dressed in full climbing gear, must radio for help, scale 20 feet up a utility pole, lower the weighted mannequin and begin CPR. Participants are scored based on the efficiency, agility, and technique in this rescue simulation.
Story placed second in the competition, with a time of only 1 minute and 43 seconds to complete the lifesaving mission safely and accurately.
"Behind every service call is a line technician who has completed rigorous training," said Renee Walker, director of public relations for Blue Ridge Energy. "This competition tests the safety and rescue skills required for line technicians to safely maintain the lines and electric system that power the lives of electric cooperative members."
"Every single one of these competitors, and every line worker across the state's co-ops is trained for situations like this," said Story, a Watauga District line technician for Blue Ridge Energy. "While we never hope a situation like this occurs, knowing I can trust the people that I share the lines with gives me peace of mind and makes my job much safer."
The biennial competition is hosted by North Carolina's Electric Cooperatives with members of its training and safety team serving as judges. All North Carolina electric cooperative line technicians must complete this same scenario in less than five minutes to maintain their certification to work on co-op power lines.
Blue Ridge Energy is a member-owned electric cooperative serving some 78,000 members in Caldwell, Watauga, Ashe, and Alleghany counties and parts of Wilkes, Avery, and Alexander counties. It also includes a propane heating fuels subsidiary and a business-to-business telecommunications subsidiary. Learn more at www.BlueRidgeEnergy.com.
Austin Story, left, brings home top honors in Statewide Pole Top Rescue Competition