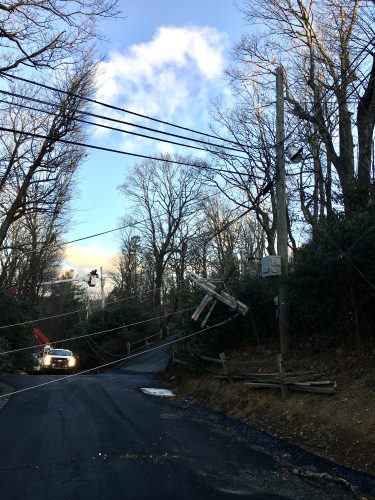 Last Updated on December 17, 2019 4:28 pm
Lenoir, North Carolina (December 5, 2019—1 pm Update) – Blue Ridge Energy crews are working hard to restore power to the remaining 390 members impacted as a result of severe winds across Caldwell, Watauga, Ashe and Alleghany Counties.
At the height of the wind storm at 3 am Thursday, 2,529 members were without power.
Line technicians are battling damaging winds and frigid conditions while working to restore outages in the cooperative's service area. Most outages occurred as a result of trees outside of right-of-way areas being toppled by high winds.
As of 1 pm Thursday, line technicians are restoring power to the following: 280 members in Watauga County; 88 members in Ashe County; 19 in Caldwell County and 3 in Alleghany County.
Overall, the storm caused the following:
47 damaged locations in Ashe County that impacted over 1,800 members primarily in the Obids, Timber Ridge, Shatley Springs and Hwy. 16 areas;
31 damaged locations in Watauga County that affected over 1,100 members living near Blowing Rock, Sampson, Aho, the Watauga River, Wilkes Mountain and Deep Gap;
16 damaged locations in Alleghany County that left over 1,800 members without power in the Glade Valley, Ellis, Chestnut Grove, Pine Swamp and Sparta areas.
eight locations in Caldwell County that affected over 1,100 members living in the Edgemont, Mortimer, Sampson and Staircase Mountain areas
Restoration efforts will continue until all power is restored. Blue Ridge Energy encourages members to report outages by calling 1-800-448-2383 or by using the Blue Ridge Energy mobile app.
If members encounter any downed lines, stay away! Downed lines can remain energized. Contact with downed lines can be dangerous, or even deadly. Members are urged to report any downed lines to Report downed lines at 1-800-451-5474 or call 911 immediately.
Blue Ridge Energy serves some 76,000 members in Caldwell, Watauga, Ashe, and Alleghany counties as well as parts of Avery, Alexander and Wilkes counties. Learn more at www.BlueRidgeEnergy.com or on the cooperative's social media on Facebook, Twitter and Instagram.