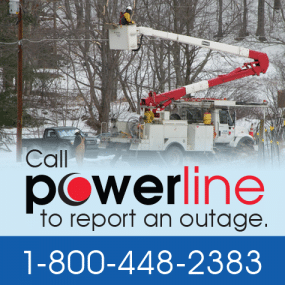 Last Updated on April 1, 2023 6:15 pm
Lenoir, North Carolina (6:00 P.M. – April 1, 2023) – Blue Ridge Energy line technicians are working to restore power across the cooperative's service territory as high winds bring down trees.
Currently, close to 3,700 members are without power across Blue Ridge Energy's service area. Crews are responding in full force to the outages and will continue working until all members experiencing an outage have power restored. The cooperative reminds the public to stay far away from downed power lines as they can still be energized and therefore dangerous, even deadly! Report downed lines by calling 1-800-451-5474. Only a trained line technician should ever go near a downed power line.
Report all outages by calling PowerLine at 1-800-448-2383, by using the Blue Ridge Energy mobile app, or, if signed up for outage texting members can report outages by text (for more information on outage texting, visit: www.blueridgeenergy.com/resources/electric-outage-texting). Outage updates are available on the cooperative's live outage map at www.BlueRidgeEnergy.com and on the mobile app.
If you or someone you know depends on medical equipment powered by electricity, always have a secondary plan in case of outages in the event system damage requires extended time to repair and restore power.
Blue Ridge Energy serves some 79,000 members in Caldwell, Watauga, Ashe, and Alleghany counties as well as parts of Avery, Alexander and Wilkes counties. Learn more at www.BlueRidgeEnergy.com or on the cooperative's social media on Facebook, Twitter and Instagram.