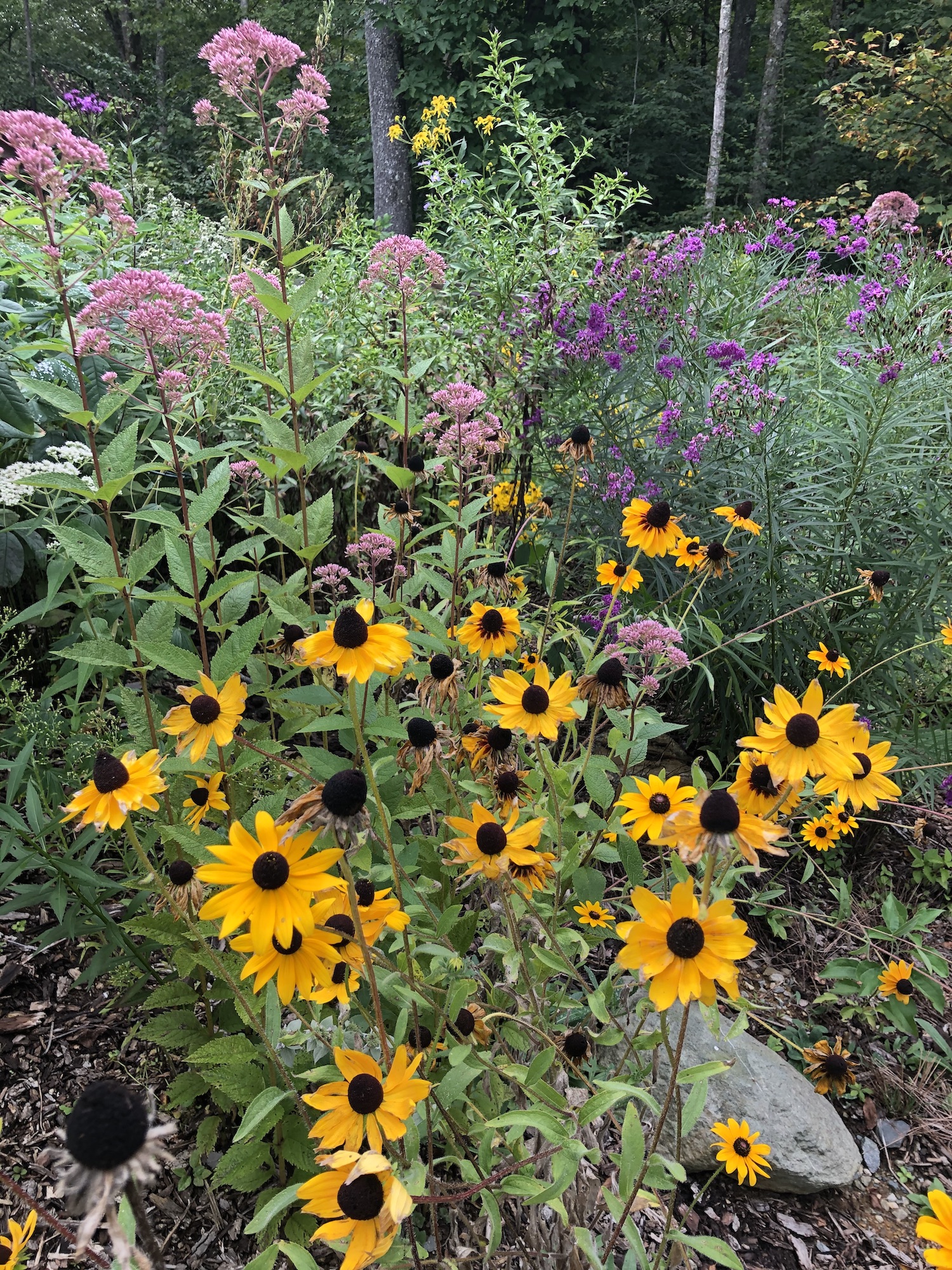 Last Updated on June 14, 2023 8:39 am
Boone, N.C., June 8, 2023 The last annual Native Plant Society Sale of 2023 is set for June 17. The location is the Daniel Boone Native Gardens located at 651 Horn in the West Drive, Boone. In the event of rain, the location will be moved across the street to the picnic shelter in Boone Park. The sale runs from 8am to noon. Gardeners looking for specific species are advised to arrive early, as supplies are limited and popular plants tend to sell out quickly. This is a non-profit fund raiser with proceeds from the sales benefitting the Daniel Boone Native Gardens (DBNG) and the North Carolina Native Plant Society (NCNPS).
A wide variety of native plants, some difficult to find, will be on hand. Gardeners will find perennials, ferns, grasses, sedges, trees and shrubs native to this region and well suited to our local growing conditions. All the plants provided for this sale have been responsibly propagated in accordance with all plant protection laws. Both the NCNPS and the DBNG promote, support and encourage ethical and responsible propagation of native plants. Most perennials will be sold in $6.00 quart and $10.00 gallon containers. Most trees and shrubs will be $15.00 and $25.00. Some rare species may be individually priced. Cash, checks and credit cards will be accepted.
"Native habitat has been identified as the single most critical factor in preserving wildlife and pollinators, and in sustaining our earth. Individual landowners can make huge contributions to restoring native habitat by dedicating even small portions of their properties to native plants. The DBNG native plant sale strives to help area landowners achieve this by offering for sale native trees, shrubs, perennials, ferns and grasses." Said Debbie Shetterly, of the Blue Ridge Chapter (NCNPS).
"We are pleased to co-sponsor the Blue Ridge Chapter's two native plant sales. It is vitally important to our insects and birds to provide native plants for their optimal habitat, and the plant sales provide not only the plants, but also education about their benefits and care. Among other projects, the money provided to the Daniel Boone Native Gardens from the
plant sales goes to purchase new native plants for the Gardens, especially along our new ADA-accessible path into the Gardens." Said Dr. Sharon K. Stafford, vice-chair of the Daniel Boone Native Gardens Board of Governors.
About the North Carolina Native Plant Society:
The mission of the North Carolina Native Plant Society is to promote the enjoyment and conservation of North Carolina's native plants and their habitats through education, protection, propagation, and advocacy. The Blue Ridge Chapter in Boone is the newest chapter started in 2015. For more information see https://ncwildflower.org/blue-ridge/.
About the Daniel Boone Native Gardens:
Opened in 1963, the mission of the gardens is to protect and conserve plants in addition to educating visitors about native plants of North Carolina. The Daniel Boone Native Gardens are located at 651 Horn in the West Drive, Boone, NC. The Gardens are always open. Donations are welcome. Suggested donation is $2 for adults and free for children under 16. For more information see https://www.danielboonenativegardens.org/.