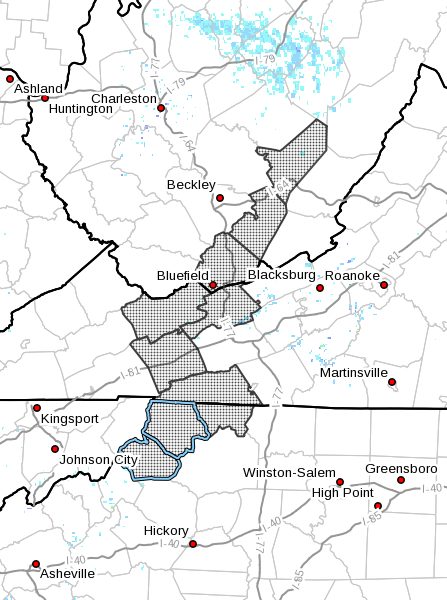 Last Updated on February 29, 2020 2:55 pm
NCZ001-002-018-VAZ007-009-010-015-WVZ042-043-508-011500-
Ashe-Alleghany NC-Watauga-Tazewell-Smyth-Bland-Grayson-Mercer-
Summers-Western Greenbrier-
Including the cities of West Jefferson, Sparta, Boone, Tazewell,
Marion, Bland, Independence, Whitetop, Troutdale, Volney,
Bluefield, Flat Top, Hinton, Hix, Quinwood, Duo, and Rainelle
243 PM EST Sat Feb 29 2020
…Black Ice Possible This Evening through Sunday Morning…
Melting of recent snowfall due to sunshine and traffic will
create patchy areas of black ice on roadways this evening and
overnight across the western mountains of North Carolina,
southwest Virginia, and southeast West Virginia where 1 to 3
inches of snow was common earlier today, with isolated snow totals
in excess of 5 inches across southeast West Virginia.
Temperatures are already below freezing above 3500 feet and
secondary or northern facing roads are likely already experiencing
isolated slick spots, which will persist while new patches of
black ice develop across other roads overnight. Elsewhere…all
lower valleys will quickly drop below freezing after sunset, which
will enable patchy black ice development, especially across
secondary and sheltered roadways. In areas where several inches of
snow fell and roads were not treated or plowed, the road may still
be snow covered and hazardous.
All areas will warm above freezing by 11 AM EST Sunday morning,
which will effectively end the black ice threat.
Use extra caution if you plan to travel through these areas tonight
or Sunday morning. Reduce speed, avoid sudden breaking, and allow
extra distance between you and the person in front of you.