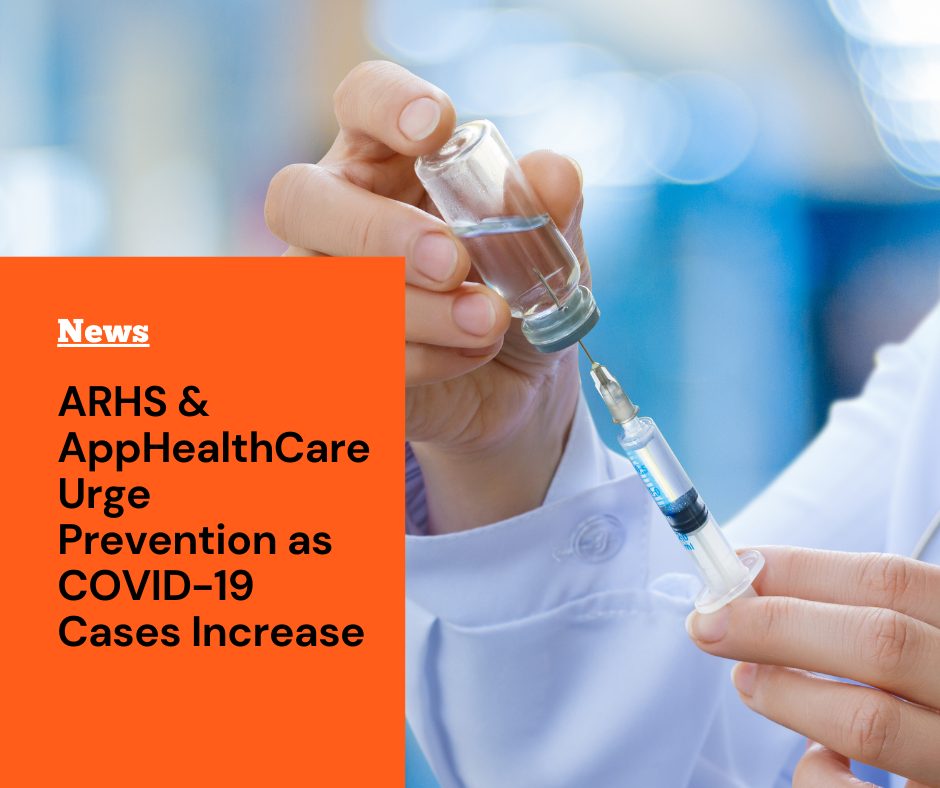 Last Updated on September 1, 2021 3:21 pm
[Boone, NC] – With COVID-19 cases and trends continuing to increase, AppHealthCare and Appalachian Regional Healthcare System are urging the community to take actions to prevent further spread and protect critical healthcare resources.
"We are concerned about the increasing trends we are continuing to see and want to urge everyone to help us control this virus to a manageable level. This pandemic has shown us that we are all connected. We all need each other. When we are in this type of response mode, we need everyone to take actions to help us get to a better place. We urge anyone who is unvaccinated to not wait and get a vaccine today. The vaccines are working like they should and helping prevent severe illness, hospitalization and death. We care deeply about our community and don't want to see anyone experience hardship or loss due to this virus," stated Jennifer Greene, Health Director, AppHealthCare.
Hospitalizations due to COVID-19, both locally and statewide, are increasing. As a result, capacity can become limited for all types of care like surgeries, treatment, procedures and emergency care. When all hospitals are experiencing a strain on resources, someone needing critical or emergency care may have to wait until a bed is available or until a transfer to another hospital is possible. Many regional hospitals are not able to receive transfers right now because of the number of COVID-19 patients they are treating. DO NOT go to the hospital Emergency Department just for COVID-19 testing. Using the Emergency Department for COVID-19 testing without a medical emergency takes limited resources away from community members who have medical emergencies and risks unnecessary exposure.
"Of the 20 COVID patients being treated at Watauga Medical Center today, 18 are unvaccinated. We have six patients on ventilators – 100% of those are unvaccinated," said Rob Hudspeth, Senior VP of System Advancement for ARHS. "In light of these concerning trends, we hope people will strongly consider being vaccinated as our best hope for avoiding hospitalization and death from this virus."
How Can I Prevent COVID-19?
· Get a COVID-19 vaccine
o   AppHealthCare offers COVID-19 vaccines by walk-in or appointment Monday through Friday. Walk-in hours for vaccines are 1:00-4:00pm. If you choose to walk-in for a vaccine, you may have to wait. In order to lessen your wait time, please schedule an appointment. To schedule an appointment, call (828) 795-1970. More information: www.apphealthcare.com/covid-19-vaccinations.
o   Appalachian Regional Healthcare System offers vaccines at the following locations. More information: apprhs.org/vaccine. 
§ AppFamily Medicine in Boone (828-386-2222). Appointment preferred Wednesdays, 3:30pm-6:00pm and Saturdays, 8:30am-11:00am
§ Baker Center for Primary Care in Linville (828-737-7711). Appointment preferred Thursdays, 10:00am-4:00pm and Saturdays, 8:30am-11:00am
· Get tested
o   AppHealthCare offers drive-thru testing Monday through Friday 8:30-10:00am at each clinic location. No appointment needed and testing is free. Learn more at AppHealthCare's website. 
o   ARHS offers testing by provider referral. Do not go to the Emergency Department just for COVID-19 testing. For more information, visit apprhs.org/covid19-screening.
o   Additional testing locations can be found by using the NC DHHS Find My Testing Place tool. 
· Wear a mask in public indoor spaces regardless of your vaccination status
· Wash your hands often with soap and water or use hand sanitizer
· Keep a distance of at least 6 feet from others
With community transmission high, we urge everyone to know what to do if you are exposed or test positive for COVID-19. If you have specific questions, please reach out to the AppHealthCare COVID-19 message line at (828) 795-1970 and leave a message for a member of the COVID-19 response team to call you back.
I think I have been exposed to COVID-19, what do I do?
· Quarantine yourself away from others for 14 days from last contact with a person who has COVID-19. During this time, monitor yourself for COVID-19 symptoms and get tested.
· People who are fully vaccinated do NOT need to quarantine after contact with someone who had COVID-19 unless they have symptoms. However, fully vaccinated people should get tested 3-5 days after their exposure, even if they don't have symptoms, and wear a mask indoors in public for 14 days following exposure or until their test result is negative.
What do I do while I wait for test results?
· Stay home if you have any COVID-19 symptoms, were tested because you were exposed to someone with COVID-19, or you suspect you may have been exposed to COVID-19.
· If you are sick or a member of your household tests positive, you should plan to keep your household members home, including children who attend child care or school, while you wait for results.
I tested positive for COVID-19, what do I do?
1. If you test positive for COVID-19 and have symptoms, stay home as much as possible. Avoid others in your household until you can say yes to ALL three of the following questions:
a. Has it been at least 10 days since you first had symptoms?
b. Has it been at least 24 hours since you have had a fever without using fever-reducing medicine?
c. Has it been at least 24 hours since your other symptoms have improved (such as coughing and shortness of breath)?
2. If you test positive and don't have symptoms, stay home and isolate (avoid anyone in your household) until 10 days have passed since the date of your first positive COVID-19 test.
When should I seek emergency care?
·       Look for emergency warning signs for COVID-19. If someone is showing any of these signs, seek emergency care immediately. These signs include (but are not limited to). Learn more: www.cdc.gov/coronavirus/2019-ncov/symptoms-testing/symptoms.html 
a. Trouble breathing
b. Persistent pain or pressure in the chest
c. New confusion
d. Inability to wake or stay awake
e. Pale, gray, or blue-colored skin, lips, or nail beds, depending on skin tone
Additional Resources
Appalachian Regional Healthcare System – For the most up-to-date information about COVID precautions, visitor restrictions, obtaining medical records and more, visitapprhs.org/covid19. 
AppHealthCare – For local data, COVID-19 testing and vaccine information, visit www.AppHealthCare.com. For questions, call the AppHealthCare COVID-19 Message Line at (828) 795-1970 or email preparedness@apphealth.com.
North Carolina resources can be found on the NC Department of Health & Human Services (NC DHHS) website at covid19.ncdhhs.gov. 
Centers for Disease Control & Prevention (CDC) website at cdc.gov/coronavirus.