Last Updated on November 13, 2018 5:17 pm
BOONE, N.C. — An Appalachian State University student's action performing CPR on an unresponsive classmate this February has earned her the American Red Cross' highest award, the Certificate of Merit.
Amanda Buffa, a senior special education major from New Bern, received the award during a ceremony Monday, Nov. 12, in the Plemmons Student Union Solarium on campus.
Leroy Wright, associate vice chancellor for Appalachian's Division of Student Affairs, welcomed a group of around 50 attendees. He said to Buffa, "You definitely embody the words and the core mission of the American Red Cross as a humble and selfless leader."
"This recognition is a big deal," said Joe Carter, director of University Recreation. "Very few individuals receive this honor."
American Red Cross representative Neal Homer said only 100 certificates are awarded annually to an individual or a team of individuals who have taken Red Cross training and voluntarily helped to save or sustain a life. The certificate is signed by the President of the United States, who is the honorary chairman of the American Red Cross, and Bonnie McElveen-Hunter, chair of the American Red Cross.
Scott Loudermelt, executive director of the American Red Cross Blue Ridge Piedmont Chapter, presented a framed certificate to Buffa, who was joined by her parents and sister, Ashley Buffa — a student at the University of North Carolina at Greensboro who is also Red Cross-certified in CPR training.
During the ceremony, Loudermelt quoted from the Talmud, saying, "He who saves one life, saves the world entire."
'My classmate was on the ground'
For Buffa, Feb. 18 was an ordinary day of class in Appalachian's Reich College of Education (RCOE) building. "We were in class, getting ready to take notes," she remembered.
"All of the sudden, behind me, there was a clatter, and everyone in the class gasped," she said. "I turned around and my classmate was on the ground. I got up, went to him and checked him, checked for a pulse."
Buffa determined he didn't have a pulse and was unresponsive. Some of her classmates called 911 and alerted university staff, while she starting performing CPR on the collapsed classmate.
"I did CPR for about five minutes," she said. "I got his pulse to come back and stayed with him, continuing to monitor his pulse until EMS (emergency medical services) got there."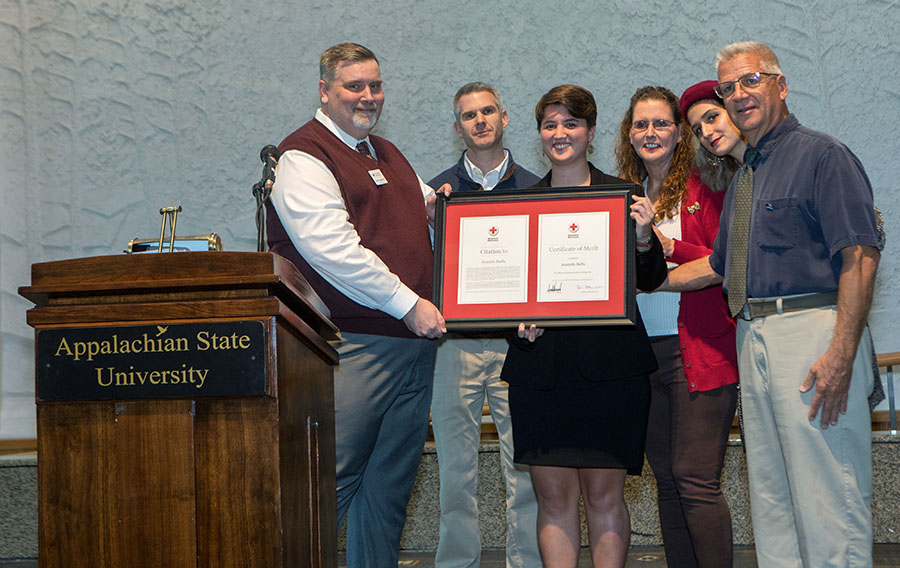 'Constant practice'
At the time of the incident, Buffa had been a Red Cross-certified lifeguard for three years and worked as a lifeguard in University Recreation. It was through that program that she learned CPR, had been recertified and continued to complete monthly training. "I've just had constant practice," she said.
Her instructor, Cheryl Eddins, assistant director of aquatics in University Recreation, initiated the process to have Buffa recognized for this award.
The action Buffa took in class was the first time she had to actually perform CPR.
"We train and do it so often that I think I just kind of jumped into knowing what to do," Buffa said. "It was like I was doing the training."
At the ceremony, Buffa's classmate, Chelsea Beamer, a senior special education major from King, who was witness to the incident, commended Buffa for her quick action. Beamer said, as a trained CPR administer, Buffa had "acted quickly and professionally." If not for her actions, Beamer said, she did not think the student would be alive today.
Buffa said she is thankful for University Recreation and the training it provides, which prepared her to respond the way she did.
She was surprised by her response that day in the RCOE, she said. "I don't think until afterwards did I think, 'Oh my God, that just happened.'"
Reflecting on the award, Buffa said she still can't believe it. "I just feel like I did what I was supposed to do at that time," she said.
In closing, Carter recognized Buffa's parents, crediting them with setting an example. Her mother, Sarah Buffa, said she had been a nurse for 34 years and her husband, Philip Buffa, is a retired Washington, D.C., firefighter. "We've both performed CPR numerous times," Sarah Buffa said.
Amanda Buffa thanked Appalachian and University Recreation, saying without them and her training, saving her classmate's life would have not been possible.