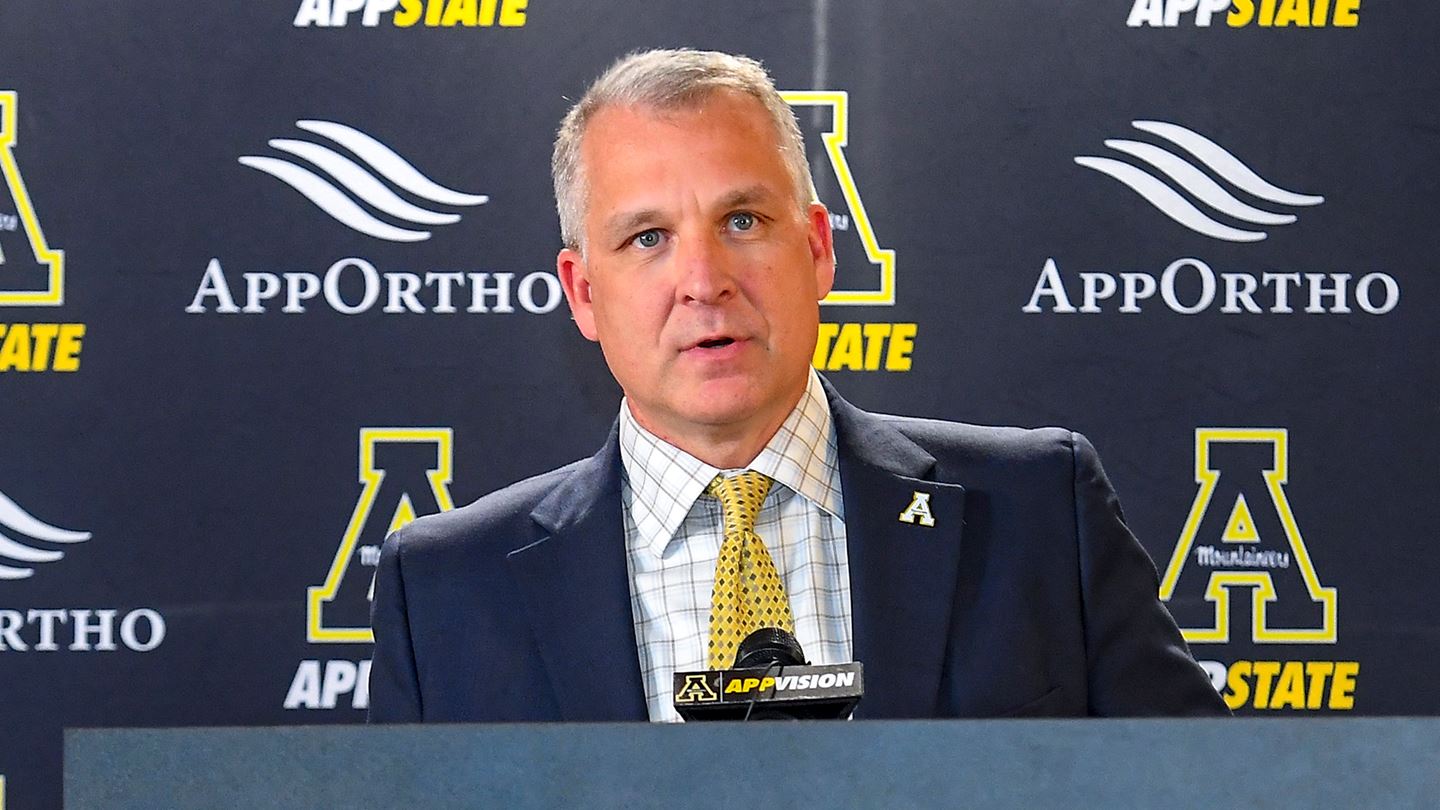 Last Updated on August 20, 2020 11:22 pm
On Thursday evening, Doug Gillin, Director of Athletics for Appalachian State, provided an update related to athletics. The full statement is posted below.
---
Dear App Family,

This week we officially welcomed back the App State student body for the first day of classes of the 2020-21 academic year. I am so glad to see the student body and our student-athletes back on campus. I would like to thank Chancellor Everts, university leadership and the many amazing faculty and staff members for their dedicated work the last few months to prepare for a safe return to campus life.

Across our campus, faculty, staff and students are engaged in teaching, research and learning in an environment fundamentally changed by the coronavirus. This has been and continues to be a monumental task that evolves as new guidance emerges from health officials in the midst of a global pandemic. You can read about these amazing efforts at appstate.edu/recovery.

Let's all continue to diligently practice the 3Ws — wear face coverings, wait to ensure six feet of physical distance and wash hands often or use hand sanitizer. Together we can reduce the spread of COVID-19.

Things will look a lot different with App State Athletics this fall. We have implemented many new protocols to protect the health and safety of our student-athletes and coaching staffs as they prepare for their fall sports seasons. The majority of our non-coaching staff continues to telework as we limit access to our training facilities. Our football, volleyball, women's soccer and men's and women's basketball student-athletes are in the midst of their preseason training. Men's and women's cross country will begin training soon. All student-athletes, as well as coaches and staff, are required to wear face coverings and social distance when they are in our facilities. In addition to daily health checks, we are also performing enhanced cleaning and sanitizing of all equipment and facilities before and after workouts and treatment sessions.

Tomorrow, the NCAA Board of Governors will meet to vote on important decisions for fall sport student-athletes. Last week, NCAA President Mark Emmert announced that there will not be fall NCAA championships. This applies to all fall sports except FBS football, and there are important questions left to be answered about eligibility and championships for those sports. Four of the 10 FBS conferences have postponed fall sports, including the Big Ten, Pac-12, Mountain West and MAC. Our field hockey team, which is a member of the MAC, will not play this fall.

The Sun Belt Conference announced on Aug. 4 that the league will continue moving forward with an eight-game conference schedule and the option for each league school to add as many as four nonconference opponents. The league will continue to monitor health trends across its communities. The Sun Belt athletics directors are meeting multiple times each week as we work alongside the league's presidents and chancellors, the COVID-19 Advisory Panel and medical advisors to monitor health trends across our communities and review data to ensure a safe return to activities and competition.

We continue to be in a fluid situation. The landscape evolves daily, sometimes hourly. We adapt and make the best decisions for each day. We will continue to prioritize the health and safety of our student-athletes, coaches, staff and community.

Football schedule

We are excited about the addition of nonconference games against Charlotte (Sept. 12 at home), Marshall (Sept. 19 on the road) and Campbell (Sept. 26 at home) as we move forward with an 11-game football schedule. Our nationally ranked Mountaineers have been working hard to prepare for the 2020 season, and our coaching staff is doing a great job of not only preparing them for on-the-field success, but also promoting an atmosphere that protects their health and safety.

Kidd Brewer Stadium capacity and tickets

We continue to model various scenarios for stadium capacity as we await guidance from state and local health officials for social distancing at athletics venues. We remain hopeful of hosting fans at The Rock, but given that the state of North Carolina is scheduled to be under Phase 2 reopening parameters until at least Sept. 11, there are many variables through which we must work to determine what fans will be able to attend games, starting with our Sept. 12 opener against Charlotte.

From a ticketing standpoint, our priorities will be App State students, season-ticket holders and families of competing student-athletes. Our process will be determined by capacity limits. We will keep everyone updated with more information as soon as we have it.

Game Day FAQs

Our game day operations, ticketing and external relations staffs continue to work toward answers to the many questions about App State game days. I encourage everyone to review this FAQ sheet, which will be updated to address questions as they arise.

Marching Mountaineers

To protect the health and safety of band members, student-athletes, staff and potential spectators, the Marching Mountaineers will not perform live in the stadium during App State football games this fall. This decision was made jointly by university officials, the Hayes School of Music and App State Athletics, with guidance from Sun Belt Conference and public health policies, to minimize the spread of COVID-19. Other traditional game day elements are also being impacted and will be announced before the season. We are all working together to identify new and creative ways to safely incorporate the Marching Mountaineers into athletics events this fall.

Funding App State Athletics

The COVID-19 pandemic has created a financial crisis that we have not seen in college athletics. We have had to take the unprecedented steps of discontinuing sport programs, furloughing staff and reducing operating expenses by more than 20 percent. We are working through significant revenue losses from reduced NCAA and Sun Belt distributions, football opportunity games being eliminated and projections of reduced capacity for football games.

We are committed to giving our student-athletes, coaches and staff the best opportunity for sustained success as we navigate these very challenging times.

Some of you have asked how you can help. Thank you! In the coming days, we will announce our new Keep Climbing fundraising initiative to help us sustain our operations and support our student-athletes that proudly wear the Black and Gold.

If you have already bought season tickets for football and are unable to attend due to reduced capacity for fans, you will have the option to donate a prorated amount back to App State Athletics, roll over your account credit toward 2021 football season tickets or receive a prorated refund.

Your support means more than ever, and we thank you all for your patience and understanding.

Please continue to wear your face coverings and practice social distancing. Stay safe, and we hope to see you soon.


Go App!

Doug Gillin
Director of Athletics