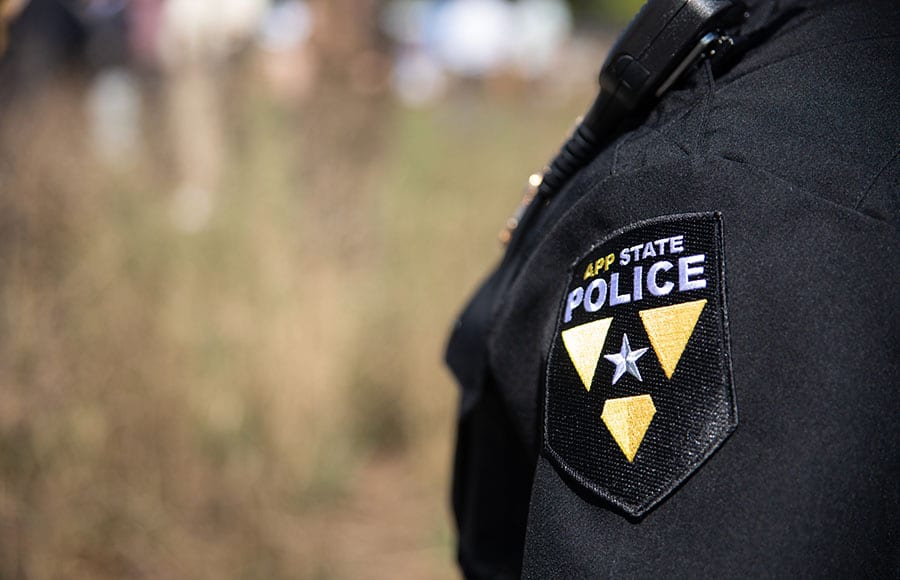 Last Updated on February 10, 2020 5:31 pm
BOONE, N.C. — Safe Campus: The National Campus Safety Summit has named the Appalachian State University Police Department (APD) as one of the top 25 university departments in the country. The ranked universities were cited for "increasing the safety and security of their campus community" and "making a difference in student safety." The APD was ranked No. 18.
Andy Stephenson, Appalachian's director of public safety and chief of police, thanked the organization for recognizing APD's efforts to enhance its programs and services. "It's fantastic when the work of our employees is acknowledged on this level," he said.
Stephenson extended his appreciation for the "outstanding APD officers" and for the "unprecedented support" the department has received from Appalachian Chancellor Sheri Everts, Vice Chancellor for Business Affairs Paul Forte and the entire university administration.
Appalachian was ranked among universities such as the University of Minnesota, Florida Atlantic University, University of Tennessee, University of Houston, Miami University and University of Nevada, Las Vegas.
Safe Campus: The National Campus Safety Summit — the premier conference on university and college safety — is scheduled for late February in Las Vegas. The summit anticipates attendance by more than 100 universities as well as officials representing the FBI, Federal Emergency Management Agency (FEMA), Department of Education, Department of Justice and State Emergency Management Agencies.
This recognition comes less than a year after another significant honor. In summer 2019, the North Carolina Police Executives Association named APD as the Law Enforcement Agency of the Year, primarily for its Appalachian Police Officer Development Program (APDP) — the second of its kind in the nation and the only such program in North Carolina.
Students who complete the two-year APDP become sworn police officers while simultaneously earning their bachelor's or master's degrees. The program is offered free of charge for full-time Appalachian students, regardless of major. Students receive payment for their training hours and part-time work as cadets and police officers with APD.