Last Updated on November 9, 2017 6:14 pm
BOONE, N.C. — At a ceremony in Holmes Convocation Center, Appalachian State University announced a commitment of $10 million to support the university's A Mountaineer Impact initiative. Chancellor Sheri Everts and Director of Athletics Doug Gillin announced the commitment from Mark Ricks, a 1989 alumnus of the university. The commitment represents the university's largest outright gift to date.
Appalachian's A Mountaineer Impact initiative provides essential resources for Appalachian Athletics.
"Our student-athletes are among the most academically successful in the nation," Everts said. "This generous gift will ensure the continued excellence of a program that will attract sought-after student-athletes and provide them with resources and opportunities so they can make a difference at our university and beyond."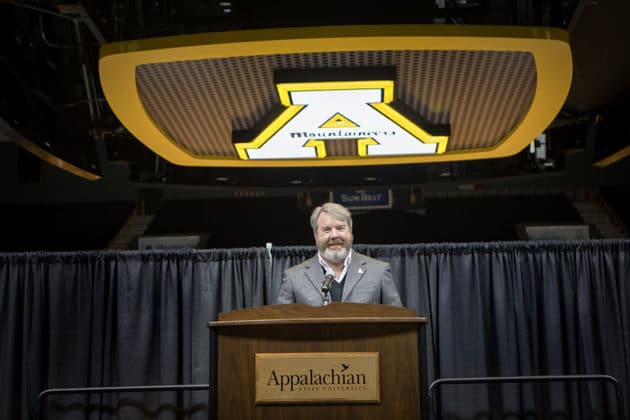 The announcement was made Thursday, Nov. 9, at an event attended by nearly 300, including student-athletes representing every university athletics program.
"Appalachian State University means the world to me, and I'm so pleased to be able to accelerate the progress of App State Athletics," Ricks said. "The trajectory of the program under Doug Gillin and the entire department is worth our investment, and I'm blessed to be able to make an impact to carry that momentum forward. I encourage other Mountaineer supporters who can give to please step up. Our time is now. Together we can help grow Appalachian Athletics and support the success of the coaches and student-athletes of our great university."
Ricks is an Appalachian graduate who holds a bachelor's degree in criminal justice from the university's College of Arts and Sciences. He is the owner of Double Wood Farm, an equestrian sanctuary for retired show horses, in Bluemont, Virginia. He was director of global protective operations at Mars Inc. in the Washington, D.C. metro area from 2005-2017.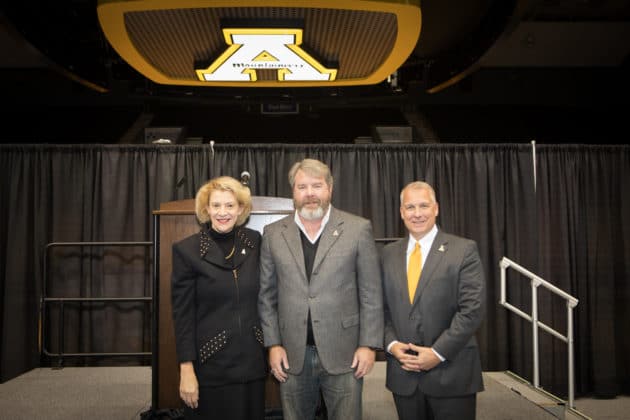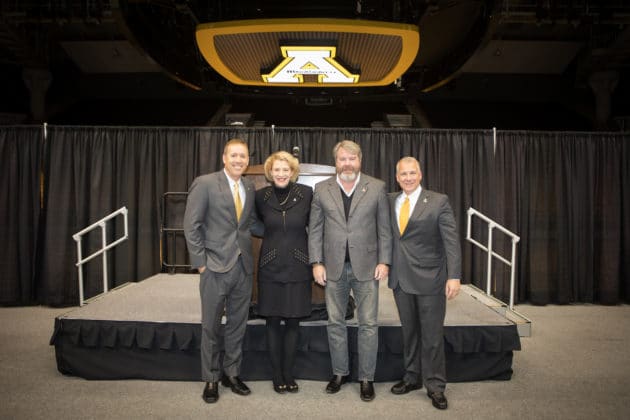 A Mountaineer Impact, the initiative for which the gift is designated, was launched in February, after Gillin completed a comprehensive review and evaluation of the university's athletics programs.
The project goal is to provide a solid financial foundation for the university's athletics programs by raising, over a five-year period, commitments of $60 million in private support. Funds will be used to establish and endow scholarships, construct and enhance facilities and underwrite program needs to increase opportunities for comprehensive excellence for all student-athletes.
Comprehensive in nature, the initiative is designed to impact every Mountaineer student-athlete and sports program.
"We are so pleased to announce this historic commitment to Appalachian State University," Gillin said. "We can't thank Mark Ricks enough for his generosity to his alma mater and our athletics program. This is a tremendous leadership gift toward our overall goal for A Mountaineer Impact."
With this gift, the university has now raised $27 million toward the $60 million goal.
"Private support creates opportunities for our student-athletes to compete at the highest level with all the tools necessary for success in the classroom, on the playing field and in the community," Gillin added. "We have aspirations to be successful at the highest levels of intercollegiate athletics, and this serves as a substantial commitment toward that effort. The Mountaineer family continues to provide tremendous support as we build upon the rich tradition of excellence on the mountain, and we look forward to our continued growth locally, regionally and nationally."
With this gift, the university has now raised $27 million toward the $60 million goal.
"Private support creates opportunities for our student-athletes to compete at the highest level with all the tools necessary for success in the classroom, on the playing field and in the community," Gillin added. "We have aspirations to be successful at the highest levels of intercollegiate athletics, and this serves as a substantial commitment toward that effort. The Mountaineer family continues to provide tremendous support as we build upon the rich tradition of excellence on the mountain, and we look forward to our continued growth locally, regionally and nationally."