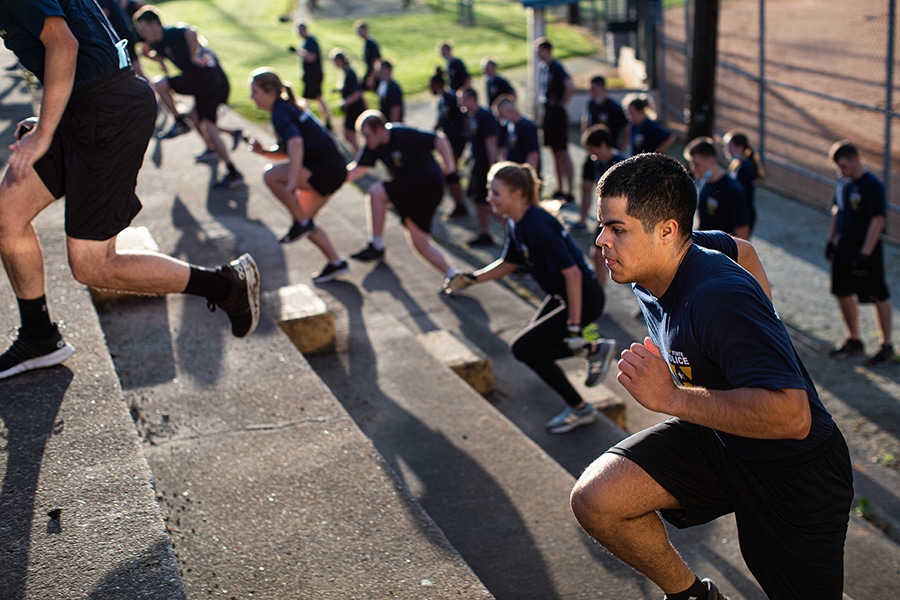 Last Updated on March 9, 2022 11:19 am
BOONE, N.C. — Mountaineer alumni say the Appalachian Police Officer Development Program (APDP) provided a jump-start to their policing careers, and grads of the program are in high demand across North Carolina.
Now recruiting members for its sixth class, APDP at Appalachian State University equips students with the knowledge, skills and training to become police officers — while simultaneously completing their undergraduate or graduate degrees. The two-year program is the only one of its kind in the state and the second of its kind in the nation.
Andy Stephenson, the university's director of public safety and chief of police, said APDP has been a huge success for student participants and the campus community.
"Higher education settings are places where we challenge old ways of thinking and create new paths forward, and where meaningful change can take shape," Stephenson said. "Institutions of higher education have to start playing a greater role in training and educating police officers if we are to adequately prepare them to meet the ever-changing needs and expectations of the citizens who compose our communities. I thank Chancellor Sheri Everts for her support of this vision and of our students."
Unlike traditional basic law enforcement training, APDP provides prospective police officers with an enhanced curriculum, exceeding the state's minimum training standards. Program participants undergo approximately two years of on-the-job training and education.
"Graduates of the program emerge ahead of policing job market competition with college degrees, North Carolina police officer certification and experience and mentoring from within the profession. They have a skill and competence level that few other policing applicants in the state will have at such an early phase in their careers, along with a strong orientation to community engagement that they will carry with them and use to shape the culture of policing," Stephenson said.
Any full-time App State student may apply for the program, regardless of their major or program of study. Once accepted, students become cadets in their first year of the program, assisting with security assignments on campus. In their second year, cadets may attend the Appalachian Police Academy as new recruits and earn the Basic Law Enforcement Training certification needed to become sworn police officers in North Carolina, after which they may continue to work part-time on campus in their new roles — as sworn officers — as they earn their degrees.
Capt. K.C. Mitchell, director of APDP, knows firsthand just how program graduates stand out to future employers.
"Our recruits are part of something different from traditional policing training. The difference starts on a grassroots level, because their education is just as important as their hands-on training if they are to become the policing leaders of the future," Mitchell said. "We train compassionate, competent and knowledgeable police officers. Employers across the state are eager to recruit those who participate in our program."
At every stage in APDP, participants are paid for all part-time work and training, and there is no cost outside of their regular tuition to attend App State.
"APDP graduates across the state are finding early success in their careers," Mitchell said. "Since the program's beginning in 2018, they have taken on roles as a new generation of police officers within numerous agencies across North Carolina, with some agencies recruiting multiple graduates."
On the job — meet APDP alumni
Walker Bryant '21
Trooper, NC State Highway Patrol
App State alumnus Bryant, who earned a Bachelor of Science in criminal justice (BSCJ), said he always wanted to pursue a career in serving others in his community.
While in high school, Bryant completed an internship with the Lenoir Police Department. It was there he first heard about APDP, and he decided to apply to App State with the hope of being part of the program while working to earn his college degree.
Being trained at App State by veteran police officers provided Bryant an excellent knowledge base for his career in law enforcement, he said. "I asked them lots of questions every day, and I felt like a sponge trying to soak up all the advice they had to offer," he said.
Bryant is now a trooper with the North Carolina State Highway Patrol, assigned to Gaston County, where he protects the public by enforcing the state's traffic laws, assisting during accidents and ensuring public safety on North Carolina's roads and highways.
Bryant said he would advise incoming cadets to know that "the only easy day was yesterday." He explained, "Each day comes with its own unknown challenges. It takes integrity, dedication and courage to work through the challenges you face. Be willing to seek and attain all the knowledge and experience your instructors offer. You have what it takes — but sometimes it takes all you have."
Ashley Isaacs '21
Criminal investigator, Hickory Police Department
Isaacs, who grew up in Lenoir, earned a BSCJ from App State in 2021. She chose her criminal justice major, with minors in psychology and sociology, so she could pursue a career to "make a difference in the world," she said.
Dr. Jeff Holcomb, professor in App State's Department of Government and Justice Studies, encouraged Isaacs to apply to APDP, she said.
"The program changed my life and my perspectives," she said. "The instructors, captains and Chief of Police Andy Stephenson make the program blossom. They have a passion for each cadet to become a successful officer."
Isaacs said she enjoyed the bond she formed with the other cadets — and with her instructors. "Learning from Detective Tina Dunn and Captain K.C. Mitchell and hearing about how they have grown through their careers was helpful," she added.
Issacs is now a criminal investigator in the Hickory Police Department, where she gathers facts and examines evidence to help solve criminal cases.
Her advice for incoming candidates? "Try your best and never give up," Isaacs said.
Anthony Gibbs '20
Police officer, Morrisville Police Department
When Gibbs came to App State as a first-year student, he knew he wanted to pursue a law enforcement career. Majoring in criminal justice-international studies provided him a background and history on the pillars that form the U.S. criminal justice system within the context of the rest of the world, he said.
"My criminal justice studies gave me a better understanding of my role as a police officer," said Gibbs, who serves as an officer in the Morrisville Police Department (MPD).
When he heard about APDP, Gibbs said he realized he could continue his studies while obtaining the experience he needed to succeed in policing. "It was an opportunity to jump-start my career," he said.
Working for MPD, Gibbs conducts traffic stops, manages wreck scenes, serves warrants and responds to a variety of service calls.
Gibbs appreciated the APDP priority on education, he said, adding, "I got to work with people full of knowledge and experience — that cannot be compared to anywhere else."
Learning teamwork with other cadets and exposure to different areas of law enforcement — such as community policing and criminal investigations — were valuable to Gibbs in his training and in defining his career goals, he said. "I was prepared for my duties in a real-world work environment," he added.
Bryce Helms '19
Drug and alcohol impaired driving specialist, NC Department of Health and Human Services
While in high school, Helms was stopped for speeding by a State Highway Patrol trooper. Even though it was a stressful situation, Helms said she enjoyed her interaction with the trooper, as well as her experience through the court system. "It opened my eyes to where I wanted my career to go," she shared.
Afterward, Helms completed a few ride-alongs with agencies near her home in Monroe, confirming her interest in the policing field, she said. Later, as a student at App State, Helms heard about the brand-new Appalachian Police Officer Development Program. "I knew this was my opportunity," she said.
Helms graduated as part of the inaugural APDP class in August 2018 and was the first participant to achieve full-time employment as a police officer, working with the Appalachian Police Department.
She worked with the department two and a half years, before joining the North Carolina Department of Health and Human Services Forensic Tests for Alcohol Branch as a drug and alcohol impaired driving specialist. She trains and certifies officers in the DWI (driving while impaired) process and provides expert court testimony.
"My training in APDP taught me much more than textbook facts," she said. "I learned how to work with others as a team, be mentally tough, manage my time and many other valuable life lessons."
Helms said she has had "nothing but great opportunities" since being accepted into APDP. "I have advanced my career so fast," she said. "I was able to start work before graduation and gain experience to help me be successful."
Helms, who earned a BSCJ in 2019, is now pursuing her Master of Public Administration degree at App State, with a projected graduation date of May.