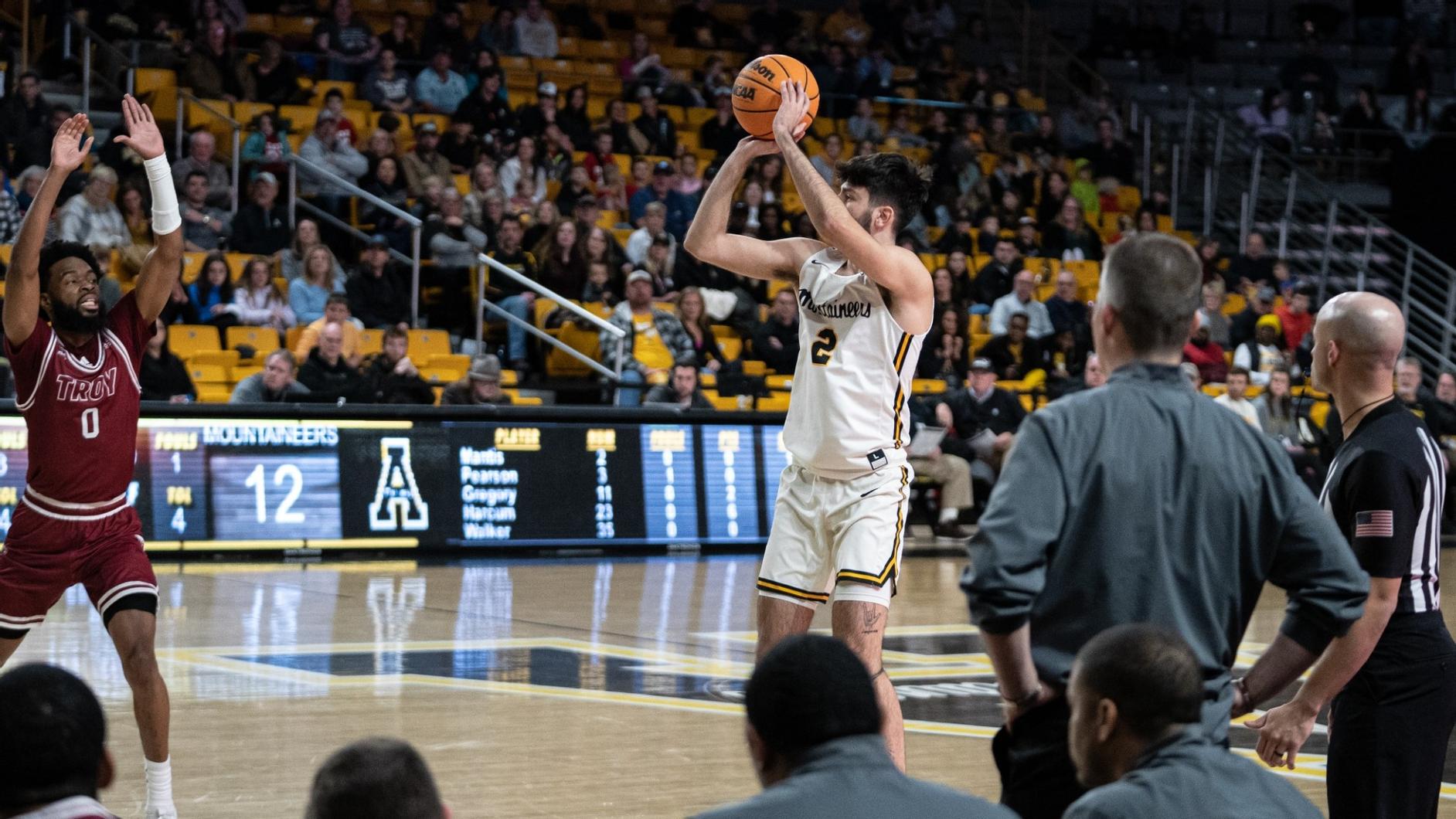 Last Updated on October 17, 2023 6:38 pm
BOONE, N.C. – The App State men's basketball game against the Auburn Tigers at the Holmes Convocation Center on Dec. 3 will tip off at 1 p.m. and air on ESPN2, the Sun Belt announced Tuesday.

It will be the first-ever nationally televised Mountaineer game at the Holmes Center and the first nationally televised App State home game since the Mountaineers faced Davidson in February 2000, late in the program's final season at Varsity Gym.

Auburn's visit to the High Country will mark the first time that App State has hosted a high-major conference opponent since Nov. 6, 2000, when a visit from No. 7 North Carolina opened the Holmes Center.

"Certainly a great program and SEC power like Auburn coming to Boone is a huge deal," App State head coach Dustin Kerns said. "I'm so glad ESPN picked up this game so the nation can see our awesome students and fans in the Holmes Center. This is the first-ever nationally televised basketball game in the Holmes Center, so this is exciting and another stair taken to continue to elevate App State basketball."

The Mountaineers are no stranger to high-major competition as they played two games against ACC opponents last year, which included a road win over Louisville last November.

The Mountaineers and Tigers have met just two times before, with both matchups being held at Auburn. To purchase tickets for Auburn's appearance in Boone, that game is part of a three-game mini-package that's accessible via appstatesports.com or the App State Athletics Ticket Office.

Kerns will lead a squad that returns 72 percent of the scoring a season ago, including the two leading scorers, and paced the Sun Belt in scoring defense. The Mountaineers have posted a .500 or better season in every year during Kerns' tenure.

App State was picked to finish second in the Sun Belt preseason coaches poll that was released Monday, marking the highest preseason ranking that it has garnered as a member of the Sun Belt and the highest within its league since the Mountaineers were picked to finish second in the Southern Conference heading into the 2010-11 season.

An experienced group of returners will highlight the 2023-24 squad, including preseason All-Sun Belt first-team selection Donovan Gregory, who was one of three Sun Belt players to post at least 300 points, 100 rebounds and 100 assists last season, and preseason All-Sun Belt third-team selection CJ Huntley, who has seen his scoring average increase each year in the High Country.

Kerns and his staff will also welcome a talented group of newcomers, highlighted by Butler transfer Myles Tate, junior college transfer Tre'Von Spillers, who was a first-team All-American at Moberly Area Community College, and Jordan Marsh, who led his team to the championship at the Big Shots Prep Nationals High School SLAM while averaging 27.7 points.

The first chance to see the Mountaineers in action is Nov. 7, when the Black & Gold take the floor for their home opener against the Oakland City Mighty Oaks. Tip off is scheduled for 6:30 p.m.

Season tickets and single-game tickets remain on sale for the upcoming season.