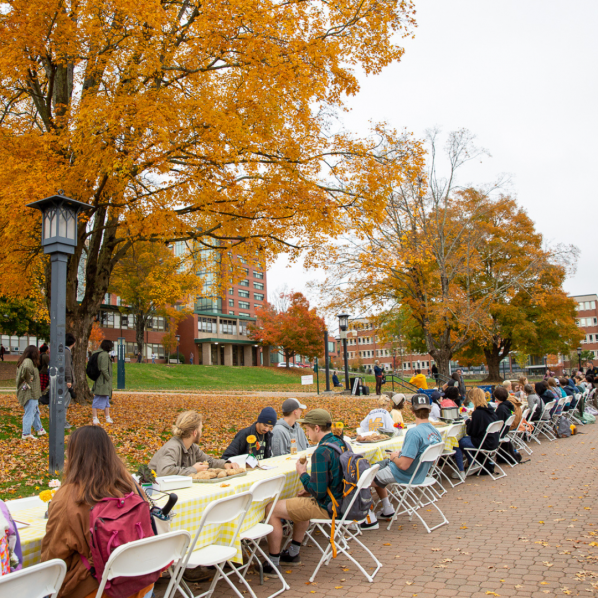 Last Updated on October 2, 2023 10:03 am
BOONE, N.C. — The Appalachian Food Research for Equity Sustainability and Health Collaborative (AppalFRESH) invites students, faculty, staff and community members to its seventh annual Community FEaST (Food Engagement and Storytelling) on Wednesday, Oct. 4. 
The free event takes place on Sanford Mall from 4:30 to 6:30 p.m., where guests can enjoy food, live music and conversations about the importance of a resilient, equitable food system.
To minimize waste, guests are asked to bring their own plates, utensils and water bottles. App State's Office of Sustainability invites guests to visit their table at Community FEaST for a free, reusable utensil and bandana bundle. Quantities are limited and available on a first-come first-served basis.
Additionally, App State is participating in the North Carolina Campus Engagement Hunger Challenge with the opportunity to win money for food security efforts on campus. Guests can help by bringing non-perishable goods to CommunityFEaST to benefit the Office of Sustainability's Mountaineer Food Hub & Free Store and Campus Food Pantry Network.
The 2023 Community FEaST is sponsored by the following organizations:
Beaver College of Health Sciences.
College of Fine and Applied Arts.
Research Institute for Environment, Energy, and Economics.
Community FEaST is currently looking for organizations and individuals to help with this year's event. For more information, visit rieee.appstate.edu/news/community-feast. Questions can be directed to Carla Ramsdellat ramsdellcs@appstate.edu.
For disability accommodations, visit odr.appstate.edu.