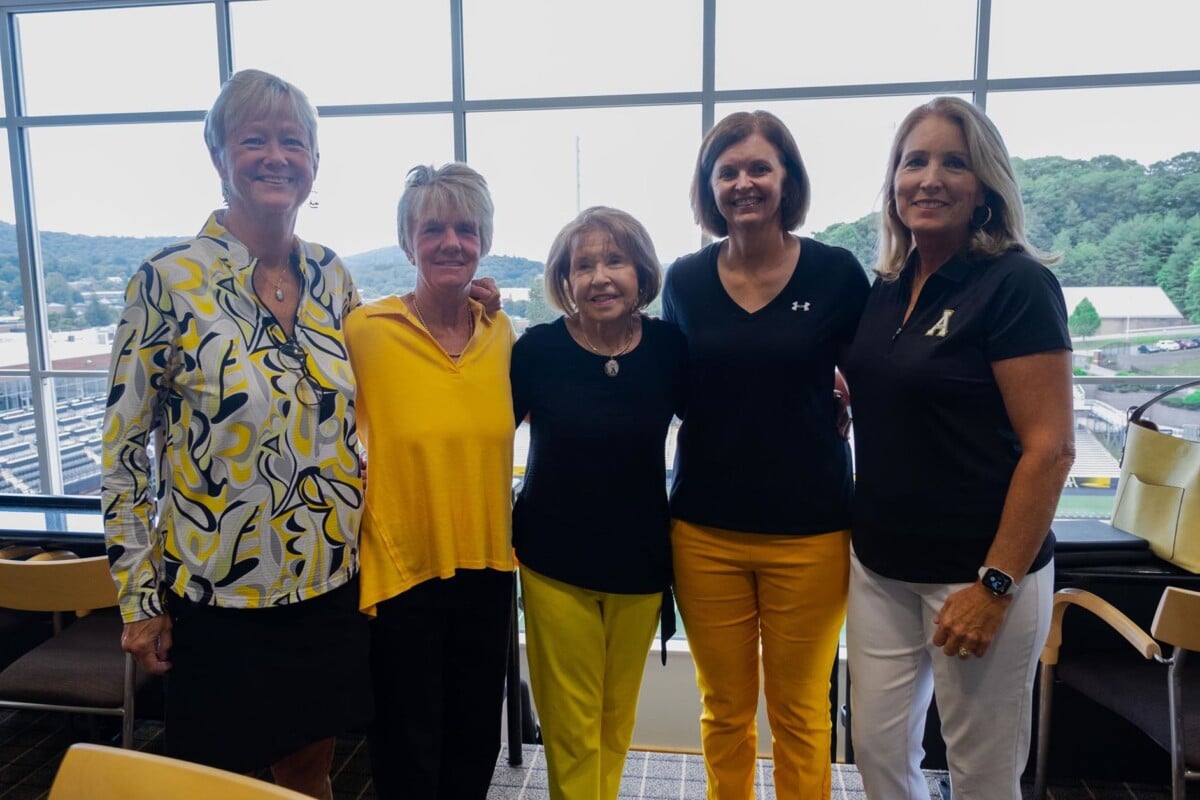 Last Updated on July 28, 2022 2:14 pm
BOONE, N.C. – App State Athletics is proud to announce the launch of Women In Motion, an initiative to support its female student-athletes by establishing a new scholarship fund and celebrating the incredible Mountaineer women that paved the way for current and future student-athletes.  
 
"App State women's athletics is in a period of development and sustained comprehensive excellence, with roots founded by pioneers in sport many years ago," said Director of Athletics Doug Gillin. "Women In Motion is an exciting initiative that is game-changing for our Mountaineer women."
 
THE EVENT OF THE SUMMER
The signature Women In Motion event is scheduled for 6 p.m. on Saturday, Aug. 13 and will be held in the Grandview Ballroom in Kidd Brewer Stadium's North End Zone. The event will include an empowered women's panel as well as a fashion show featuring current student-athletes that highlights fashions from local boutiques. It will also establish the Women In Motion scholarship fund, which aids female student-athletes. 
 
"What an incredible privilege it is to serve on a team of architects that helped develop this very special program," said Assistant AD for Development/Major Gifts Katie Pate. "App State and Women In Motion are synonymous with an upward trajectory of growth and empowerment for Mountaineer women. A new scholarship fund that stands on education, collaboration, engagement and compelling financial growth – Women In Motion is a special addition to our family of initiatives within App State Athletics." 
 
RSVP and attire information can be found here.
 
GAMECHANGERS 
In the 54 years of women's sports at App State and the 50 years of Title IX across the country, there have been many women who have made their mark on the mountain, working tirelessly in their time as Mountaineers and beyond to establish and maintain a strong athletics program for women. 
 
In anticipation for the signature Women In Motion event, Pate gathered several trailblazers to discuss their time and experiences in Boone. Dr. Jan Watson (Field Hockey Head Coach), Dr. Katherine Davis (Gymnastics), Dr. Valerie Ubbes (Gymnastics, Track & Field), Julia Adams (Cheerleading), Beth Laney-Queen (Women's Basketball), Linda Robinson (First Woman Athletics Director at App State, Women's Basketball Head Coach), Susan Love (Women's Tennis), Carol Almond (Women's Basketball) and Jane Albright (Women's Basketball) highlighted some of their favorite and historic memories made on the mountain as well as what they took with them beyond Boone. 
 
Adams, who attended App State from 1952-56, said, "I was the first one in my family to go to college." 
 
A cheerleader for the Mountaineers, she was involved in dance and played intramurals. 
 
"We didn't play other colleges, but we had intramurals and I played basketball and tennis," Adams continued. "We played on all of the intramural teams and [I was] very much involved in the gymnastics program and dance was a big part of that too. We went to different high schools in the state and put on dance programs. 
 
"In one memory, the (intramural) men's basketball team went to another county to play. They said 'we need a women's team to go with, why don't you get some girls together.' We slipped out of the dorm to go down the mountain to play, and hoped we could get back into the dorm, or it would be terrible, but somehow we got back in there." 
 
"I'm always proud to say that my team at Appalachian beat the UGA GymDogs," said Davis. "That winter Bill Clinebell took us down to Florida and we competed on the way down. While at Georgia College we competed against UGA, and we beat them. They were just starting their gymnastics program. And now when someone says 'tell me something people don't know about you' I say I'm on a team that beat the UGA GymDogs in 1976."
 
The Mountaineers also notched historic moments on the basketball court. Laney-Queen looked back on her experience and the effect it had on bringing an automatic NCAA bid to the Southern Conference. 
 
"Our sophomore season, we won the Southern Conference Tournament and we got the bid to the WNIT, which back then was eight teams. It was the following year, our junior year, we had an even better year and it was time for the NCAA's but the Southern Conference didn't have an automatic bid. It was so disappointing, because we were better my junior year than we were our sophomore season. My senior year, the first year we were eligible, we won the conference, but then we lost that tournament game and we didn't get the first-ever automatic bid for the Southern Conference. Teams that followed took advantage of our early contributions. When I think back on my years, that's one of the things I think we contributed to – getting that automatic bid for the Southern Conference." 
 
Robinson, who was Laney-Queen's coach at the time added, "Going to the NIT was one of the most special things and they treated all the women and anybody on the team so well, male and female, because we had men helping out too. They treated our women in a way that they felt like queens. It was really special."
 
"Well, I grew up in Salisbury, and unfortunately, Salisbury did not offer girls' basketball or any interscholastic sports," said Almond. "So when Title IX came in my senior year in high school, I got to play basketball. I waited for this my whole life. My coach actually went to Appalachian and he brought me up here on a visit. I got to meet Dr. Judy Clarke and that was the first year they were offering scholarships. She did offer me a partial scholarship. I wanted to come to Boone because I love the outdoors and they had a great physical education program."
 
Albright, who came to App State in 1973, said, "Title IX had been passed the year before, but it wasn't even close to being implemented. In some ways that was a blessing to me, as we got to be coached by the wonderful women of the AIAW days who wanted to win, but wanted to develop character more. Dr. Clarke made it fun for us, and she hired great graduate assistant coaches who really knew basketball. She wasn't intimidated at their knowledge, and we got to be pretty good." 
 
Albright had been part of the women's basketball team that in 1976 defeated the Tennessee Lady Vols, who were coached by the late Pat Summit.
 
"The unique thing about that time was that the coaches weren't so busy and they ALL came to our games," Albright said. "Jan Watson raised us just like we played field hockey. It was a magical time. My senior year, Dr. Clarke put me on a $100 scholarship. The faculty supported us, too. Dr. Joan Askew was a special professor and she challenged me to really think about how to teach, as did Dr. Ed Turner. The combo of my professors and coaches gave me a hunger to teach and coach. I am very grateful to all of them."
 
PAVING THE WAY FOR FUTURE MOUNTAINEER WOMEN 
The road has not always been smooth for women in sports, as women have faced challenges within the industry, but it didn't deter them from making progress. 
 
"The women in my decade were standing on the shoulders of the women in Jan's decade. We were standing on Jan Watson's shoulders," said Davis.
 
Watson was one of four women in the physical education department at App State when she was earning her master's degree, and became the women's field hockey coach when the sport was established at App State in 1968. 
 
"When we started, I wasn't paid to coach," Watson said. "My salary came through academics. My salary never came through athletics. And that whole time I coached – beginning in 1968, remember that was four years prior to Title IX. I'm very proud of Appalachian. We were the mother of women's athletics in North Carolina."
 
Love, who attended App State from 1979-83, said, "I was a tennis director at a prestigious country club in North Carolina. I was one of the first female tennis directors. There were very few of us. I was definitely in a male-dominated field. So you always felt like you had to prove yourself, but we always rose above and I enjoyed that. It's like competition. I felt like I could rise above and I really felt proud to be there and to help other women get into this profession." 
 
During her time at App State, Robinson received support from then-provost Harvey Durham. "He did not miss women's basketball games. If he was in town, he was there. I know exactly where he and Susan sat, and he was a big part of our recruitment. He would be part of the recruiting visit, he met with all of our kids that were being recruited. He gave more women opportunities at Appalachian State than most."
 
Davis, who earned her undergraduate degree from App State and went on to earn master's degrees from Georgia State and Emory as well as her PhD from Georgia, faced challenges in higher education. 
 
"In a department that I worked in, I was credentialed the same as a male counterpart," Davis said. "He was in a faculty position. I stayed in a staff position. Ten years ago, I had the same credentials, I had the same work experience, I had the same path that he had, but women were kept doing the grunt work. I did the grunt work in my department. I loved my work because I was working. I was working in behavioral health and training mental health counselors in the state of Georgia. I was dedicated to that work."
 
"Advocacy is really important," said Ubbes. "Coach Bob Pollack (her instructor of elementary methods and physical education) was an incredible advocate. He was the first really to accept me as a female athlete. I remember standing on the field one day learning about track and field. And I said, 'I did shot put in high school my senior year and did some hurdles.'  He said, 'Are you kidding?' And I said, 'No, I did. I liked it.' Honestly, I don't know how or why that experience developed in my life." 
 
Ubbes spoke with then-athletics director at the time, Jim Jones, asking if there was a way she could compete in track and field at App State. "He said, 'Do you know anybody who might want to do it with you?' And I said, 'not really.' He said, 'well go find two more women, and then come back and talk to me.'" 
 
Ubbes found two more classmates to join her in competing in track and field. "Jim Jones said, 'You can do track with the men and when there's a female competition going on with the men's events, then you can do it too.' Bob Pollack was so instrumental at the time because he accepted me as a female athlete, and I traveled with the men. I did shot put. It was such a wonderful experience. I mean, that was groundbreaking at the time."
 
"It's unbelievable the transformation of Appalachian since I was here," said Adams "I had a wonderful time. We had a great football team and I was very fortunate to be a cheerleader. I loved it and it gave me a start in life that I never would have had if it hadn't been for Appalachian."
 
A VISION FOR WOMEN IN MOTION
The trailblazers of women's athletics at App State have a vision for Women In Motion and celebrating the women who were fundamental to App State women's athletics growth as well as future generations.  
 
"After spending 40 years as a coach and retiring back to my hometown, I would say I have a very clear picture of what Women In Motion should look like," said Albright. "I would love to see an emphasis on community, leadership and character building. We all know that is something overlooked in today's pressure cooker world of win-win-win. I think mentorship would be amazing. Connecting athletes of different sports in their love for excellence and joy of sport."  
 
For Laney-Queen, empowerment is key. "You watch women achieve, that have gone before you and they give you that ability to achieve what you set your mind to do. Along with that, just respect and discipline, teamwork. It gives you the confidence to go out and attain the goals that you have. Linda [Robinson] had high expectations. And Carol [Almond] did too. They had high expectations and we set our goals and you learned what it was like to work for those goals. If you worked hard enough, and you invested in and invested in each other, then you could attain those goals." 
 
"I'll start with the Turnverein motto, and that's a sound mind and a sound body," said Ubbes. "And so, the notion of being a whole person gives you a great deal of confidence. Of course, sport allows you to have the self-efficacy, and the belief that you can do anything. There's strength, and there's courage to try something new. And there's this notion of hope, you hope you can do things and you try, and you try and try again. It's really important to have relationships, that's key, building relationships with people of all backgrounds."
 
At the very root of participating in athletics, at any level, is opportunity. "I think for me, it was being just grateful for the opportunity," said Almond. "Because I didn't have it. And then I did. Just to be grateful for all the things you get with it."
 
THE CURRENT GENERATION
Leading up to the Women In Motion signature event, App State Athletics has highlighted current student-athletes in senior Erika Dodridge (Women's Tennis), redshirt senior Janay Sanders (Women's Basketball) and sophomore Addie Wray (Softball) and what being a Woman In Motion means to them. 

Hear from Erika Dodrdge: 
Hear from Janay Sanders: 
Hear from Addie Wray: 

"Right now, people are watching women's sports," said Robinson.