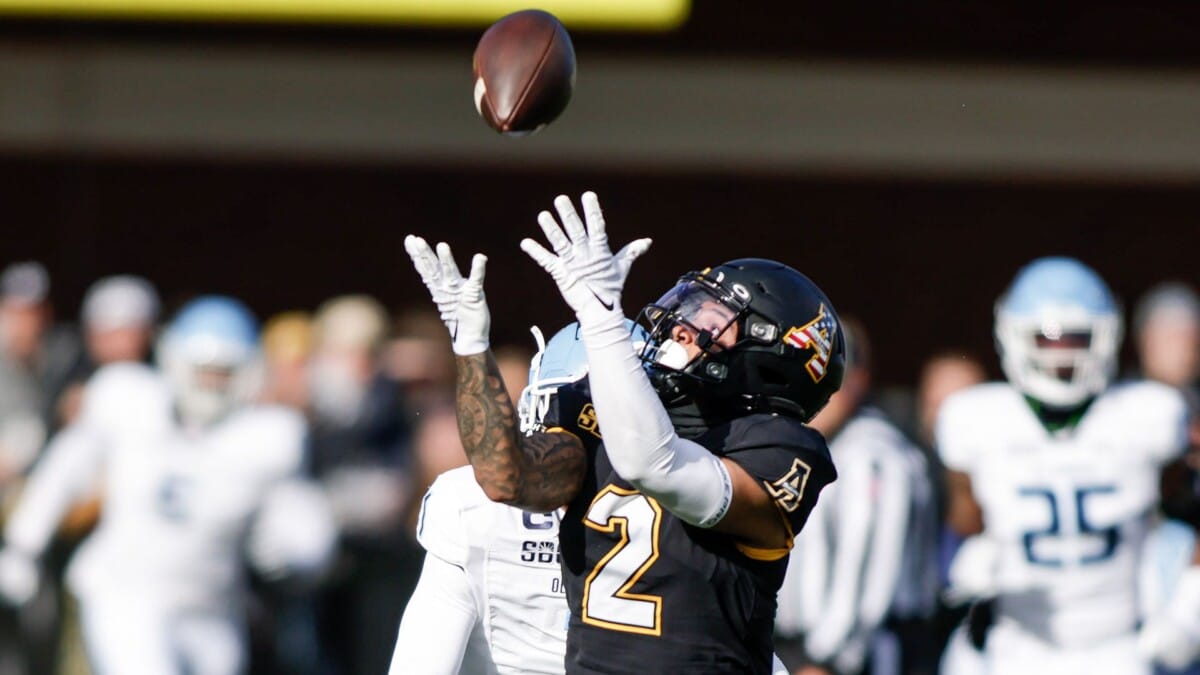 Last Updated on November 20, 2022 8:24 am
BOONE, N.C. — App State took a shutout into the closing minutes of a dominant Senior Day win.

After honoring 28 players prior to kickoff of the home finale at Kidd Brewer Stadium, the Mountaineers jumped out to an early lead and were in control throughout a 27-14 victory against Sun Belt Conference newcomer Old Dominion on Saturday.

Needing seven regular-season victories to reach bowl eligibility, App State (6-5, 3-4) took a 24-0 lead into halftime against the Monarchs (3-8, 2-5) and was ahead 27-0 midway through the fourth quarter before ODU scored twice in the final 7:05. The Mountaineers close the regular season next weekend at Georgia Southern.

A crowd of 32,096 meant App State had an attendance of better than 30,000 for all seven home games this season, producing an average of 33,566 that set single-season Sun Belt and school records. The Mountaineers broke the previous league and program records of 30,441 they had established in 2021.

In his final game at The Rock, Chase Brice completed 15 of 22 passes for 291 yards with long touchdowns to Kaedin Robinson and Christian Wells. Robinson gained 90 yards on his three receptions, and Ahmani Marshall led the running game with a career-best 137 yards and a touchdown on 19 attempts.

Defensively, sixth-year senior Steven Jones Jr. matched his jersey number by breaking up six passes. Jalen McLeod and Caden Sullivan recorded sacks, with Donovan Spellman and Kevon Haigler sharing one. Nick Ross made a team-high 11 tackles.
The pregame Senior Day ceremony included five sixth-year college players, including Brice, who was set to be one of four game day captains before he asked that his spot go to tight end Henry Pearson. Brice transferred into App State's program before the 2021 season, and Pearson has been an impactful player for the Mountaineers since he arrived as a true freshman in 2018.

Just like in the only other home meeting against ODU in 2016, when Taylor Lamb hit Jaquil Capel for a 40-yard gain on a deep pass to the 32 on App State's first offensive play, Brice found Robinson open on a deep throw for a 57-yard gain to the 33 on the Mountaineers' first offensive snap. Michael Hughes ended that 80-yard drive with a 27-yard field goal.

Hansky Paillant recovered a red-zone fumble forced by Markus Clark to keep ODU from scoring on its next drive, and App State increased its lead to 10-0 on Brice's 35-yard touchdown pass to a wide-open Robinson.

After the Mountaineers forced a quick three-and-out punt, they capitalized immediately on Brice's 75-yard touchdown pass to a streaking Wells with 13:43 remaining in the second quarter. At that point, Brice was 6 of 7 through the air for 208 yards.

After another three-and-out stop, App State's offense marched 60 yards on eight plays and scored on an 18-yard run by Marshall, who covered the final few yards thanks to a helpful push from center Isaiah Helms and other members of the offensive line.

ODU appeared to trim its deficit to 24-7 on a short touchdown pass late in the half, but a video replay confirmed that the receiver didn't get a foot down in the end zone.

Two incompletions from the 7 preceded a trick play on fourth-and-goal, but freshman cornerback Ethan Johnson didn't let the quarterback run free after he flipped the ball to a receiver and ran a route toward the end zone. A run by the receiver lost 2 yards and allowed App State to hold the Monarchs scoreless for the entire first half.

A season-long field goal of 40 yards in the third quarter from Hughes, a first-year starter, accounted for App State's only second-half points.