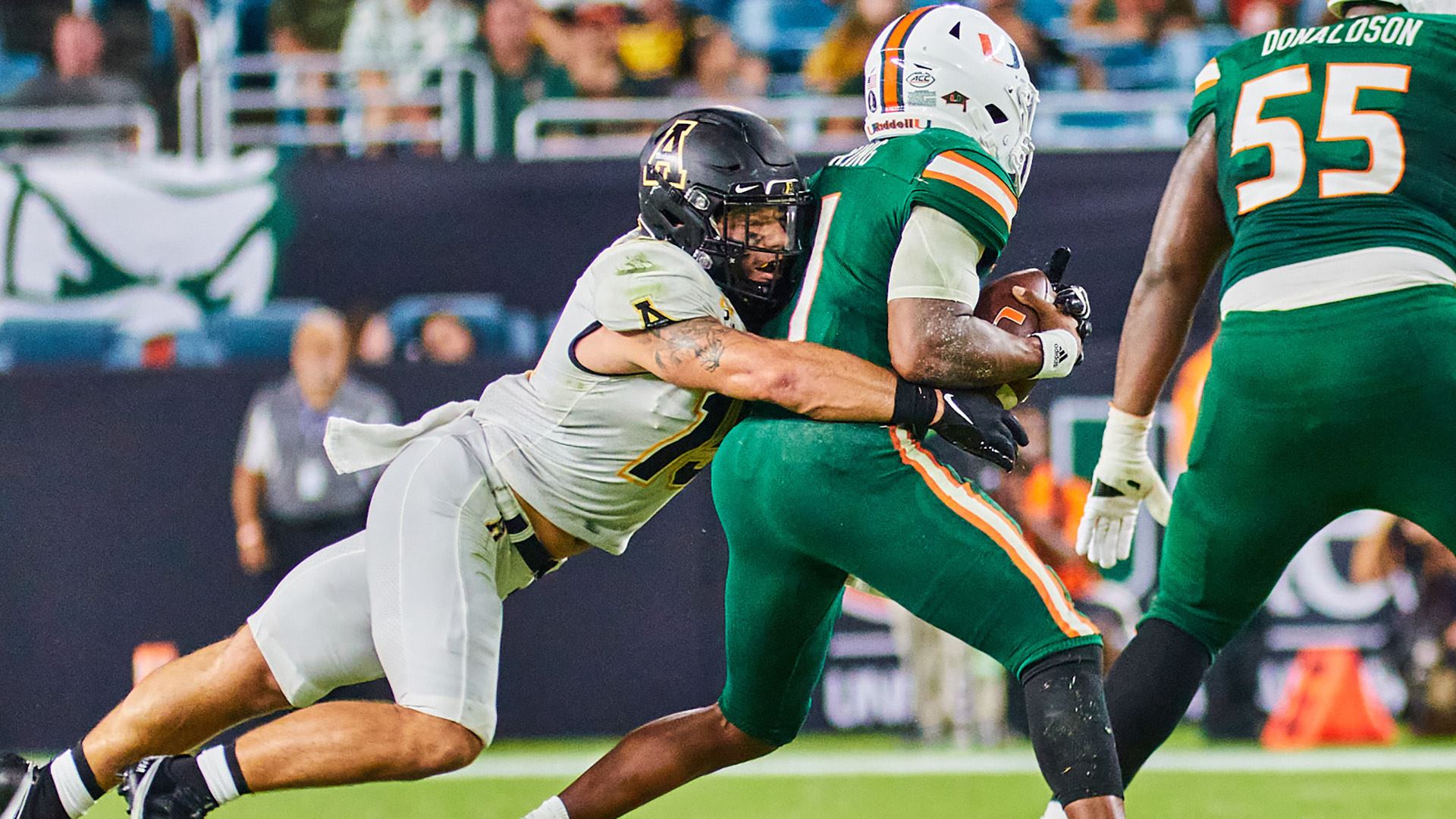 Last Updated on September 12, 2021 7:54 am
MIAMI GARDENS, Fla. — App State's visit to Miami turned into a track meet.

The speed of Jalen Virgil, a ball-hawking defense and the Mountaineers' entire team stood out on a steamy south Florida night against the high-powered Hurricanes, but 22nd-ranked Miami used a 43-yard field goal from Andres Borregales with 2:04 left to erase a one-point deficit and claim a 25-23 victory at Hard Rock Stadium.

Trailing 22-17 midway through the fourth quarter, App State (1-1) delivered an eight-play, 75-yard touchdown drive, highlighted by Chase Brice's deep completion to Malik Williams for a 41-yard gain to the Miami 9. A 6-yard catch by Williams then set up his 3-yard, go-ahead touchdown in the back of the end zone with 5:48 remaining.

The Hurricanes (1-1) answered with a 10-play, 55-yard drive to move back ahead, and App State advanced to its own 43-yard line before a fourth-and-6 pass fell incomplete with 55 seconds left.

Just like he did nine months ago, Virgil turned a deficit into a lead with a 100-yard kickoff return, giving App State a non-offensive touchdown for the fourth straight game against a Power Five conference opponent. Those games were an overtime loss at Penn State, a win at North Carolina, a win at South Carolina and now a two-point loss to the top-25 Hurricanes.

D'Marco Jackson led App State's defense with 10 tackles, T.D. Roof posted 1.5 sacks and Caleb Spurlin added a blocked field goal to go along with his seven stops. Brice threw for 199 yards, and Camerun Peoples' 95-yard rushing performance included a 28-yard touchdown.
App State's defense came up big in the first half, as Miami's first nine points came from a 6-yard touchdown drive after a turnover and a safety resulting from a special teams miscue.

The Mountaineers tied the game with 5:20 left in the first quarter on a fourth-and-2 run up the middle for a 28-yard touchdown by Peoples.

After the safety gave Miami a 9-7 edge late in the first quarter, App State's defense responded with a three-and-out stand to limit the damage. The Hurricanes' next possession covered 12 plays but ended with a short field goal, and Virgil answered that score with the second 100-yard kickoff return for a touchdown of his career.

After Virgil's score, Spurlin blocked a short field goal late in the half to help App State take a 14-12 advantage into the break.

Miami received the second-half kickoff and marched 75 yards in six plays, scoring a go-ahead touchdown on Cam'Ron Harris' 12-yard run. The Mountaineers responded with a long drive of their own, moving inside the Miami 5 thanks to an 18-yard run by Peoples and a 23-yard catch by Henry Pearson on back-to-back snaps, but App State had to settle for a 22-yard field goal from Chandler Staton.
Moving forward from the back-and-forth final quarter with Miami, App State will make its Kidd Brewer Stadium debut next Saturday with a home game against Elon.