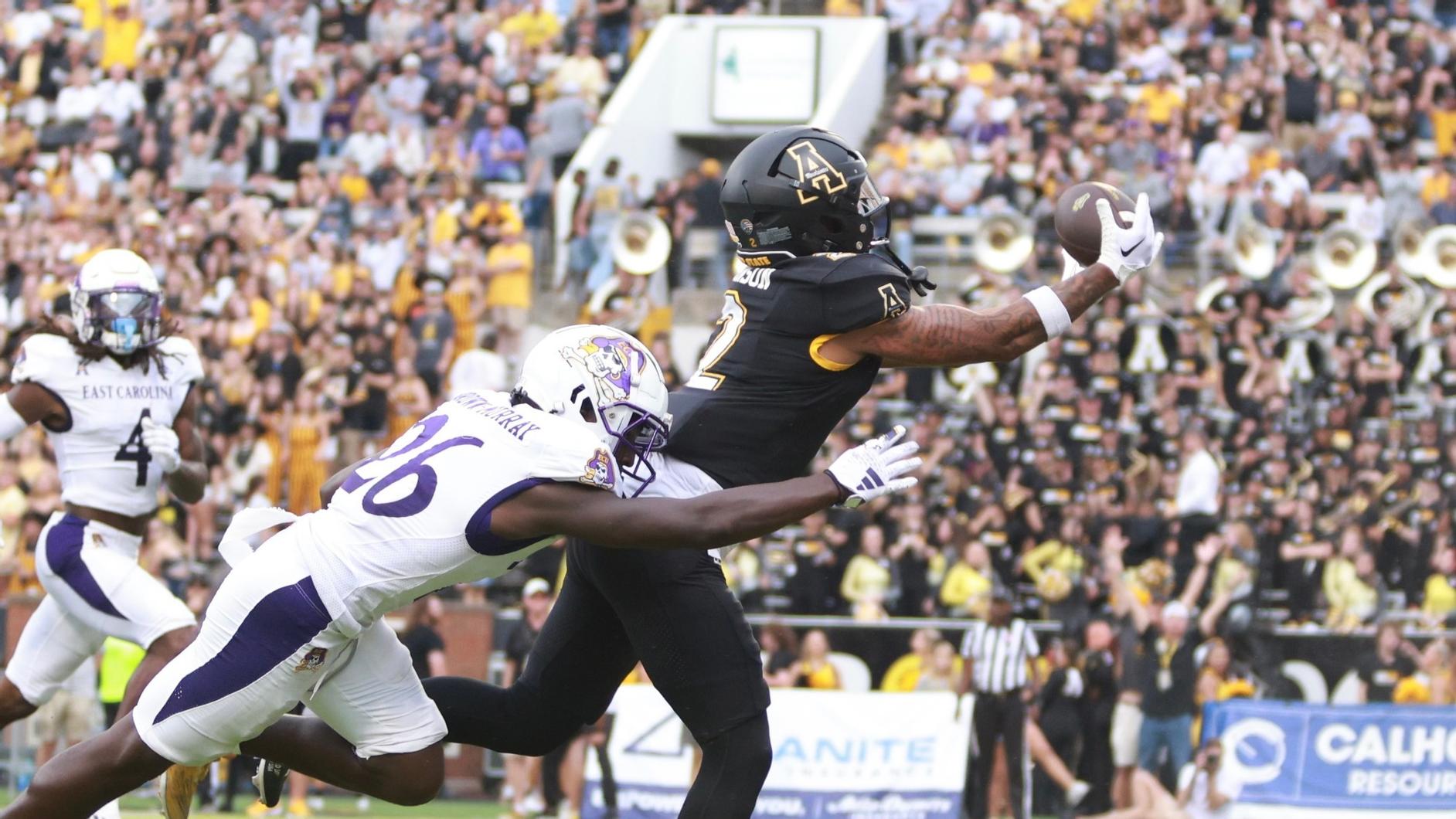 Last Updated on September 16, 2023 7:48 pm
BOONE, N.C. — Record-tying crowd. Renewed rivalry. And a satisfying, bounce-back result.
Facing East Carolina in Boone for the first time since 1979, App State pulled away in the second half to claim a 43-28 victory against the Pirates with a crowd of 40,168 rocking Kidd Brewer Stadium on Saturday. That total matches the stadium record set last year for North Carolina's season-opening visit to the High Country.
The Mountaineers (2-1) intercepted three passes and recorded four sacks while overcoming two defensive touchdowns scored by the Pirates, who led 21-10 in the second quarter. One of those touchdowns was a short pick-sick touchdown return, but Joey Aguilar fired three touchdown passes after that and finished 17 of 29 for 241 yards.
Nate Noel scored from 68 yards out on App State's second offensive play and posted his fourth straight 100-yard game with 177 yards on 24 attempts.
Nick Ross, Jordan Favors and Omari Philyaw all intercepted passes against first-time ECU starter Alex Flinn. Andrew Parker Jr., Markus Clark, Brodrick Gooch and Nate Johnson came away with sacks.
App State took the lead for good on Joey Aguilar's 35-yard touchdown pass to Milan Tucker for a 29-28 edge with 8:18 remaining in the third quarter, and Philyaw's 26-yard interception return to the ECU 19 set up Aguilar's 1-yard scoring keeper. Michael Hughes' extra point pushed the advantage to 36-28 with nine seconds left in the third quarter.
Andrew Parker's third-down sack forced the Pirates to give up the ball again, and the Mountaineers established a two-score margin thanks to a 10-play, 70-yard touchdown drive. Nate Noel had several key runs, and David Larkins' 15-yard gain on a third-and-7 throw extended the series. Larkins scored his first career touchdown by powering into the end zone on a 6-yard scoring pass from Aguilar.
ECU opened the game with a 75-yard touchdown drive, but App State needed just two plays to respond, as Noel broke loose for a 68-yard touchdown run that ranked as the second-longest carry of his career.
Hughes added a 36-yard field goal later in the first quarter before an ECU punt to the 1-yard-line backed up the Mountaineers and contributed to an 8-yard interception return for a touchdown by Antoine Jackson. A third-and-15 keeper by Flinn kickstarted a 77-yard touchdown drive that enabled the Pirates to lead 21-10 with 2:14 remaining in the half.
Tucker's 34-yard return, coupled with a 15-yard face-mask penalty, allowed App State to begin the next drive in ECU territory. A pair of Kanye Roberts runs for a combined 12 yards and a 16-yard completion to Christan Horn set up Roberts' 18-yard touchdown run.