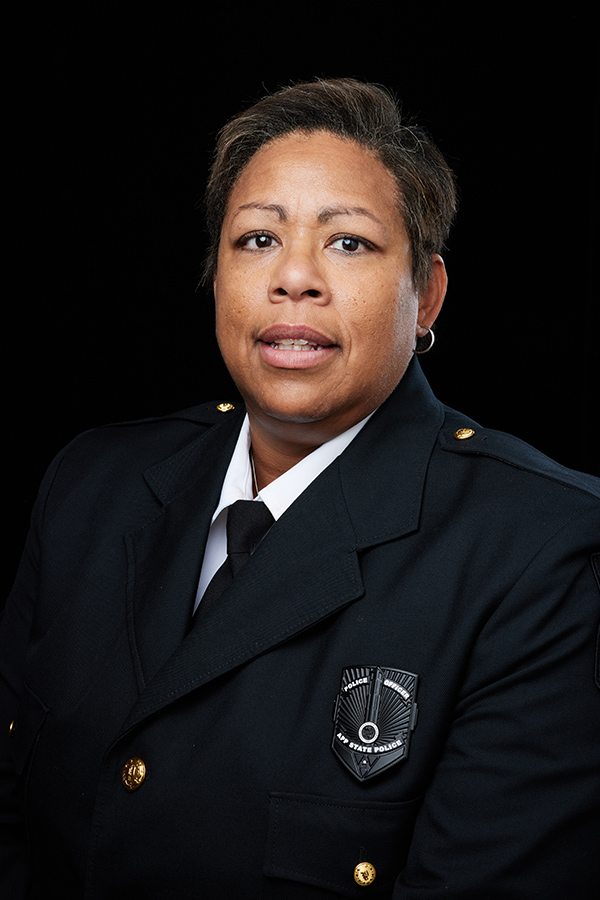 Last Updated on July 27, 2023 1:03 pm
BOONE, N.C. — Lt. Ericka Heath, an Appalachian State University alumna and a 20-year policing veteran, has returned to her alma mater to lead App State's police division at the university's Hickory campus, which will open to students this fall.
The Hickory campus will have a dedicated police team managed by Heath, who brings a diverse range of experiences and education to the position. In addition to supervising police officers in the App State Police Hickory Division, her duties include:
engaging with the Hickory campus to address safety issues and build crime prevention strategies;
developing campus safety initiatives;
maintaining important records and evidence; and
fostering professional relationships with students, faculty, staff, community members, university leaders and local criminal justice system personnel.
"We're very excited to welcome Lt. Ericka Heath to our team," said App State Director of Public Safety and Chief of Police Andy Stephenson. "She brings considerable knowledge and experience in policing to App State, and her enthusiasm for strengthening police–community relations supports our department's philosophy of proactive community engagement, collaboration and customer service."
The appointment makes Heath the university's highest ranking female police officer.
Heath shared that she is excited to be engaged in a positive, interactive culture between police officers and students.
"The most appealing part of this position is how App State pairs the police and student communities together, to learn from one another and foster a culture of inclusivity," she said. "This is what sets App State apart from any other university in the country. It is vitally important for law enforcement to embrace this approach and bolster a willingness to learn and grow."
'Someone who cares about people'
A North Carolina native who grew up with many family members in policing, Heath's first job in policing was with the Hickory Police Department, where she would climb the ranks over 20 years. During that time, she earned her master's degree in strategic leadership from Mountain State University, her Advanced Law Enforcement Certification and gained experience as a local school resource officer. She views each of these accomplishments as a direct means to improve police and public relations within her community.
Heath attended Western Piedmont Community College, where she earned her associate degree in liberal arts. While completing her studies, her talent and affinity for music caught the attention of Dr. Harold McKinney, professor emeritus in App State's Hayes School of Music.
McKinney approached Heath, encouraging her to apply to the Hayes School of Music, and Heath earned a bachelor's degree in music industry studies with a minor in business administration from App State in 1998.
After graduating from App State, Heath purchased a one-way ticket to New York City, where she began working as a production assistant for WNYW Fox 5, later moving on to work for Court TV.
"Initially, I was not drawn to law enforcement, but while working at Court TV, I had the opportunity to work closely with Nancy Grace," Heath shared. "She nicknamed me 'sheriff' and convinced me to apply for the NYPD. She said I was what law enforcement needed: A calm individual with an easy temperament and someone who cares about people."
Grace's recognition of Heath's natural leadership skills encouraged Heath to pursue a future with the city's police department, but before she could attend training, her mother was diagnosed with terminal cancer. Heath moved home to care for her family and later began working with the North Carolina Department of Corrections (now part of the Department of Public Safety). This experience left Heath with the desire to do more, and she enrolled in North Carolina's Basic Law Enforcement Training.
When not serving her community through policing, Heath enjoys music, along with mountain biking, raft guiding, kayaking, camping, hiking and reading.