Last Updated on October 5, 2022 1:52 pm
BOONE, N.C. — Appalachian State University has marked its best fundraising year in more than a decade. For the fiscal year ending June 30, the university raised more than $36 million, including $31 million in cash gifts — the largest cash fundraising year in university history.
More than 10,000 donors, corporations and foundations contributed to areas across the university, including academic programs, professorships, college access initiatives, arts programming and athletics.
"These investments will change lives in the App State Community — as well as in our region and state — for years and generations to come," said App State Chancellor Sheri Everts.
"These gifts have lasting impact for our students, faculty and staff and the many communities that benefit from the innovative teaching, leading-edge research and life-changing service that take place at App State," Everts said.
Endowment funds doubled since 2014
App State's endowment also grew to $150 million, more than doubling its value since Chancellor Everts, the university's eighth leader, arrived in 2014. Endowment funds are designed to support the teaching, research and public service missions of educational institutions well into the future, and are an important measure of the economic health of a college or university.
Each year, the majority of the income earned from the university's endowment is added to the principal for growth, while some is spent in a designated area. In this respect, an endowment is a perpetual gift.
"These critical funds allow the university to provide generationally equitable benefits for prospective and current students, and help the university continue to fulfill its mission of increasing access to education," said Everts.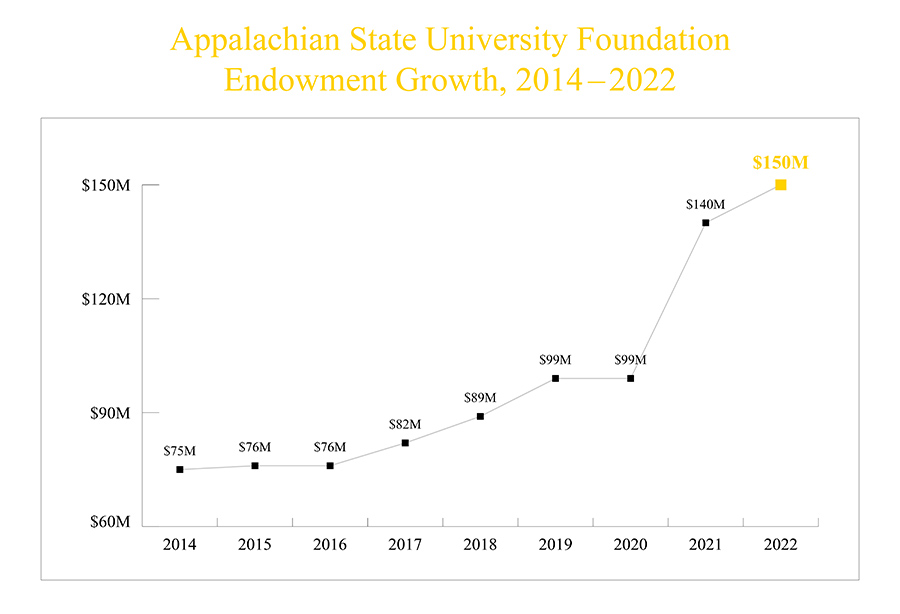 A record-breaking year
According to Jane Barghothi, App State's vice chancellor of university advancement, the Appalachian Fund, College of Fine and Applied Arts, Reich College of Education, University Libraries, and An Appalachian Summer Festival had record fundraising years.
Many areas reported their best fundraising years since at least 2014, said Barghothi, including:
The top gifts received in fiscal year 2022 include:
This year, the university's annual iBackAPP giving celebration also broke university records — raising nearly $1.3 million in two days.