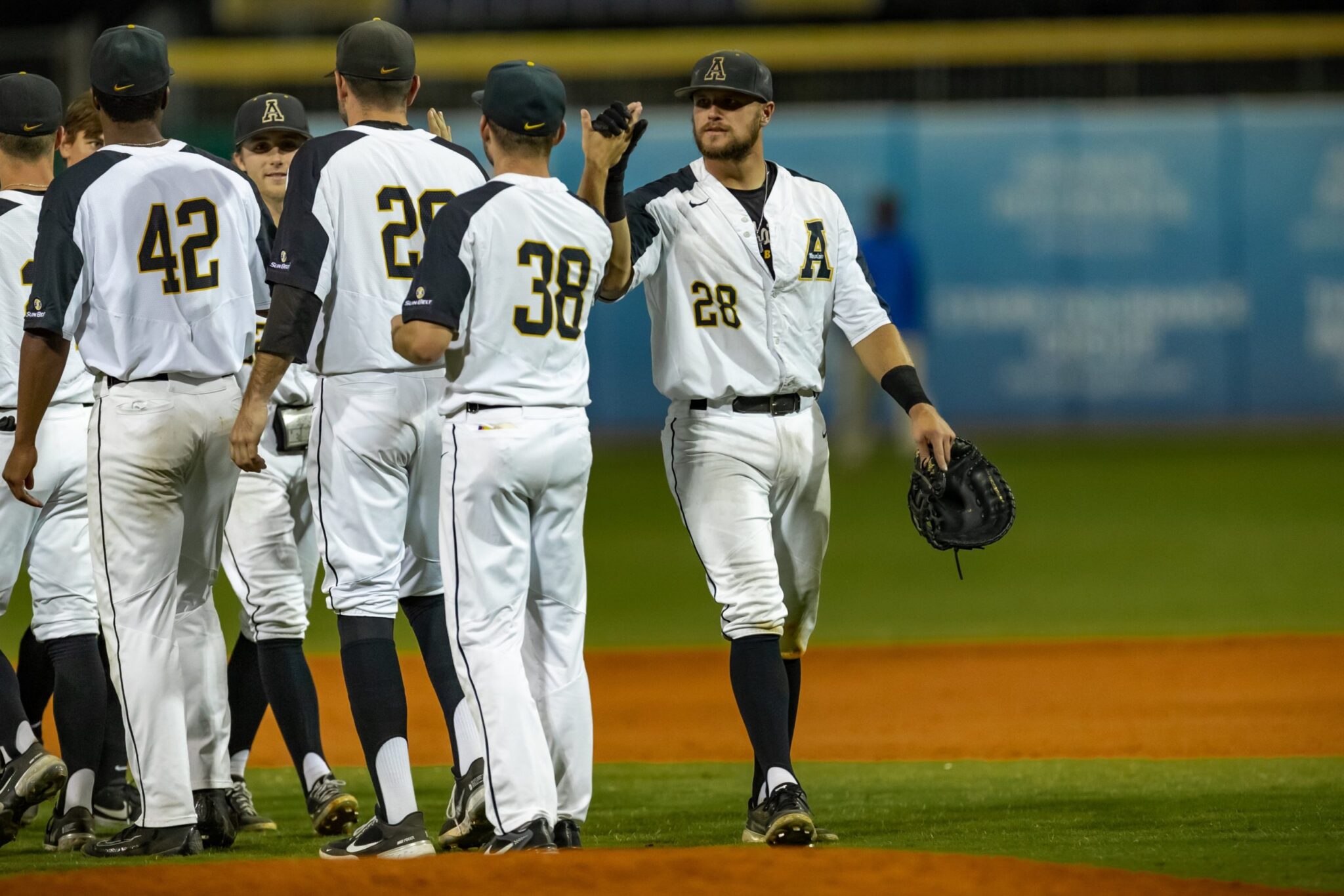 Last Updated on May 26, 2021 3:27 pm
MONTGOMERY, Ala. — Hayden Cross framed the pitch, pumped his fist and then removed his mask on the way to greet Eli Ellington, who was quickly swarmed by the rest of his teammates.
A high-stakes game that called for three App State pitching gems and was contested over two days for fans watching back at home needed just one run for the Mountaineers to make more history.

Picking up the program's first Sun Belt Championship victory, App State scored once in the sixth inning and claimed a 1-0 win over Texas State at Riverwalk Stadium to turn Thursday night's matchup with Louisiana into a showdown for a semifinal berth.

Quinton Martinez (starter), Ben Peterson (winning pitcher) and Eli Ellington (fifth save) all pitched three scoreless innings while limiting the Bobcats to a combined four hits as the Mountaineers won a 1-0 game for the first time since a memorable 2012 victory at No. 7 LSU.

Alex Leshock fouled off a 3-2 pitch in the sixth before completing a seven-pitch walk to put an App State leadoff batter on base for the first time, and he moved to third base on a double into the left-field corner by Bailey Welch. Luke Drumheller's soft line drive barely cleared the glove of the leaping second baseman, allowing Leshock to race home.

With Martinez pitching for the first time since he threw a single inning on May 9 and Peterson making the most pressure-packed appearance of his freshman year, they got the ball to Ellington with a 1-0 lead. He earned a three-plus inning save or relief win for the fourth time this season, working around a one-out double in the top of the ninth inning and retiring nine of the 10 batters he faced.

With a runner on second in the ninth, he forced a groundout to Welch at short before ending the game with his fourth strikeout. The dramatic, quick-moving nightcap Tuesday began at 9:15 p.m. local time (10:15 p.m. ET) and ended at 12:54 a.m. if you were watching in Boone.

Texas State won the first 14 games it played against App State as Sun Belt counterparts before the Mountaineers won the 2019 series finale in their most-recent meeting.

The Bobcats, who are eliminated from semifinal contention, will face West Division No. 1 seed Louisiana (30-22) on Wednesday in a second "Pool C" game that will have no bearing on who advances from the three-team pool. The Thursday night game will decide the "Pool C" winner, as East Division No. 4 seed App State (22-31) will look to go 2-0 and Louisiana can advance with either a 2-0 record or a 1-1 mark with a tiebreaker nod because it is the highest seed.

App State's three pitchers totaled 11 strikeouts, with Martinez recording one in each of his three innings and pitching around a two-out single in each of his last two frames.

Reaching 96 mph with his fastball, Peterson struck out two batters and left a runner stranded at second in the fourth. A two-base throwing error put a runner on second to open the top of the fifth, and a flyout to center preceded a wild pitch, but Peterson followed that with a big strikeout and then got out of the jam thanks to a flyout to center.

A one-out walk and wild pitch in the sixth created another scoring chance for Texas State, but Peterson came up with another timely strikeout and induced a groundout to short.
Leshock, Welch and Drumheller all reached safely against Texas State starter Zachary Leigh, who pitched effectively into the eighth inning just five days after throwing 81 pitches in a Thursday start. Leshock accounted for two of App State's three walks, while Welch and Drumheller both went 2-for-4 as the Mountaineers totaled five hits.