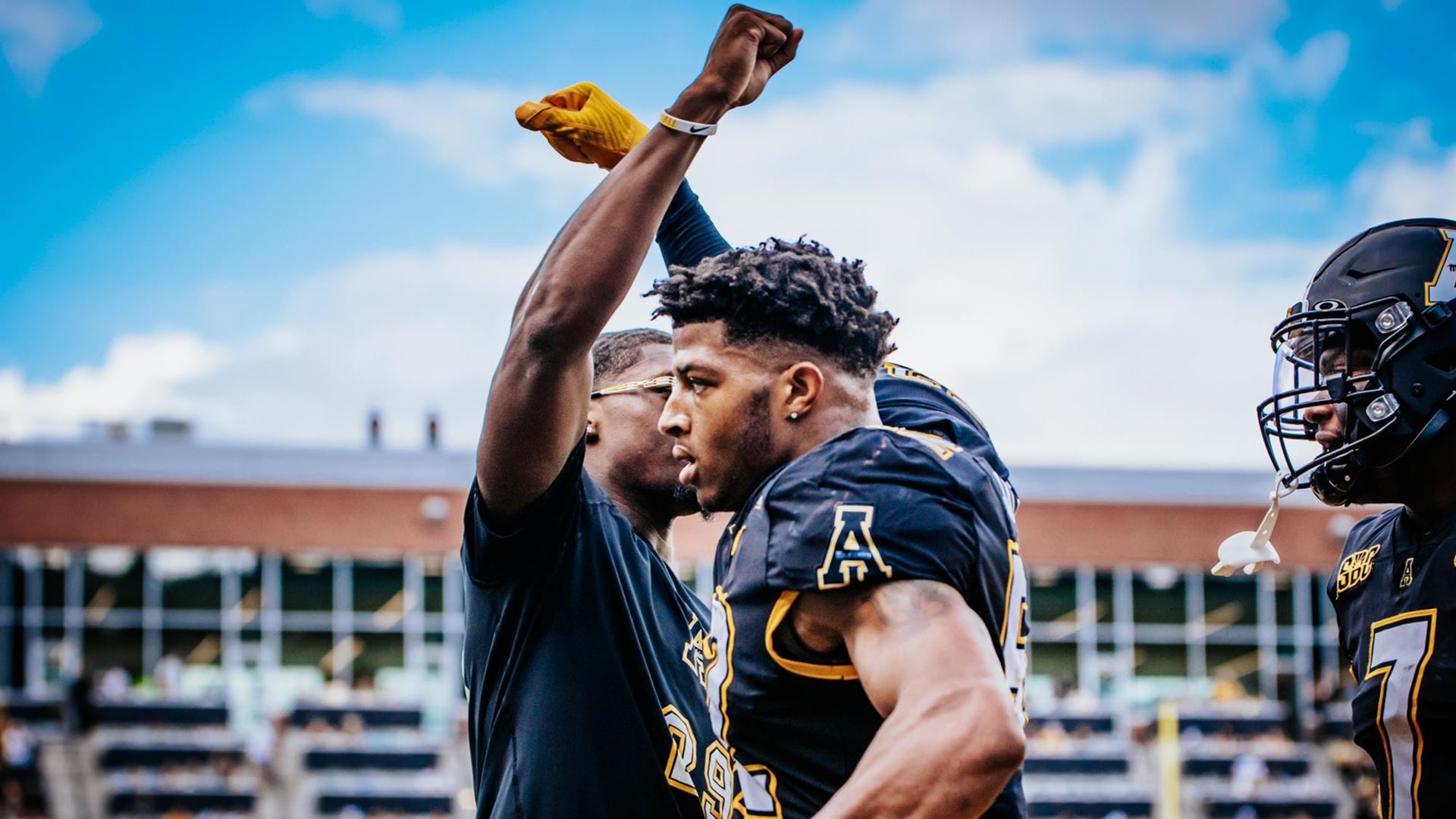 Last Updated on September 18, 2021 7:40 pm
BOONE, N.C. — A rainbow descended toward Kidd Brewer Stadium's new north end zone facility Saturday evening.
 
With a sellout crowd of 30,224 gathered for App State's first home game with no crowd-size restrictions in 651 days, a 44-10 victory against Elon included a rich mix of gold and black at the end of The Rock's rainbow — along with a throwback white logo.
 
T.D. Roof's 90-yard interception return set up a third-quarter touchdown that gave the Mountaineers (2-1) a 27-3 lead on a day they honored Hall of Fame coach Jerry Moore by unveiling a statue and dedicating a plaza bearing his name. Black helmets with colorful stripes and white 'A' logos even paid tribute to Moore's first team in 1989.
 
Thirty-two years later, Moore was on hand as one of his mid-90s standouts, Shawn Clark, coached App State in a full Kidd Brewer Stadium for the first time.

D'Marco Jackson delivered a career-high three sacks among his 4.5 tackles for loss and 13 stops, and Chase Brice had a rushing touchdown to go along with a 19-of-25 passing effort for 293 yards with one touchdown. Malik Williams produced the first with a 47-yard touchdown on his way to a career-high 123 receiving yards, and Corey Sutton caught seven passes for 128 yards as the Mountaineers had two receivers eclipse the century mark.
 
Roof's end-zone interception on a tipped pass and lengthy return set up the first of two touchdown runs from Camerun Peoples, who finished with 80 yards on 11 rushes, and Nate Noel contributed 73 yards on 17 carries. Anderson Castle's first career touchdown came on an 8-yard run in the final minute.
 
Chandler Staton converted all three of his field-goal tries, including a 45-yarder late in the first half.
 
The Mountaineers are back at The Rock on Thursday night for a nationally televised game against Marshall. The game will be on ESPN and have a 7:30 p.m. kickoff time.