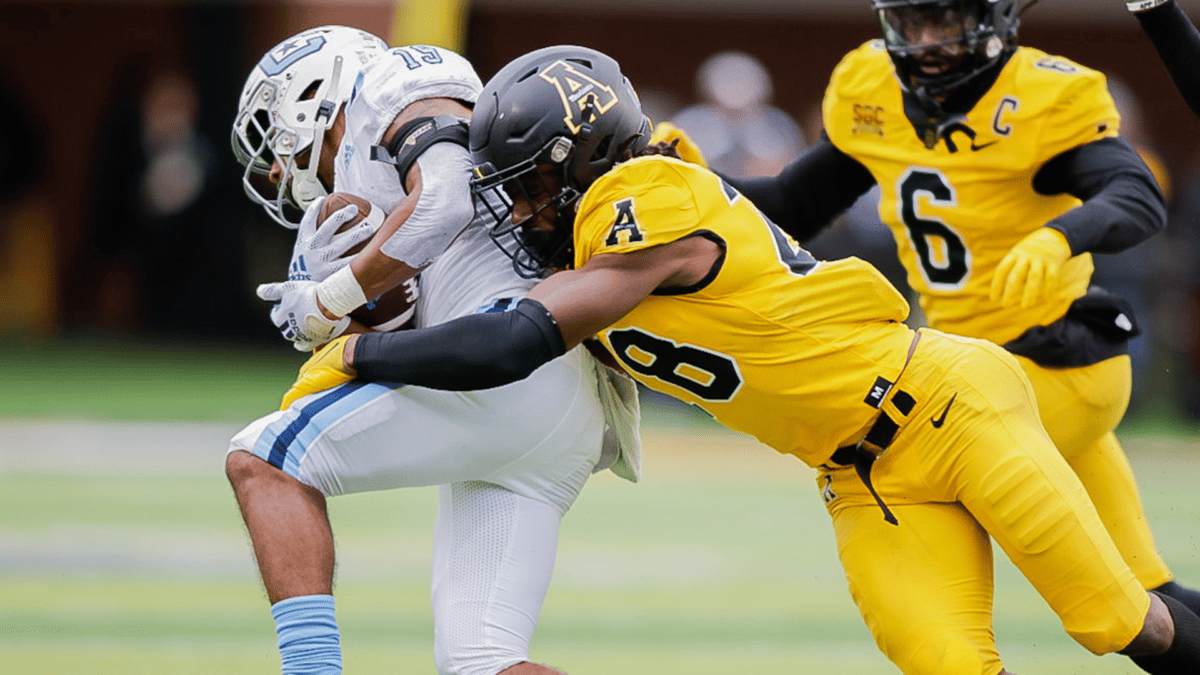 Last Updated on October 2, 2022 8:01 am
BOONE, N.C. — Dexter Lawson Jr. made a diving interception in the end zone to keep The Citadel from scoring, and Chase Brice threw an 80-yard touchdown pass to Christan Horn on the very next play.

App State didn't need much time to do its offensive damage Saturday — that touchdown was the Mountaineers' only third-quarter snap — and the defense held the Bulldogs' clock-chewing option offense in check throughout Saturday's home game at Kidd Brewer Stadium.

That combination contributed to a 49-0 shutout for the Mountaineers, who posted a one-sided win to follow an opening month in which all four games were decided by four points or less.
"It's been four tough weeks — four emotional weeks — our program needed that. Our players needed that," App State head coach Shawn Clark said. "I'm very pleased with how we came out and executed in all three phases. Any time you get a shutout in college football, that's huge."
Defensively, KeSean Brown led the Mountaineers with 10 tackles, two tackles for loss, two forced fumbles and a sack in App State's first shutout since the 34-0 victory against Toledo in the 2017 Dollar General Bowl. Nick Ross added nine stops and a forced fumble.

Going into the final drive of the first half, App State (3-2) had a 359-20 advantage in total yards, with five of The Citadel's first six possessions resulting in three-and-out stops.

Brice completed 12 of his 18 pass attempts for 265 yards and four touchdowns, with Horn scoring twice on three receptions that totaled 132 yards, and Camerun Peoples' had a 73-yard touchdown to highlight a four-carry, 102-yard outing.
"They did a really good job of making sure they got stops on third down and getting us the ball back so the offense could get on the field and keep that rhythm we had going," Peoples said. "It kind of slowed down in the third quarter, but they go out and get that interception. We turn around and 'Boom' and score off that turnover. That's what we've been doing all year. When they do something good, we try to return the favor. It's good that the defense got that goose egg."
Less than three minutes into the Family Weekend game, Brice hit a wide-open Dashaun Davis for a 44-yard touchdown. Brown's third-down sack forced a quick punt from the Bulldogs, who made a fourth-down stop to end App State's second series, but a 26-yard pass to Kaedin Robinson and 30-yard gain by Horn to the 1 set up Brice's 1-yard keeper for a touchdown late in the first quarter.

App State had to convert a fourth-and-2 play from The Citadel 8 on the next series, and that resulted in a touchdown pass from Brice to tight end Eli Wilson. The Mountaineers took over at their 27 after another three-and-out punt, and Peoples broke loose for his 73-yard touchdown to begin the next possession.

With downfield blocks from Horn and Davis, Peoples scored the longest touchdown of his career — his only longer carry was a 76-yard, non-scoring run in the 2020 Myrtle Beach Bowl.

Brown forced a fumble on The Citadel's next drive, enabling Stephen Passeggiata to make the first fumble recovery of his career, and the Mountaineers needed only two plays to reach the end zone on Brice's 22-yard touchdown pass to Horn.
"Any time with option football, one thing you have to do is be disciplined and do your job and not try to do anything extra," Brown said. "I have to give it up to the defense. We had a great week of practice and the whole week paid good attention to detail. It showed. We were ready."

The Citadel (1-3) chewed up the first 11 minutes, 22 seconds of the third quarter with a 17-play drive that moved inside App State's 10-yard line, but Lawson Jr. made a diving interception in the end zone to keep the Bulldogs off the scoreboard.
"That's a play where they almost did get us and flowed the whole offense toward my side, but they leaked out their wide receiver," Lawson said. "When I saw the receiver leak out, it wasn't the way he had been playing all game. He ran off the ball like he wanted the ball. I just waited for a little bit to make it seem like he was open and waited for the quarterback to lock eyes with him."

The next play was App State's only offensive play of the third quarter, and it was a productive one. Brice hit Horn with a pass to the App State 38, and after clearing a block from Davis, Horn sprinted untouched down the right sideline for an 80-yard touchdown. That tied for the longest pass of Brice's career so far in Boone, matching a touchdown connection with Christian Wells last season at Georgia State.

Brady McBride took over at quarterback early in the fourth quarter, and Michael Hetzel's one-handed, diving grab for 22 yards set up a 4-yard touchdown run from true freshman Kanye Roberts in his first career appearance. Roberts finished with 70 yards on seven carries on a day when 12 players from App State made their season debuts and five Mountaineers played for the first time in an App State uniform.