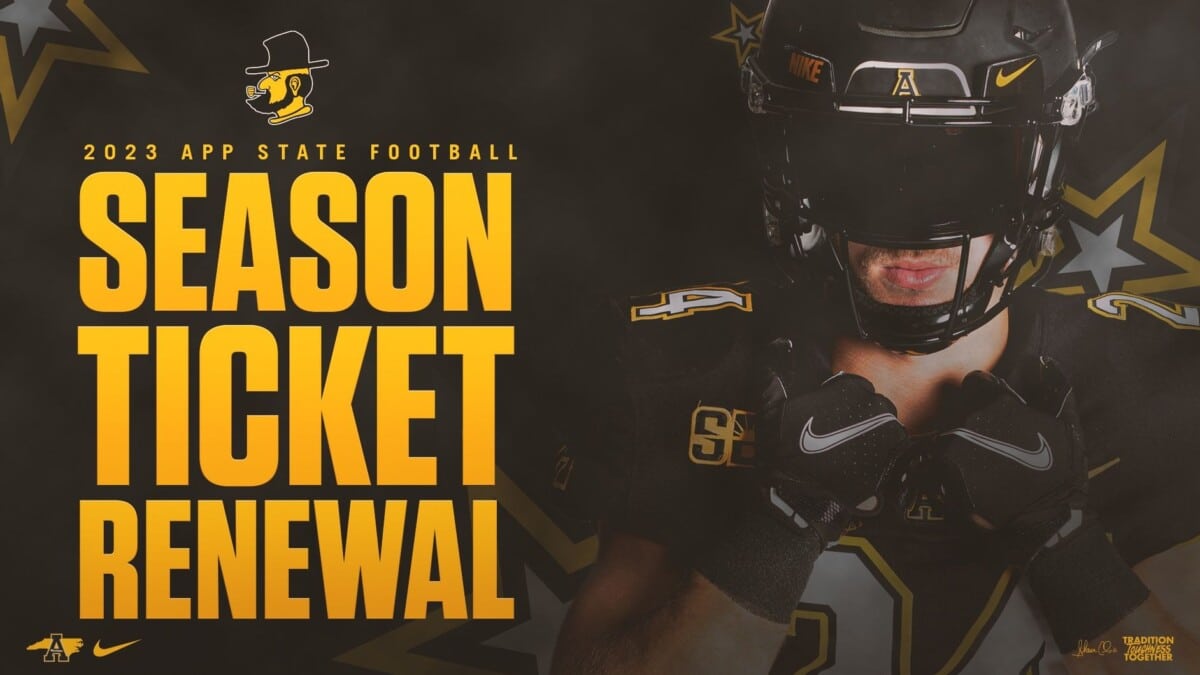 Last Updated on December 16, 2022 9:41 am
BOONE, N.C. — Moving forward from a second straight year of record-breaking home attendance milestones, App State Football season ticket holders can now renew their season tickets for 2023.
Season tickets for the 2022 season sold out in July, contributing to the Mountaineers again setting school and Sun Belt Conference records with a single-game average of 33,566 fans per home game at Kidd Brewer Stadium. Of the eight biggest crowds in stadium history, six occurred during the 2022 season.
The 2023 schedule will have six home games at The Rock, including visits from regional rivals such as East Carolina, Marshall, Coastal Carolina and Georgia Southern. The 2020 visits from Marshall and Coastal Carolina were two of the most memorable home games in recent history, with App State winning 31-30 against the Thundering Herd and 30-27 against Coastal on a field goal as time expired.
The 2023 season opener will feature a Sept. 2 visit from Gardner-Webb, followed by ECU coming up the mountain Sept. 16 for its first Boone appearance since 1979. The only 2023 home opponent yet to be announced is a team from the Sun Belt's West Division.
As announced a year ago, 2023 is the first year in which Kidd Brewer Stadium bowl seating will be based on a per-seat model for donations. Visit the Mountaineers Athletic Fund's webpage for detailed information on 2023 Renewals and Beyond.

The 2023 season ticket renewal and parking request deadline is March 31. (Any seats not renewed will be released at the end of April.) Parking allocation will begin at the start of May, allocated by membership level and then rank within that level. Parking requests are not guaranteed as lots are expected to be at full capacity again in 2023 (click here for more details and the parking map).
If you are not a returning season ticket holder, fill out this online form to be added to the 2023 new season ticket waitlist. Fans on the 2023 waitlist will be notified of seating options (if available) after the renewal process is complete.  
Ticket Prices

Season tickets for the 2023 slate at Kidd Brewer Stadium cost $250 for anyone 3 years and older and $225 for current App State faculty/staff (limit of 2). Season tickets are $400 in the Gold section and the East VIP section. A payment plan is available for season tickets (payments can be made December 2022 – April 2023).
 
Premium Seating Tickets
 
Contact a member of the Mountaineers Athletic Fund staff at 828-262-3108 or mountaineersathleticfund@appstate.edu for more information.

How to Purchase
 
Current season ticket holders can renew season tickets online.
 
Email any questions to athletictickets@appstate.edu or call 828-262-7733.
 
Those interested in joining the Yosef Club can do so online here or by phone at 828-262-3108.
Season Ticket Renewal Incentives
First 250 Accounts
Enter to win commemorative football from the Texas A&M victory (25 winners)
Jan. 31
Personalized App State football jersey (5 winners), pairs of Legends Gala tickets (2 winners), game day locker from old home locker room (1 winner, must pick up)
Feb. 23:
Part of pre-sale for tickets to Darius Rucker's July 2023 concert in Boone
Feb. 28
Participate in team runout (5 winners), $100 concessions voucher (10 winners)
March 31
Upgrade to Rock Garden for one game (2 winners), App State gear (5 winners)

2023 Road Games

Tickets for App State's road games will be made available for purchase to season ticket holders first, when and if they become available. App State will play nonconference road games against North Carolina (Sept. 9) and Wyoming (Sept. 23), plus Sun Belt road games against Georgia State, James Madison, Old Dominion and a yet-to-be-announced team from the West Division.

2023 APP STATE FOOTBALL SEASON TICKETS

Season Ticket Type
Ticket Cost
Adult
$250
Current App State Faculty/Staff limit 2
$225
Senior Citizen
$250
Youth ages 3-12
$250
Gold
Available to Yosef Club members at Golden Mountaineer level ($1,500 annual donation)
$400
East VIP
Available to Yosef Club members at Chancellor's level ($1,000 annual donation)
$400