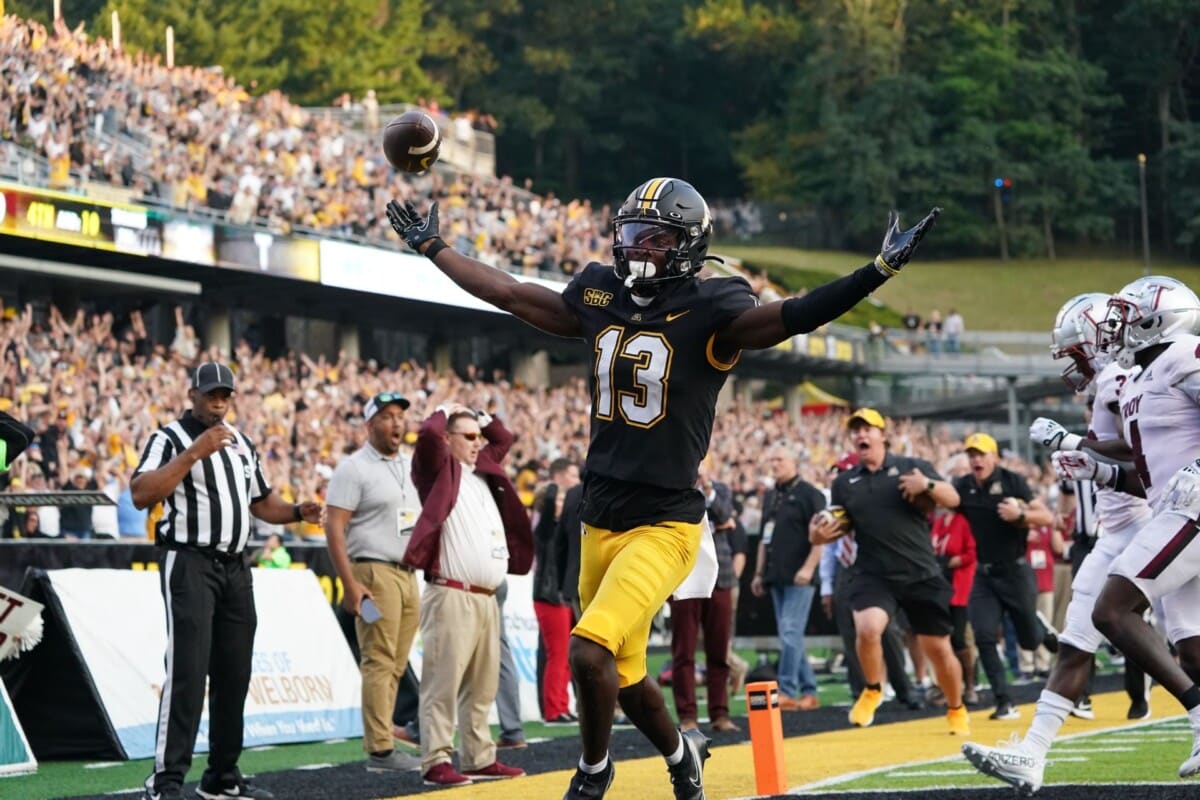 Last Updated on September 17, 2022 11:01 pm
BOONE, N.C. — An unforgettable day at App State began with ESPN College GameDay's first visit to Boone. It then delivered a second unbelievable, historic ending at The Rock.

Call it Miracle on the Mountain: Part 2.

Chase Brice's 53-yard, Hail Mary touchdown pass to Christan Horn — with help from 6-foot-4 teammate Dalton Stroman's crowded tip at the 5-yard line and Kaedin Robinson's sealing block after Horn made a circling catch of the tip at the 8 — gave App State a thrilling 32-28 win against Troy in their Sun Belt Conference opener Saturday.

Thrilling. Historic. Unbelievable. Unforgettable.

What other adjectives are fit to describe what all transpired Saturday in the High Country.

Twenty years after App State won the original "Miracle on the Mountain" game by returning an intercepted two-point conversion pass for a go-ahead two points with seven seconds left in a 16-15 home win against Furman, App State (2-1) pulled off a shocker with no time remaining on the clock and, by the end of the celebration, no shortage of stunned reactions.

Just like country music star Luke Combs and beloved GameDay personality Lee Corso predicted, with Corso wearing Yosef headgear to close GameDay's appearance in a packed Sanford Mall in the center of campus nearly seven hours earlier, App State did indeed beat Troy.

No one expected it to happen like that.

Brice's incompletion on a fourth-and-goal pass from the 3 gave Troy (1-2) possession with 1:13 left and a 28-24 lead. The Trojans took a fourth-down safety on purpose, leaving App State with just 20 seconds to field a free kick and score. Three straight incompletions from the App State 47 set up one final heave with two seconds remaining, and it took three receivers to create one successful, viral connection between Brice and Horn.
The actual name of the play? "Big Ben" — similar to a 63-yard Hail Mary that Florida used to beat Tennessee in 2017, when current App State offensive coordinator Kevin Barbay was the Gators' director of player development.

A crowd of 34,406 fans witnessed more history, although some of those returned to the stadium after leaving with App State's chances of a victory looking bleak. Immediate fireworks above the north end zone facility signaled to many that something amazing had just transpired nearby.

It was the fourth-largest crowd in Kidd Brewer Stadium history and the biggest crowd for a non-ACC opponent.