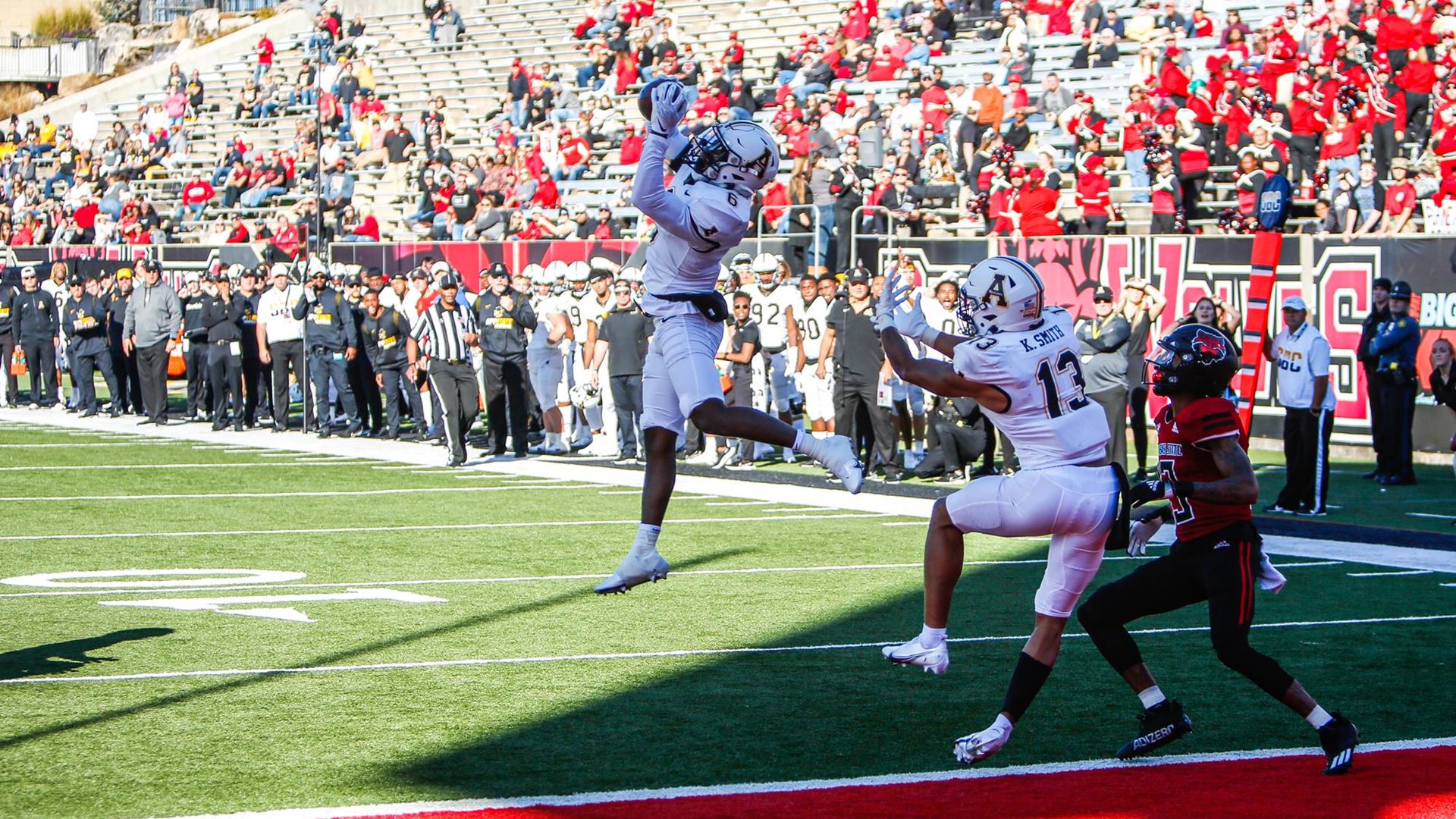 Last Updated on November 6, 2021 5:41 pm
JONESBORO, Ark. — One trick play, followed by timely takeaways, takedowns and defensive touchdowns, propelled App State to another Sun Belt Conference road win.
The Mountaineers remained atop the Sun Belt's East Division thanks to a 48-14 victory at Arkansas State on Saturday. App State (7-2, 4-1) broke free from a 14-all tie by scoring the final 34 points.
Steven Jones tied a school record by both intercepting three passes and scoring on two interception returns, with his touchdowns covering 47 and 34 yards. Nick Hampton accounted for two of App State's four sacks. D'Marco Jackson and Tyler Bird also contributed sacks.
Offensively, kick-started by Malik Williams' trick-play touchdown pass to Thomas Hennigan, the Mountaineers posted 461 yards of total offense. Nate Noel (122 rushing yards on 22 attempts) and Camerun Peoples (116 yards on 14 attempts) each scored once on the ground. Chandler Staton went 2-for-2 on field goals, setting a school record by hitting his 16th straight field goal.
App State opened the scoring when Williams, a wide receiver and former high school quarterback, produced the fifth touchdown pass of his career with a 34-yard toss to a wide-open Hennigan, who increased his career total to 19 receiving scores.
Less than a minute later, Jones Jr. picked off an errant pass and returned it 47 yards for a touchdown — his second straight game with a pick-six touchdown.
Arkansas State (1-8, 0-5) responded with back-to-back touchdowns to tie the game, capitalizing on a turnover and a defensive back who slipped on the end-zone turf, but App State quickly reclaimed control.
Noel's 18-yard touchdown run capped an eight-play, 60-yard drive that covered a little more than three minutes, and a three-and-out defensive stop set up a drive that took up most of what was left in the first half. Staton's 33-yard field goal with three seconds left before the break increased the margin to 24-14.
A sack from Hampton early in the third quarter helped force a punt prior to another App State touchdown drive, with a second-and-25 rush of 19 yards to the Arkansas State 10 preceded Brice's 10-yard scoring pass to tight end Miller Gibbs.
Hampton and Bird produced back-to-back sacks to quickly end the next series, and Peoples scored from 27 yards on a third-and-12 carry.
A short field goal from Staton and another defensive touchdown by Jones capped the scoring.