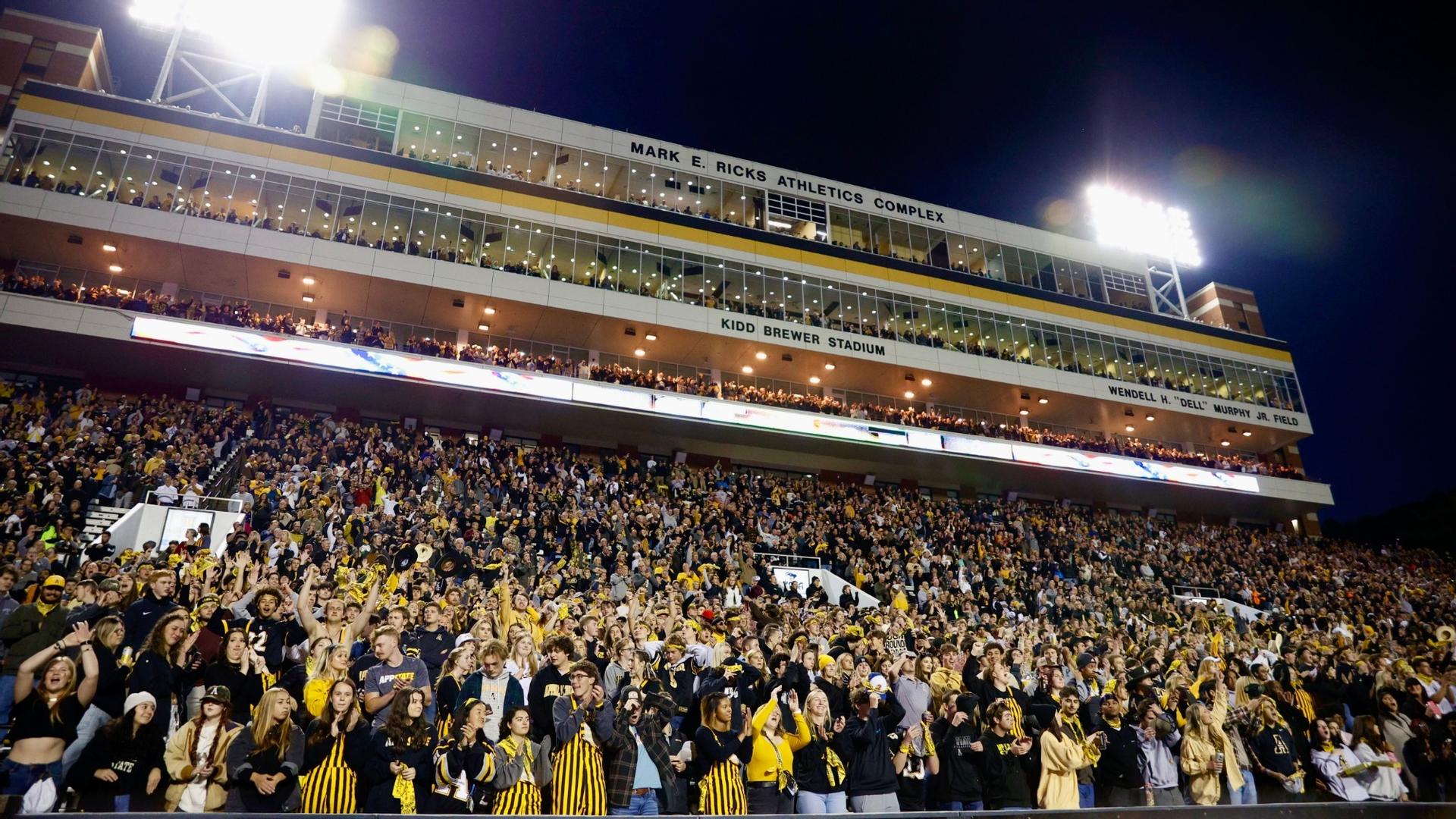 Last Updated on October 11, 2023 5:41 am
BOONE, N.C. — Coastal Carolina's Kade Hensley kicked a 24-yard field goal with no time remaining as App State suffered a 27-24 loss in a nationally televised Sun Belt Conference showdown Tuesday night at a packed Kidd Brewer Stadium.

Two years ago, in a similar situation with App State intentionally stopping short of the end zone to run the clock down and set up a short field goal, Chandler Staton made a 24-yard kick as time expired to cap a 30-27 home win against the Chanticleers. Coastal won in almost the exact same fashion this time.

After allowing a touchdown on the game-opening drive and falling behind 14-0 in the first eight minutes, App State (3-3, 1-1) pulled even twice — at 17-all in the third quarter and 24-all in the fourth. Caden Sullivan's stop for a 1-yard loss on Grayson McCall's fourth-and-2 keeper from the Mountaineers' 14 midway through the fourth quarter gave App State its first possession of the game in which it wasn't facing a deficit.

Joey Aguilar completed a pass to Milan Tucker for a 69-yard gain, but Coastal forced a fumble at the end of the long run to the Coastal 20 with 4:43 remaining, and defender Abraham Temoney made a sliding recovery right before the bouncing ball crossed the sideline to go out of bounds.

The Chanticleers (3-3, 1-2) responded with an 11-play, 77-yard drive, marching from their 16 to as deep as the App State 2, with CJ Beasley sliding down just short of the end zone on a 21-yard gain in the final minute.

With 34,252 fans in attendance, Aguilar threw for 305 yards and two touchdowns, including a game-tying, fourth-and-4 touchdown pass from the Coastal 6 to Dalton Stroman with 8:47 remaining after a 67-yard completion to Makai Jackson. Nate Noel, the nation's second-leading rusher, had two offensive touches on App State's opening drive before missing the rest of the game with a lower-body injury, and the trio of Kanye Roberts, Maquel Haywood and Ahmani Marshall combined for 22 carries, 104 yards and one score.

Defensively, Andrew Parker Jr. led the team with 12 tackles, and Sullivan contributed a career-high nine.

The Mountaineers finally pulled even for the first time at 17-all on Aguilar's 2-yard touchdown pass to David Larkins with 6:18 remaining in the third quarter, and the Chanticleers responded with a seven-play, 77-yard touchdown drive to quickly regain the advantage. A third-and-5 penalty for defensive pass interference preceded McCall's 32-yard touchdown pass to wide-open tight end Kendall Karr.

App State fell behind early as McCall completed passes for 40 and 31 yards on the game-opening drive, then threw a 51-yard touchdown pass to Jameson Tucker.

McCall was 9-for-9 for 220 yards through the air going into the final four minutes of the first half, but App State cut into a 14-0 deficit on Michael Hughes' 29-yard field goal and trailed just 17-10 after Marshall's 3-yard touchdown run with 3:25 remaining before the break. Aguilar's short completion to tight end Eli Wilson on a fourth-and-10 pass from the Coastal 38 ended up as a 32-yard gain to the 6 with Wilson weaving through traffic from the middle of the field.

Coastal Carolina's defense made a fourth-down stop near midfield to open the second half, but App State answered with a stop on a fourth-and-3 incompletion from the Mountaineers' 46. Haywood followed a defensive pass interference on first down with three rushes for 32 yards, including a 20-yarder, and he later gained 5 yards on a third-and-4 carry from the 7. That set up Aguilar's short touchdown pass to Larkins, and Hughes' extra point tied the score.
Two years ago, App State overcame an early 14-0 deficit to win at home against Coastal, and the Mountaineers trailed 14-0 in their 41-40 win at ULM to open conference play on Sept. 30. On Tuesday, App State never managed to seize the lead.