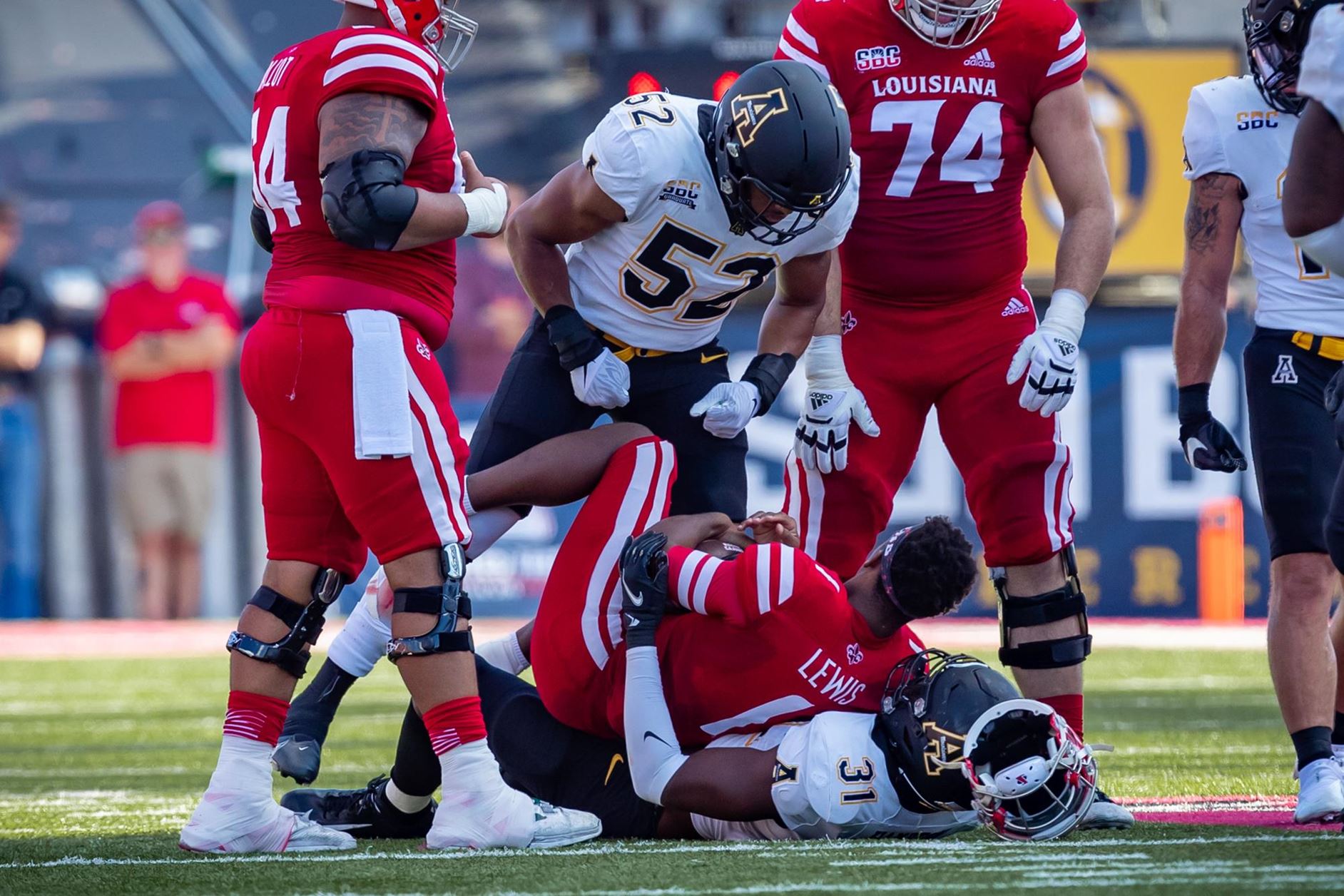 Last Updated on December 4, 2021 7:43 pm
LAFAYETTE, La. — Playing in the third Sun Belt Championship Game, App State made a push for a third title before 20th-ranked Louisiana finished off a breakthrough victory.
 
The Mountaineers trailed by seven points entering the fourth quarter and closed to within eight on Chase Brice's 24-yard touchdown pass to Thomas Hennigan with 5:06 left, but the Ragin' Cajuns milked most of the remaining time and posted a 24-16 victory in front of 31,014 fans Cajun Field.
 
With a 10-win regular season — and playing Saturday in only the second game between two Sun Belt teams with double-digit victories ­— the Mountaineers (10-3) will learn their bowl destination Sunday. Since making its FBS debut in 2014, App State has earned a bowl berth in each of its seven postseason-eligible seasons and posted an FBS-best 6-0 bowl record.
 
Sun Belt Defensive Player of the Year D'Marco Jackson had 11 tackles, 3.5 tackles for loss, one sack and four first-half quarterback hurries, and Nick Hampton's four tackles included 2.5 tackles for loss and two first-half sack. Kaiden Smith led the team with 12 tackles, Trey Cobb contributed nine and Demetrius Taylor added a sack.
 
Offensively, Camerun Peoples scored App State's first touchdown on a 43-yard run late in the first half to highlight a 61-yard outing, and Chase Brice rushed for a season-high 52 yards, with his eight scrambles gaining 75 yards. Hennigan had a team-high 71 receiving yards.
 
App State faced a fourth-and-10 scenario from the Louisiana 24 when Brice avoided pressure and threw a pass over the middle to a leaping Hennigan, who then broke three tackles inside the 15 to reach the end zone on a reception for the 23rd time in his career.
 
A two-point pass failed, and Louisiana (12-1) registered three first downs on its final drive. A fourth-down pass from the App State 36 fell incomplete with 29 seconds left, but Louisiana clinched the win with a forced fumble on a sack near midfield with 20 seconds remaining.
 
Down by 10 at halftime, App State opened the third quarter with a 15-play drive that ended with a 36-yard field goal from Chandler Staton. Louisiana followed that with a 12-play drive and went for a first down on a fourth-and-2 play from the App State 20, but Jackson and Kaiden Smith stuffed a run for a 1-yard loss.
 
App State wasn't able to put together a game-tying drive on its next two possessions, and Louisiana extended its lead to 24-10 early in the fourth quarter when Emani Bailey ran for a 35-yard touchdown on a third-and-8 play. Earlier in the drive, in a third-and-13 situation, Levi Lewis completed a 16-yard pass to the Louisiana 41.
 
The Mountaineers went into the break trailing 17-7, as Camerun Peoples used a block from tight end Henry Pearson to break loose for a 43-yard touchdown that cut App State's deficit to 14-7 with 2:28 left in the first half.
 
App State forced a three-and-out punt and appeared to move into Louisiana territory on a Chase Brice scramble late in the half, but a holding penalty put the Mountaineers in a behind-the-chains position that led to the Ragin' Cajuns using timeouts.
 
Gaining possession at its 46 with 32 seconds remaining before halftime, Louisiana completed a pass for 30 yards to reach field-goal range and then converted a 33-yard kick in the closing seconds of the half.
 
App State's defense pressured Levi Lewis throughout the first half, as Nick Hampton recorded two early sacks and D'Marco Jackson had one sack to go along with four QB hurries, but Lewis' nine completions on 18 attempts before the break gained 142 yards, and he added a 56-yard touchdown run.
 
Lewis avoided the heavy pursuit from Demetrius Taylor to complete a fourth-and-3 pass for 10 yards on the opening drive, and Lewis sidestepped up-the-middle pressure from Jordon Earle on a 27-yard touchdown pass. A penalty for a lineman illegally downfield wiped out a 46-yard pass to Corey Sutton on App State's second play from scrimmage.
 
Hampton and Jackson combined for three sacks over the next two Louisiana possessions, but Lewis' long touchdown run with 9:22 left in the second quarter capped a seven-play, 92-yard drive and increased the margin to 14-0. App State answered with a six-play, 75-yard march.