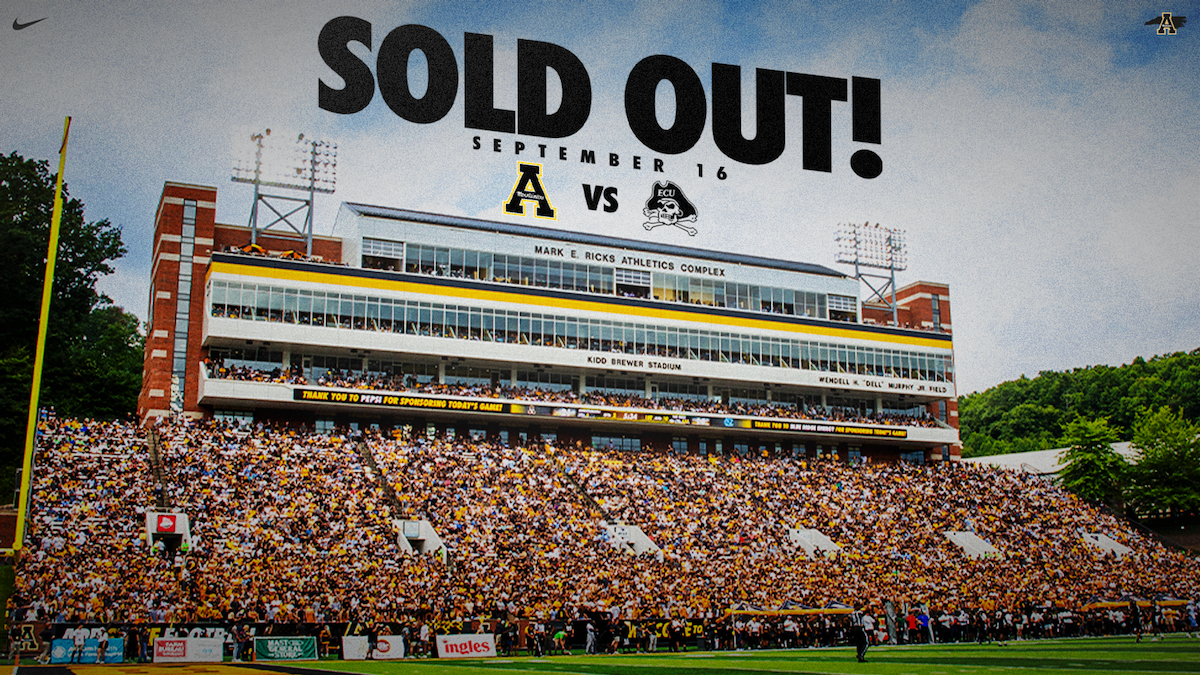 Last Updated on July 14, 2023 1:55 pm
BOONE, N.C. — App State's Sept. 16 home football game against East Carolina is officially a sellout.
 
The anticipated in-state matchup that will be the Pirates' first visit to Kidd Brewer Stadium since 1979 has proven to be one of the hottest tickets in the country. The opportunity to buy single-game tickets did not reach the general public following season ticket sales and Yosef Club member purchase opportunities.
 
App State students will receive information via email about how to reserve tickets for the game. No student guest tickets will be available, in order to allow as many App State students as possible to attend the game.
 
App State announced June 7 that football season tickets are sold out for the second straight year.
 
Other single-game tickets remain available for purchase to Yosef Club members, as seat inventory remains, prior to going on sale to the general public Wednesday, July 19, at 10 a.m. at appstatesports.com/tickets. There remains a possibility that single-game tickets for some other high-demand game days will not be available to all groups.
 
Should any ECU game tickets become available through various returns or special opportunities, App State Athletics will announce that availability at a later date.
 
Last season, six of seven home games were sellouts at The Rock, including the school attendance record of 40,168 for the season opener against North Carolina and the monumental 32-28 win over Troy on a last-second Hail Mary that capped the day of ESPN College GameDay's first visit to App State. Six of the top eight crowds in Kidd Brewer Stadium history occurred in 2022.
 
2024 SEASON TICKET WAITLIST

Fans who are not 2023 season tickets holders are encouraged to sign up for the waitlist for 2024 season tickets now.