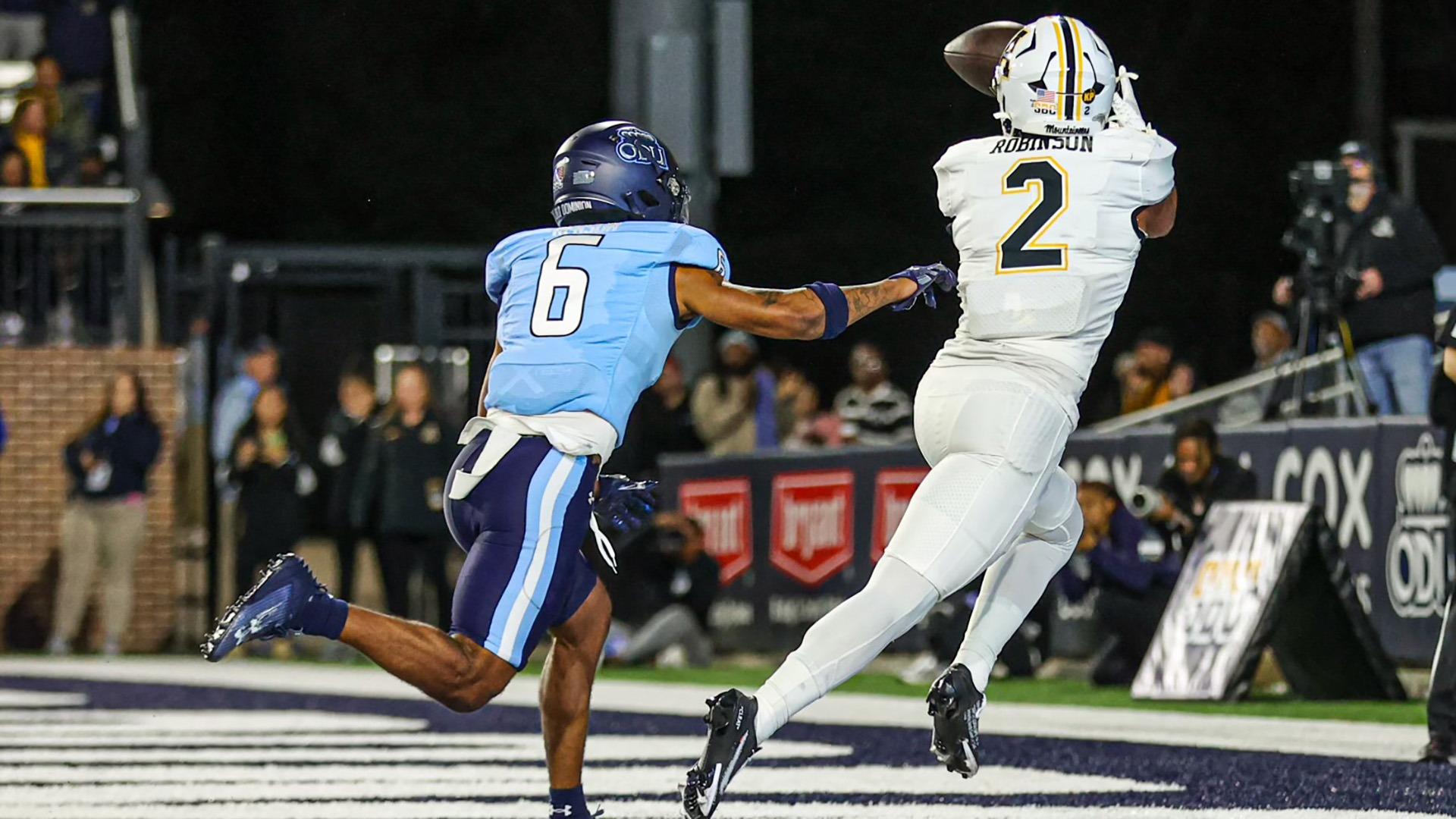 Last Updated on October 22, 2023 11:26 am
NORFOLK, Va. — App State had plenty of fourth-down magic, but Old Dominion's late fourth-down conversion set up a go-ahead touchdown in the final minute of a 28-21 conference victory against the visiting Mountaineers.
 
Each of App State's last four games and five of the last six have been decided in the closing seconds.
 
After a fourth-and-10 completion of 19 yards from the App State 40 set up ODU's go-ahead, 16-yard touchdown run with 48 seconds left, the Mountaineers (3-4, 1-2 Sun Belt) moved from their own 21 to the Monarchs' 23 thanks to Joey Aguilar's completions of 13 yards to Eli Wilson, 20 yards to Kaedin Robinson (to the ODU 44, with a 15-yard flag for defensive targeting reversed) and 21 yards to a sliding Christan Horn.
 
A spike with 11 seconds remaining from the 23-yard line gave App State two shots at a touchdown — the Monarchs (4-3, 2-1) had turned a 21-20 deficit into a seven-point lead with their touchdown and successful two-point conversion. ODU defensive back Khian'Dre Harris was credited with consecutive breakups on high, deep passes directed toward 6-foot-4 receiver Dalton Stroman in the end zone.
 
"Heartbreaking loss," App State head coach Shawn Clark said. "I hurt for our players and hurt for our team. The kids played their hearts out tonight, and we came up one play short."
 
Aguilar had a hand in three fourth-down touchdowns on a night in which App State went 4-for-4 on fourth down, with one touchdown run on a QB keeper preceding TD passes to tight end David Larkins and wide receiver Kaedin Robinson, who finished with 103 yards on eight catches. Starting in place of injured back Nate Noel, one of the nation's top rushers before he suffered an injury in the previous game, Kanye Roberts posted the first 100-yard game of his career with 109 yards on 26 carries.
 
Nate Johnson led the defense by recording a season-high two sacks, increasing his season total to five with a pair of first-half takedowns, while Santana Hopper added 1.5 sacks, including a big one in the final six minutes to help force a punting situation in a one-point game. Hopper also teamed up with Derrell Farrar on a first-half sack.
 
Leading 21-20, App State regained possession at its own 34 with 4:50 left and faced a second-and-1 scenario before a fumble that the Mountaineers recovered for a loss preceded a third-down incompletion. ODU took over from its 31 with 3:46 remaining and moved to the App State 33 for a third-and-3 play. An offensive holding penalty negated a long run, and a short QB keeper on third down set up a fourth-and-10 play from the App State 40 with 1:08 remaining.
 
Grant Wilson scrambled and completed a 19-yard pass to Javon Harvey to get the Monarchs into short field-goal range, and Keshawn Wicks rushed for a 16-yard touchdown that at least gave the Mountaineers time to respond with 48 seconds showing on the clock.
 
All three App State touchdowns resulted from fourth-down execution, as Aguilar scored on a fourth-and-goal keeper around right end from the 1 in the first quarter and threw a 5-yard scoring pass to Larkins in a fourth-and-2 with 4:14 remaining before halftime.
 
Trailing 14-7, with a 12-play, 87-yard drive producing its first touchdown, ODU had runs of 19, 36 and 20 yards (a touchdown from Wicks) to march 92 yards on five plays to tie the game. The Monarchs then forced a quick three-and-out punt and followed a late 16-yard run to the App State 30 with a 47-yard field goal as the half ended.
 
ODU added a 46-yard field goal to open the third quarter, but App State had a pair of fourth-down conversions late in a go-ahead touchdown drive on the next possession. Aguilar gained 2 yards on a fourth-and-2 keeper from the ODU 25, then threw a 17-yard touchdown pass to Robinson in the back of the end zone on a fourth-and-5 delivery.
 
App State returns to action next Saturday with a homecoming game against Southern Miss. The game is scheduled for 3:30 p.m. at Kidd Brewer Stadium.